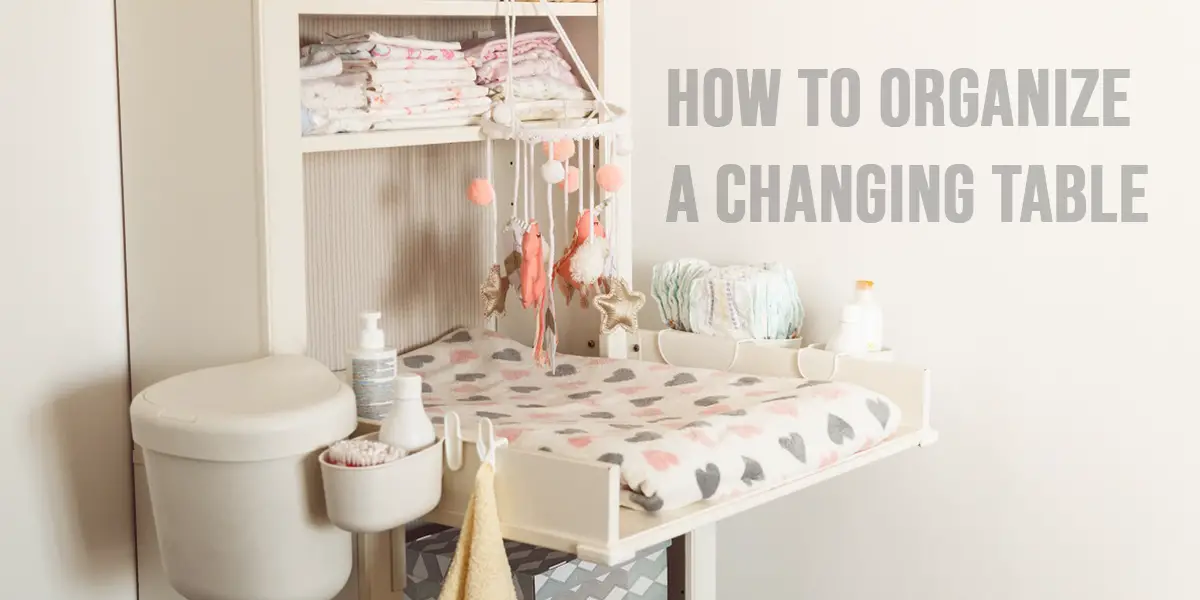 Changing tables are popular for helping to make the process of changing baby diapers more seamless, especially if they are well organized. One benefit of having a changing table is that you can undress, wipe, and change your baby at one spot with everything you need right there within your reach. In this article, we are going to explore some amazing tips for organizing your changing table so that its uses can be maximized. But first, let's help you pick the right table.
1. Choosing The Right Table
When choosing a changing table, the two questions to ask are, "will it fit my needs? And will it look good in my home? Here are some considerations to help you answer these questions correctly:
Drawers
Drawers make the changing table very useful and efficient. Apart from just changing your baby, your changing table needs to be a place where you can safely store some of your baby's possessions like diapers, wipes, and other things you need during the process of changing. Babies like to crawl around and play with stuff, and you don't want your diaper supply to be accessible to a crawling baby; it will turn out messy. This is why drawers are a great consideration for best changing tables. They keep stuff out of the baby's reach and well within your reach when you need them. Another plus is that you can easily convert a drawer to a dresser when your baby outgrows diapers.
A place to keep all your baby's things during change
A changing table that provides where to keep all your baby's things during change is the best kind. You do not have the luxury of leaving your baby on the table for a minute to grab the diaper from the next room. The changing table has two main functions, to provide a safe space for changing a baby and to provide a place to keep the baby's needs. If the table you are considering does not make provision for this, you might make a wrong decision. A changing table should hold some things like diapers, wipes, lotion, powder, and a change of clothes.
2. Styling of the Changing Table
Be sure to pick something that agrees with your style. There are two basic options to select from:
Modern
The type of table you pick should resonate with your style and not look out of place or wrong in your nursery. There are many modern and contemporary table designs you can pick that will easily add color and style to your home.
Traditional
Traditional changing tables have the same characteristics as the modern ones. It all boils down the buyer's choice and preferences. Even with traditional tables, your choices are unlimited. Just pick a design and color that works with your home or nursery.
Also Checkout: 6 Best Nightstands With Hidden Compartments
3. Tips for Organizing Changing Tables
Now that you have chosen a type and style for your changing table, let's get on with the business of organizing it properly. These tips will help you greatly:
Diapers
What is a changing table without diapers? It is for the sake of changing nappies and diapers that changing tables were made. The diaper should be the first item you place in your brand-new changing table. Since this is essential, it should be kept where it is easily reachable. This can be on the top drawer for tables with drawers or top shelf for tables without. This way, you can easily reach it when you want, and also know when your supply is running low.
Wipes
Wipes are the next best thing after diapers. They are a mummy's close friend. With wipes, you do not have to run to the bathroom every time your baby needs a diaper change. They are an easy and hygienic way to clean up your baby and get them ready for a new diaper.  They are important and should be kept within reach. So, after the diaper comes the wipes in your table. You can put them side by side or have the wipes below the diaper depending on the design and size of your table.
Blankets/Towels
You will need your blankets so that the baby does not have to lie on the hard surface of the changing table. Apart from the discomfort the baby will feel, there is also the "catching cold" part. You should not run around searching for blankets while your baby is soiled. This is why your baby's blanket is the next important addition to your changing table. It should be folded and kept on the next drawer or shelf after the diapers and wipes.
Sanitizer, Lotion, Rash cream
Since many changes will be going on here and sometimes the baby will be fresh out of the shower, it would be a great idea to have all of these handy. They will help you fully equip and ready your changing station. Depending on your table's design, these items should go in directly after or beside the blankets and towels.
Miscellaneous
Always keep space for miscellaneous items. Those items you are not sure you may need. They might come in handy when you least expect. You can include a grooming kit, combs, and nail clips. You can also bring in a pacifier or toy to distract the baby while having a diaper change. A change of clothes won't be a bad idea because, let's face it, sometimes poop can mess up both diapers and clothes. You might also be changing diapers at night, so nighties, onesies, and even a flashlight are welcome.
Also Checkout: 6 Best Floating Pool Chairs With Cup Holders
Summary
One last tip is to keep a diaper pail close to your changing table so that you do not take a full diaper on a trip around the home. Once you have all this properly arranged in your changing table, your diaper station is set, and you are battle-ready. Changing tables are a convenient addition to the nursery and home. With this, you are sure that diaper changes would no longer be a hassle.