Welcome Mama!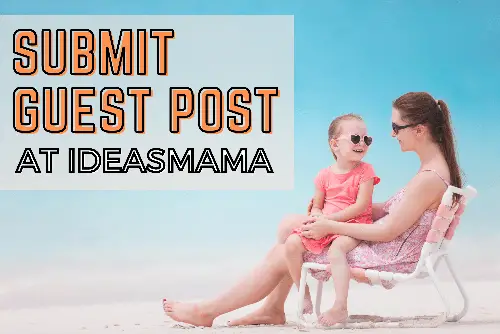 With a busy life raising kids, managing a household and pursuing your own ambitions, it's remarkable that you've put on a blogger hat too! We're so glad to know that you're interested in sharing your ideas and content on our blog. We and all other mamas would be absolutely thrilled to receive your mommy guest post and read about your experiences and tips. [toc]
What is IdeasMama All About?
IdeasMama is a fun blog created by a mama just like you. Here we share ideas and find new inspirations. This is a special world filled with art, creativity, joy and love.
Guest Post Topics We Are Looking For
Got quick party snack recipes? Or any cool parenting tips? Maybe you even have ideas about how to keep toddlers busy (and under control)! Our blog is a platform where mamas can exchange all these ideas and a lot more.
We know our website sounds like a huge platform, and it definitely is! Here's all you can write about.
Mom Related Guest Posts
Moms need help and support from other moms. From being a new mom, to sending your kid off to kindergarten or bringing a sibling to this world, thousands of moms can tackle many difficult phases in their lives with your friendly advice and tips. Bring those mom guest posts on, mama!
Gift Ideas Guest Posts
Holidays and birthdays, we want all these occasions to be special for our loved ones. Sometimes we get so caught up with life that there seem to be just too many events and too few gifting ideas. All the creative mamas who have great ideas for personal gifts, it'll be really cool if you could share a few with us.
Beauty Guest Posts
Moms are often guilty of ignoring self-care and having a negligible beauty regime. Your quick beauty tips (in the form of a beauty guest post) may inspire and nudge busy moms to take some time out for themselves too.
Home improvement Guest Posts
Besides the kids and the husband, mamas have to deal with home improvement too. If you've got a guest post on home improvement and decor tips, we'll all be eager to receive your blog.
Health Guest Posts
You can pitch articles about healthy eating and lifestyle choices, diet plans, workout plans, anything that can help our readers stay fit and in good shape.
Parenting Guest Posts
There's never a dearth of parenting advice that moms get from well wishing friends, family and strangers. But we'll rather appreciate your tried and tested tips instead.
Party & Decoration Guest Posts
Party decorations, themes, games and food-menus, we want all the secrets you've got under your super-mom cape.
Travel Guest Posts
Holidays with young kids can be extremely demanding, but going on this holiday without a plan can seem like an absolute disaster. Tell us about your holiday plan essentials and experiences, we're sure lots of moms will appreciate the information.
Business Guest Posts
Whether you run a small-business from home, or manage a large-scale enterprise, we are sure you have some crucial insight on work-life balance and how to make everything worth the effort. The aspiring business mamas would be inspired by your stories and adventures.
Social Media Guest Posts
Influencer mamas on social media (Facebook, Instagram, Pinterest, Twitter and Snapchat) we'd like to know what you, how you do what you do, and what it takes to make it big on the internet. You'll probably get some followers from our blog too.
Food & Drink Guest Posts
Whether moms love cooking or not (of course there are moms who hate their time with pans and ladles), they desperately need new recipes and food guides.
DIY Ideas
We invite all the creative masterminds to indulge us with their soul satisfying DIY projects and ideas.
What Do We Expect From Your Guest Post Submissions?
We expect all content on the blog to share our original vibe and adhere to our set standard. These are the rules you'll have to bear in mind, when submitting your guest post with us:
Your post has to be an absolute original and of course an absolute stunner. Please don't write on topics already covered on our blog, your own blog or any other blog. Give us something fresh and unheard of.
You can include one outbound link in the blog post, but that shouldn't be anchored with promotions. The link should be relevant and meaningful to the post (even if it links back to your personal blog).
We'll not accept any articles with a word count less than 1000 words. There's no bending the rules here, that's the standard we've maintained for our blog.
It goes without saying that your post has to be relevant for our website and readers. We'll publish only mom-related topics, more specifically the themes elaborated here. In case you're not sure if your idea fits squarely in our themes, you can always pitch your idea first and if it works for us, we'll let you know.
We understand that a lot of mama ideas can overlap in themes, but we want your article to stick to only one theme at a time. Digressing between themes is distracting for the readers.
If your article is solely about product reviews, make sure you're bringing some inherent value to the readers besides the general product description and ratings.
If you're including any images in the articles, make sure they are licensed for public use and not copy-right restricted. If you're adding any personal pictures or images for which you own the copyright, you are effectively giving us the usage rights.
Please mind your grammar and spellings. Content with poor English is absolutely unacceptable.
We do reserve to edit the guest article you submit for grammatical precision, correct punctuation, appropriate syntax and SEO/keyword optimization.
We expect your articles to be well formatted, structured and clear in narration. Please don't overdo the formatting bit though. Too many bold texts and underlines are too disturbing.
Please email your articles as Google Docs or Dropbox links. No attachments (and suspicious files) to our inbox, please!
What You Can Expect From Us?
Once we receive your submission, we'll get back to you within 48 hours. You'll be informed whether your post is accepted or not. Accepted guest posts will be published on IdeasMama.com and shared on all our social media pages.
You are most welcome to share the post on your social media. We are certain that our mutual collaboration will boost our respective audience reach and bring more traffic.
Please fill out the form below to get in touch with us.