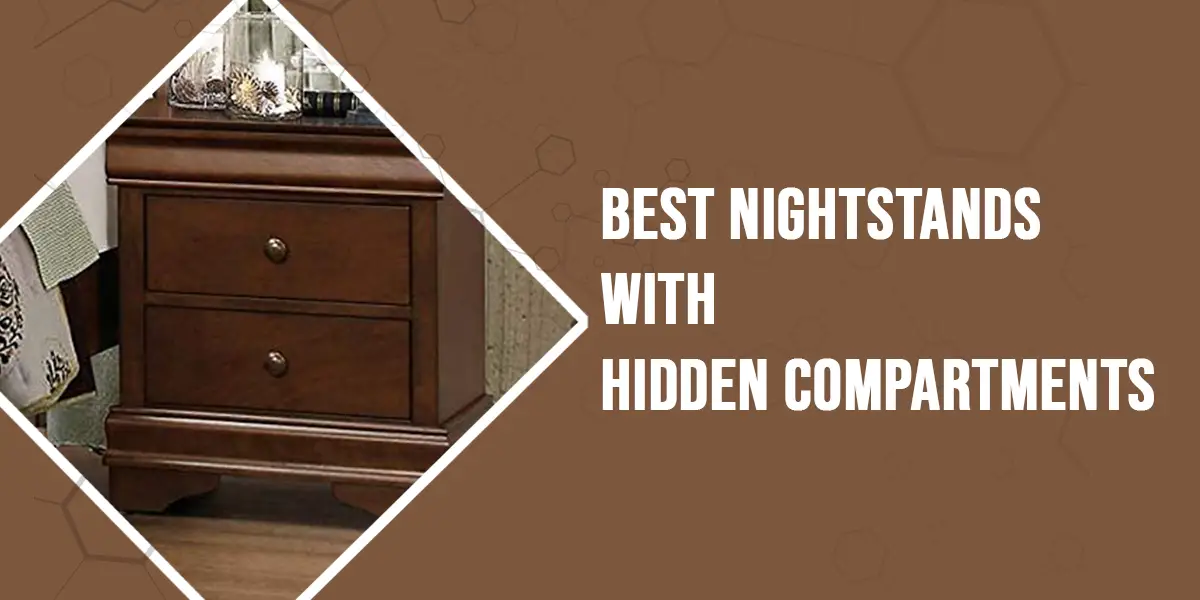 A nightstand with a hidden compartment is an essential furniture piece for making your room more secure, stylish and functional. These bedside tables have multiple purposes, from storing stuff at arm's length to providing convenient room arrangements.
They are designed for bedroom safety, privacy and security. If you want to store expensive jewelry or hide valuables, you can get a nightstand with hidden compartments. These can make sure only you can access your valuables and keep them safer. These hidden compartments also come with a high-storage and locking facility, which is not easily detectable from outside.
Check out the best nightstands with hidden compartments below.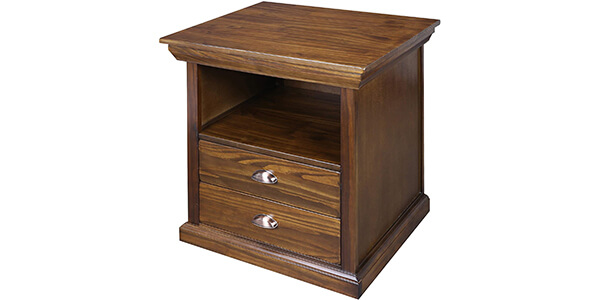 The Casual Home Lincoln Nightstand Compartment is a stylish concealment furniture for your bedside which comes in a neutral mocha color. The solid pile wood material used in construction ensures longevity with lasting beauty. It comes with a smooth gliding concealed secret top compartment and provides two drawers for large storage space. The easy access magnetic trigger design ensures an instant access. It has a dimension of 20" x 25" x 27" inches and the felt-line drawers keep it protected against scratches.
Strong Wood Built
Durable
Easily Accessible
Safe For Valuables
It has a safe compartment that's not easily detectable and has a strong and long-lasting structure.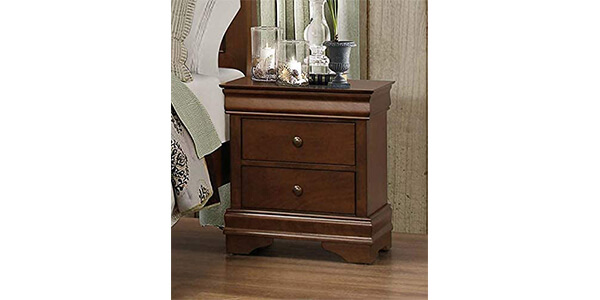 The Benzara BM181832 Wooden Nightstand With Hidden Drawer is strongly built with durable wood and metal material. It provides the user with a smooth table top which is useful for display of vases, sculptures, showcases, etc. It comes with a cute brown cherry color which will make your room more stylish. It has a large storage space with 2 drawers and a safe compartment which is perfect for your bedroom essentials. The standard fitting dimensions of 21 x 15.75 x 23.5 inches doesn't occupy much room space.
Durable Wood And Metal Material
Storage Space
Smooth Top
It provides essential storage space for the bedroom and comes with a brown cherry color which provides a unique finish to your bedroom décor.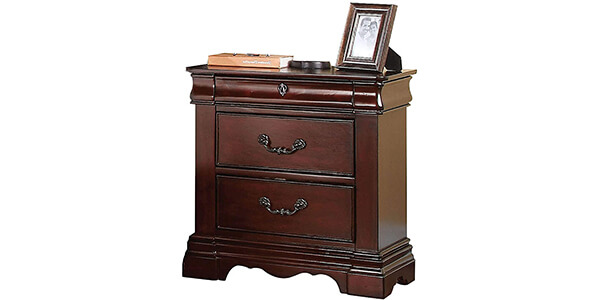 The Urban Designs Vintage 2-Drawers Nightstand With Hidden Drawer is among the top rated concealment furniture which comes in appealing dark cherry color. It is built with a strong wood pile which ensures higher durability and sturdiness. It provides 2 drawers and a smooth gliding centre metal concealment drawer which can accommodate valuables and keep them safe. It comes with 26 x 16 x 28 inches dimension which makes it suitable for limited space. It has a dovetail French front and English back which provides a vintage feel to your room décor.
Appealing Color
Bronze Metal
Storage Space
Durable
Vintage Look
It comes with a felt-lined top drawer which makes it hard to detect from outside and this nightstand provides an overall veteran classic look.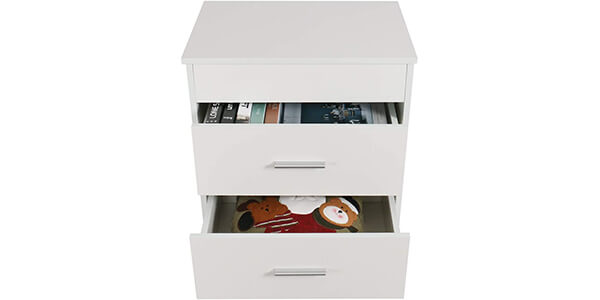 The 2 In 1 Upgrade Nightstand With Lift Top And Computer Table is a strong metal and wooden built concealment furniture which comes in black and white color. The 2 large drawers provide a lot of storage space for your essentials and 1 hidden compartment is definitely a plus point. This nightstand has multiple purposes like laptop table, snack table, sofa end table, bookshelf, etc. The 4 lockable equipped casters and rolling wheels ensure stability and easier movement. It is a dream come true nightstand for a fashionable, easily accessible and safe room décor.
Lasting Fiberboard Wood
Multipurpose
Elegant Design
Affordable
High Storage
It can easily be used for several purposes and is made with durable material. It provides a high storage facility and easy-to-move design.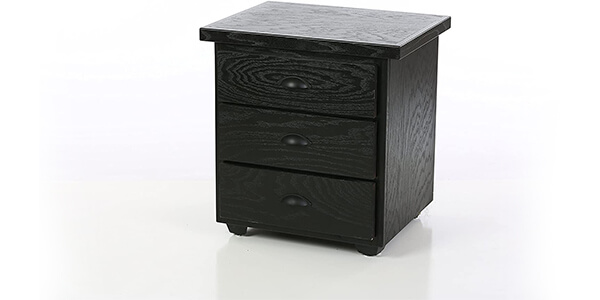 The Patriot Promotions Bedroom Nightstand Or End Table With A Hidden Concealed Compartment is a dream table for every interior-decor enthusiast since it has 7 color options. It is a multipurpose table that can be used as a sofa-end table, work table, snack table, and much more. You have the option to choose your wood stain color and size according to your needs. This is a hand-made product specially designed for consumer purposes. It allows easy access to things at arm's length and hides valuables in plain sight.
Space Saver
Multipurpose
Versatile And Stable
Handmade For Your Needs
Color Options
It is strongly built with the wood color and size of your choice. It allows you to explore and be versatile with designing.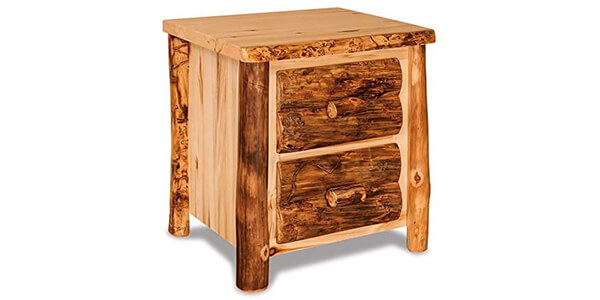 The DutchCrafters American Made Rustic Log Nightstand With Hidden Compartment is a beautiful rustic alluring nightstand which will complement any rustic themed bedroom. It is available in 3 colors from which you can choose the best suitable for you. It has a strong wooden finish which is highly durable, fashionable and perfectly varnished. It provides 2 high storage drawers with 25.5 x 21 x 27 inches dimensions and a hidden compartment for safety needs.
Color Options
Durable And Varnished Wood
Alluring Design
Good Storage
Little Pricey
Space Consuming
This nightstand provides a unique rustic feel to your room décor and provides high storage space for your essentials.
Frequently Asked Questions
You can make a nightstand with a hidden compartment through this DIY:
What you need:
1×12" inches wooden boards for frame
2×25" inches for sides
2×13" inches for shelves
2×16" inches for top
Joinery Jig
Screws and wood glue
Steps:
Make the Cuts. Mark the exact location of the tenons and holes on the edge of the boards, you can start by finding the center of the board (3/4 of an inch here)
Then clamp the beads of joinery jig and make sure that the lines of the sides line up with the center of the board
See the jigs marked properly and drill 3 holes on the sides. Loosen the jig and make 2 more holes on the other side. 5 exact holes for tenons to set in.
Then make holes on the surface of the board and center shelf with the same technique.
Assemble all the pieces you have carved and jigged and join them with the help of holes you've made. Clamp it all together and wait for it to dry overnight.
Now make the drawer and compartment using wood glue and finish nails.
Install the perfectly sized drawer into the compartment and attach the secret drawer to the top of the frame and fix it through wood screws.
Then attach the top of the nightstand.
If it looks a little complicated you can take help from a professional or watch easy DIY tutorials online.
2. Do nightstands have to match?
No, your nightstands don't necessarily have to match. You can choose different shape and size nightstands for both bedsides. You can make anything look good with thoughtful accessorizing and decorating, even if items match or not. Some people even prefer to mix and match their nightstand with lamps and other bedroom accessories. However, the most common look is to have two matching nightstands at either side of bed.
3. How do you make a cheap nightstand?
You can make cheap nightstand by:
Transforming a basic table with wooden top
Upcycling wooden beans
Using IKEA shelf
Stacking wooden crates vertically
Upcycling an old door
Tailoring with salvaged and brilliant piece of wood
Using plywood and hairpin legs
Planting a wooden crate over hairpin legs
Stacking two wooden boxes and pipes
4. How do you make a secret hiding spot in your room?
There can be several secret hiding spots for storage in your room. You can try:
Old Vacuum Cleaner
Air Vents
Electric Outlets
Water Bottles
Clock
Sliding Mirrors
Secret Drawers
Potted Plants
5. Do you need two nightstands?
Placing two night stands on each side of your bed is a very common look for a symmetrical design. But you don't necessarily need two night stands if you don't require large storage space. It also depends on the size of your room and personal preference. You can make one nightstand look as presentable as two.
6. Can nightstand be lower than bed?
There is no rule to have bigger night stands, you can keep a small height night stand if you are comfortable. However, it's easier to raise your arms than to lower them for reaching out to anything. You can try a nightstand that is either equal to the height of your mattress or slightly bigger than it. This will give a consistent look and easily usable surface.
7. Why do bedroom sets only come with one night stand?
Vendors usually sell only one nightstand to furniture stores alongside a bedroom set. Because it allows the store to sell the nightstand as part of the bedroom set. They feel not all customers need two nightstands because of the large storage space it needs and bedrooms don't have enough space for two dressers. Two nightstands can also build a dull and canned look.
8. How far away should nightstand be from bed?
This depends on how much space you have in your room. You don't want the nightstand to be attached to bed or too far away from it. This might make your room look empty or out of proportion. It's always recommended to at least have 7.5cm (3 inches) space between your bed and nightstand. But you can change it according to your needs.
9. What color should nightstands be?
You can coordinate the color of your nightstand with your room's color palette. Please note that lighter colors reflect and darker colors absorb the light. A white, metal or glass nightstand can help to bring extra light and shine to your room, while a black or cherry color nightstand can add a tasteful complement to tone it down.
Conclusion
There are a lot of nightstands with hidden compartments available in the market, but we have provided you the top-rated products. These all are perfect for a stylish, safe and private room décor. They can be used for several purposes like a work table, snack table, storage space, etc.
All of them are constructed with the best pile wood that ensures durability and longevity. These are best for a sleek and presentable room finish.