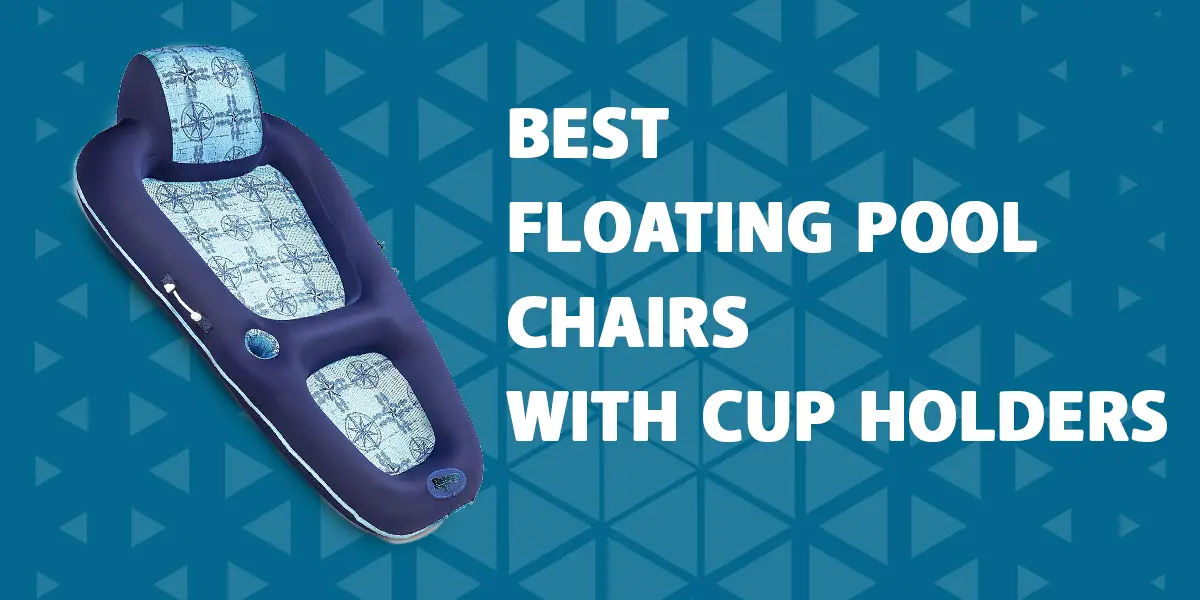 It's always exciting to sunbathe and relax by the poolside, but it's more fun to do that inside the pool surrounded by water. And if you have food to eat, some drinks to sip along, there's nothing better to let go of your worries. Floating Pool Chairs with Cup Holders are the best way through which you can enjoy that feeling of relaxation in the pool.
These floating pool chairs are made from durable and sustainable plastic material which lets you enjoy them every summer. They come in different shapes and sizes suitable for both kids and adults. They all provide certain added features and you can choose the best suitable ones according to your needs.
Check out the best floating pool chairs with cup holders below.
Our Top Picks
Best Innovative Floating Pool Chair: Aqua Campania Ultimate 2 In 1 Recliner
It has an adjustable headrest, attachable caddy and duolock valves which increases comfort and ensures hassle free inflation.
Best Floating Pool Chair For Adults: SwimWays Spring Float Recliner
It can easily support most adults up to 300lbs weight.
Best Floating Pool Chair For Lounging: Aqua Luxury Water Lounge
It has a superior size and comfortable and cool mesh material that's perfect for lounging and tanning in the pool.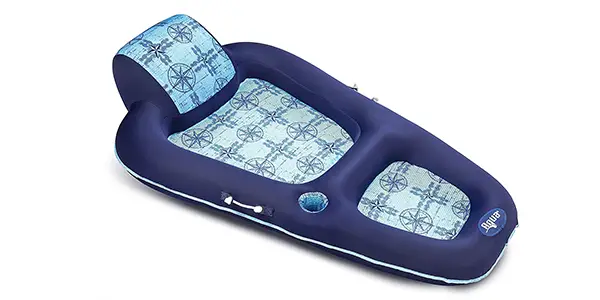 The Aqua Luxury Water Lounge is the perfect recliner to relax in luxury with cushioned and ergonomic backrest, headrest and footrest. It is made from high quality soft fabric cover which gives you support and cool seating in the pool. It comes with two carry handles and an oversized beverage holder which makes it more portable and increases enjoyment.  The two air in-out valves and locking system makes it easier to inflate and deflate.
Pros
Superior Size 
Soft And Durable Material 
Carry Handles And Cup Holder 
Cushioned Structure 
Easy In-Out Valves
"The large size makes you enjoy your floating session and the mesh fabric keeps it cool. It provides proper cushioned support for head, back and feet."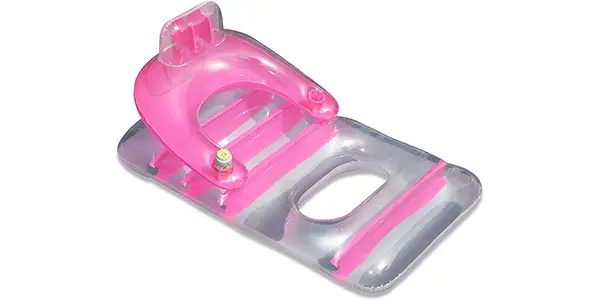 The Swimline Deluxe Lounge Chair provides an ultimate relaxing pool floating experience in summers. It is featured with an inflatable pillow, back support, armrests, leg rests and 2 cup holders which makes your sunbathing more comfortable. The leg rest portion also has an opening which lets you put your feet down to cool in the pool or up when you feel like sitting. It also comes in 3 colour choices of Silver/Pink, Silver/Blue and Silver/Purple.
Pros
Good Support
Comfortable And Durable Material
Colour Options
Affordable
Cons
Light Weight Which Might Trip You Off
"It is made with inflatable and comfortable material. It also features a hole from which allows you to put your feet in the pool."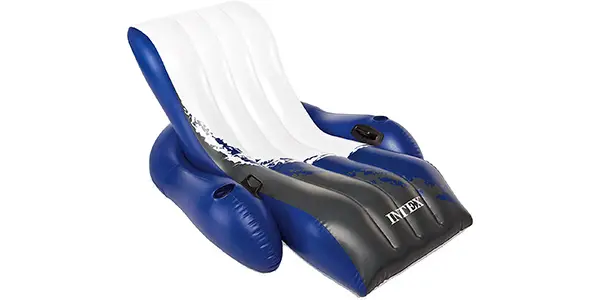 The Intex Floating Recliner Inflatable Lounge has the perfect chair like design which makes it more comfortable. It is made with 18 gauge vinyl and chiffon material which is highly durable and long-lasting. It also features 2 heavy duty handles which makes it easy to carry and portable. It provides 2 air chambers, proper armrests and 2 cup holders for better enjoyment, comfort and fun to use in the pool.
Pros
Comfortable And Durable
Armrests
Easy To Inflate
Heavy Duty Handles
2 Air Chamber And Cup Holders
"It is an easy to inflate and portable pool chair which provides more comfort. It also has armrests and cup holders for better floating and tanning experience."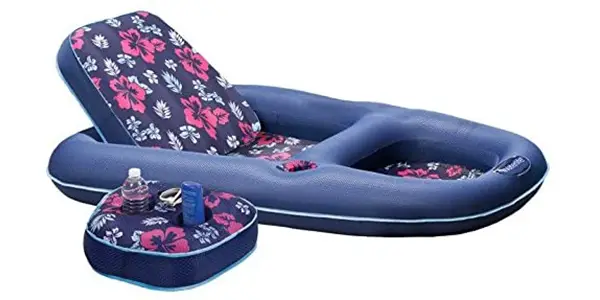 The Aqua Campania Ultimate 2 In 1 Recliner is made from high quality mesh material which makes it durable and increases comfort. It has a cushioned and adjustable backrest which allows you to sit upright or get a full-on tanning experience. It also comes with attachable caddy for beverages and features a fast duolock valves technology. It has a super buoyancy with 20% thicker material and easily inflated size that can accommodate up to 250lbs.
Pros
Superior Buoyancy 
Portable Handles 
Attachable Caddy 
Soft And Durable Material 
Supporting And Adjustable Headrest
"It is featured with easy inflated duolock valves and carry handles that increases portability. It is made from soft mesh material for better support and comfort."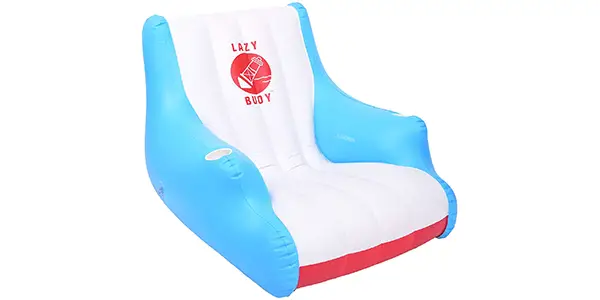 The GoFloats Lazy Buoy Floating Lounge Chair is made from synthetic plastic which is highly durable and comfortable to sit on. The material also makes it sturdy and it doesn't tip off easily and it's also easy to get on/off it. It also provides side grommets with clips which let you attach other lounge chairs together. It is a great chair to enjoy socializing, reading and relaxing in the sun and an in-built cup holder is a plus point.
Pros
Sturdy And Durable Material 
Attachment Clips
Quick Inflate 
Multipurpose
"It comes with quick-inflating new valves which ensures faster and easy inflation. The plastic material is also durable and comfortable."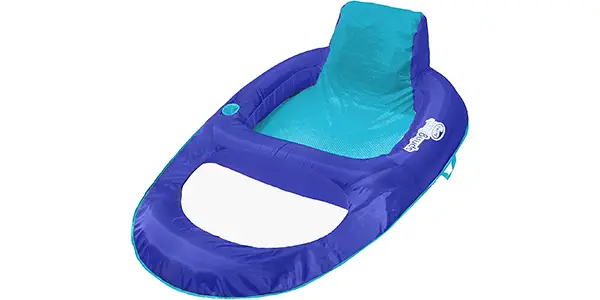 The SwimWays Spring Float Recliner is made from durable fabric and comes in inflatable material which is compact for portability and storage. The soft and mesh material provides a better cooling experience on hot sunny days. It comes with an integrated headrest, backrest and cup holders for better enjoyment and comfort. It can hold and support most adults up to 300lbs.
Pros
Cool Mesh Material
Headrest And Backrest
Portable And Compact
Inflatable Durable Material
"It is made with a cool mesh fabric which is best for hot summer days. It also has integrated support for back and head for more comfort."
Frequently Asked Questions
Conclusion
There are a lot of floating pool chairs with cup holders available in the market, but we've provided you the top-rated items. These ensure higher durability, stability and better floating experience. They also come with proper supporting and comfortable headrest, armrest, backrest and leg rest which increases relaxation. 
They are best suited for any fun pool parties or good for enjoying, reading and tanning, sunbathing and relaxing under the sun in the pool.