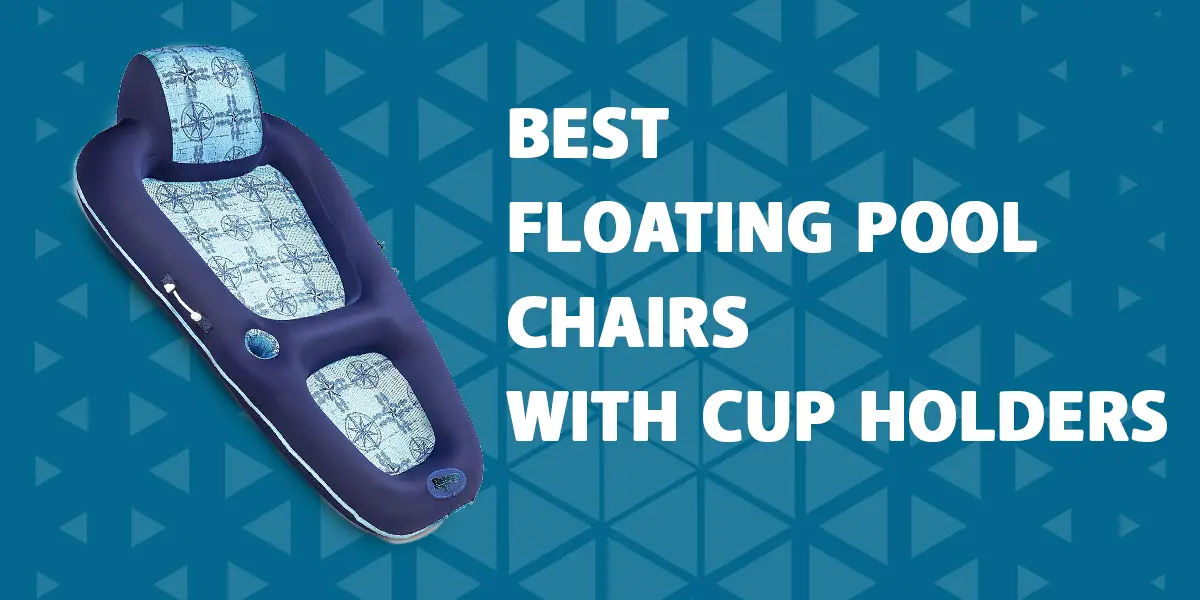 It's always exciting to sunbathe and relax by the poolside, but it's more fun to do that inside the pool surrounded by water. And if you have food to eat, some drinks to sip along, there's nothing better to let go of your worries. Floating Pool Chairs with Cup Holders are the best way through which you can enjoy that feeling of relaxation in the pool.
These floating pool chairs are made from durable and sustainable plastic material which lets you enjoy them every summer. They come in different shapes and sizes suitable for both kids and adults. They all provide certain added features and you can choose the best suitable ones according to your needs.
Check out the best floating pool chairs with cup holders below.
Our Top Picks
Best Innovative Floating Pool Chair: Aqua Campania Ultimate 2 In 1 Recliner
It has an adjustable headrest, attachable caddy and duolock valves which increases comfort and ensures hassle free inflation.
Best Floating Pool Chair For Adults: SwimWays Spring Float Recliner
It can easily support most adults up to 300lbs weight.
Best Floating Pool Chair For Lounging: Aqua Luxury Water Lounge
It has a superior size and comfortable and cool mesh material that's perfect for lounging and tanning in the pool.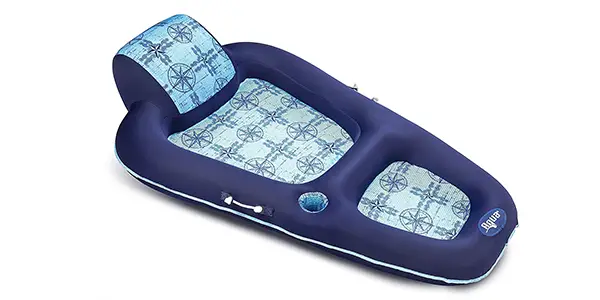 The Aqua Luxury Water Lounge is the perfect recliner to relax in luxury with cushioned and ergonomic backrest, headrest and footrest. It is made from high quality soft fabric cover which gives you support and cool seating in the pool. It comes with two carry handles and an oversized beverage holder which makes it more portable and increases enjoyment.  The two air in-out valves and locking system makes it easier to inflate and deflate.
Superior Size 
Soft And Durable Material 
Carry Handles And Cup Holder 
Cushioned Structure 
Easy In-Out Valves
The large size makes you enjoy your floating session and the mesh fabric keeps it cool. It provides proper cushioned support for head, back and feet.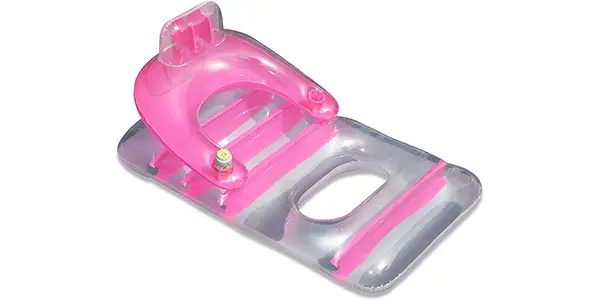 The Swimline Deluxe Lounge Chair provides an ultimate relaxing pool floating experience in summers. It is featured with an inflatable pillow, back support, armrests, leg rests and 2 cup holders which makes your sunbathing more comfortable. The leg rest portion also has an opening which lets you put your feet down to cool in the pool or up when you feel like sitting. It also comes in 3 colour choices of Silver/Pink, Silver/Blue and Silver/Purple.
Good Support
Comfortable And Durable Material
Colour Options
Affordable
Light Weight Which Might Trip You Off
It is made with inflatable and comfortable material. It also features a hole from which allows you to put your feet in the pool.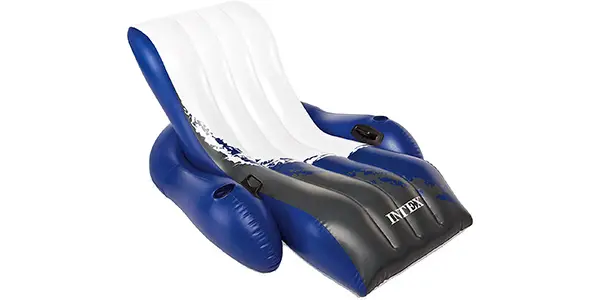 The Intex Floating Recliner Inflatable Lounge has the perfect chair like design which makes it more comfortable. It is made with 18 gauge vinyl and chiffon material which is highly durable and long-lasting. It also features 2 heavy duty handles which makes it easy to carry and portable. It provides 2 air chambers, proper armrests and 2 cup holders for better enjoyment, comfort and fun to use in the pool.
Comfortable And Durable
Armrests
Easy To Inflate
Heavy Duty Handles
2 Air Chamber And Cup Holders
It is an easy to inflate and portable pool chair which provides more comfort. It also has armrests and cup holders for better floating and tanning experience.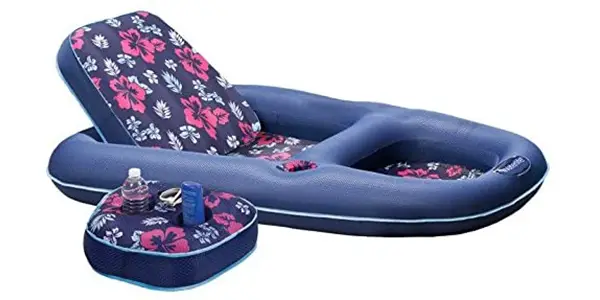 The Aqua Campania Ultimate 2 In 1 Recliner is made from high quality mesh material which makes it durable and increases comfort. It has a cushioned and adjustable backrest which allows you to sit upright or get a full-on tanning experience. It also comes with attachable caddy for beverages and features a fast duolock valves technology. It has a super buoyancy with 20% thicker material and easily inflated size that can accommodate up to 250lbs.
Superior Buoyancy 
Portable Handles 
Attachable Caddy 
Soft And Durable Material 
Supporting And Adjustable Headrest
It is featured with easy inflated duolock valves and carry handles that increases portability. It is made from soft mesh material for better support and comfort.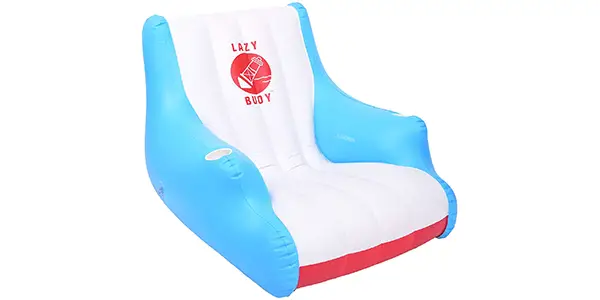 The GoFloats Lazy Buoy Floating Lounge Chair is made from synthetic plastic which is highly durable and comfortable to sit on. The material also makes it sturdy and it doesn't tip off easily and it's also easy to get on/off it. It also provides side grommets with clips which let you attach other lounge chairs together. It is a great chair to enjoy socializing, reading and relaxing in the sun and an in-built cup holder is a plus point.
Sturdy And Durable Material 
Attachment Clips
Quick Inflate 
Multipurpose
It comes with quick-inflating new valves which ensures faster and easy inflation. The plastic material is also durable and comfortable.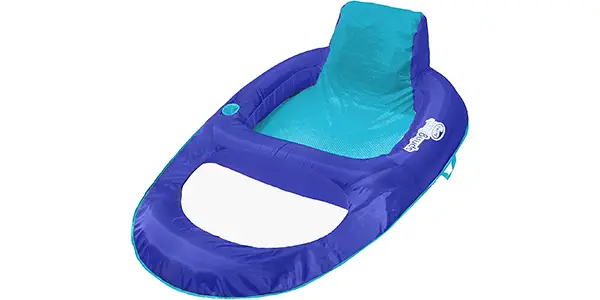 The SwimWays Spring Float Recliner is made from durable fabric and comes in inflatable material which is compact for portability and storage. The soft and mesh material provides a better cooling experience on hot sunny days. It comes with an integrated headrest, backrest and cup holders for better enjoyment and comfort. It can hold and support most adults up to 300lbs.
Cool Mesh Material
Headrest And Backrest
Portable And Compact
Inflatable Durable Material
It is made with a cool mesh fabric which is best for hot summer days. It also has integrated support for back and head for more comfort.
Frequently Asked Questions
1. What is the best pool lounger?
There are numerous good pool lounges available in the market.
Intex Rockin' Inflatable Lounge 
Kelsyus Floating Water Hammock 
SwimWays Kelsyus Floating Lounge
Intex Pool Float Chair 
SwimWays Pool Float Recliner 
Poolmaster Water Hammock Lounge
Intex Comfort Inflatable Lounge 
2. What is the best way to store pool floats?
You can store pool floats through this method. 
Clean pool floats for storing: You need to make sure all pool items are clean to prevent growth of mould. You can use a solution of bleach/vinegar/baking soda with cold water. Use a scrubbing brush and the solution and gently scrub each item. Let them air dry completely under shade. 
Inflate pool floats: After they are dry, you need to inflate the pool floats by removing their valves and squeezing all the air out of them. You can put them on a flat surface and press with your hands to make sure all the air is released. Put some talcum powder or corn-starch to make sure inflatables don't stick together. Now fold and roll them up. 
Store pool floats: You should put them in their original packaging if possible, or you can use individual boxes, plastic containers or zip-lock storage bags. Make sure you store them in enclosed and dry places to prevent them from elements and dust. You can store them in a shed or garage or install ceiling hooks and hang bags of pool floats onto them. 
3. How are pool floats made?
Pool floats are made out of polyvinyl chloride, most popularly called PVC. This PVC is sometimes labelled as vinyl material, and most of the inflatable pool floats are made from this. Some pool floats are also made from nylon material and some entirely from foam. Pool floats are made from the same material as an inflatable pool, only pools are made from thicker PVC material. 
4. What is the meaning of floating in swimming?
Floating is a technique used by good swimmers which allows them to rest on the surface of water while swimming. It equips the person to roll back on their back and stay at the water surface which allows them to breathe. Floating helps swimmers to rest and conserve their energy which reduces chances of drowning from physical fatigue. 
5. Is it bad to leave floats in the pool?
Yes, you should never leave floats into the pool and take them out with you. Because if you leave your pool floats overnight in the pool, it will break the plastic or vinyl material over time. This is due to high exposure of floats with pool chemicals, water, sunshine and heat. You should always take out pool floats from the pool and store them under a shade to increase their sustainability. 
6. What do you do with old pool floats?
If your old pool floats are still usable and in good condition, you can consider donating them to friends and neighbours, or add them to your next garage sale. If they're outgrown and not usable you can consider repurpose or recycle them. Most of these pool floats are made from plastic that are not exactly recyclable but you can definitely check with your local recycling unit. Another great idea is to make some DIYs using them, like a water resistant beach bag. 
7. How much does a pool float cost?
This depends on the size, shape and material of the pool float you're buying. A plain normal sized pool float can cost anything from $25 to $200. And giant luxury pool floats in different shapes come in over $399 range. 
8. What are the best pool toys?
Some of the best pool toys include: 
Beer pong Inflatable 
Magnetic Fishing Toy set
Volleyball and Basketball Toy 
Waterproof Playing Cards
Watermelon Ball 
Watermelon Float 
Underwater Pool Toys set for kids 
Rings and Balls 
Inflatable Flamingo 
9. What age can you use a baby neck float?
Babies can go into water at a very young age and learn to swim and float. Most companies selling baby neck floats ensure that as young as an 8 weeks (2 months) baby can be made to use neck floats. 
10. Can a newborn baby float on water?
Babies under the age of 6 months can float really well, since they have been surrounded by amniotic fluids in the womb for 9 months. This also makes the feeling of water in their ears very natural and they'll be happy to relax and float on their backs. They also have high fat content in their bodies which further helps them float on water. 
Conclusion 
There are a lot of floating pool chairs with cup holders available in the market, but we've provided you the top-rated items. These ensure higher durability, stability and better floating experience. They also come with proper supporting and comfortable headrest, armrest, backrest and leg rest which increases relaxation. 
They are best suited for any fun pool parties or good for enjoying, reading and tanning, sunbathing and relaxing under the sun in the pool.