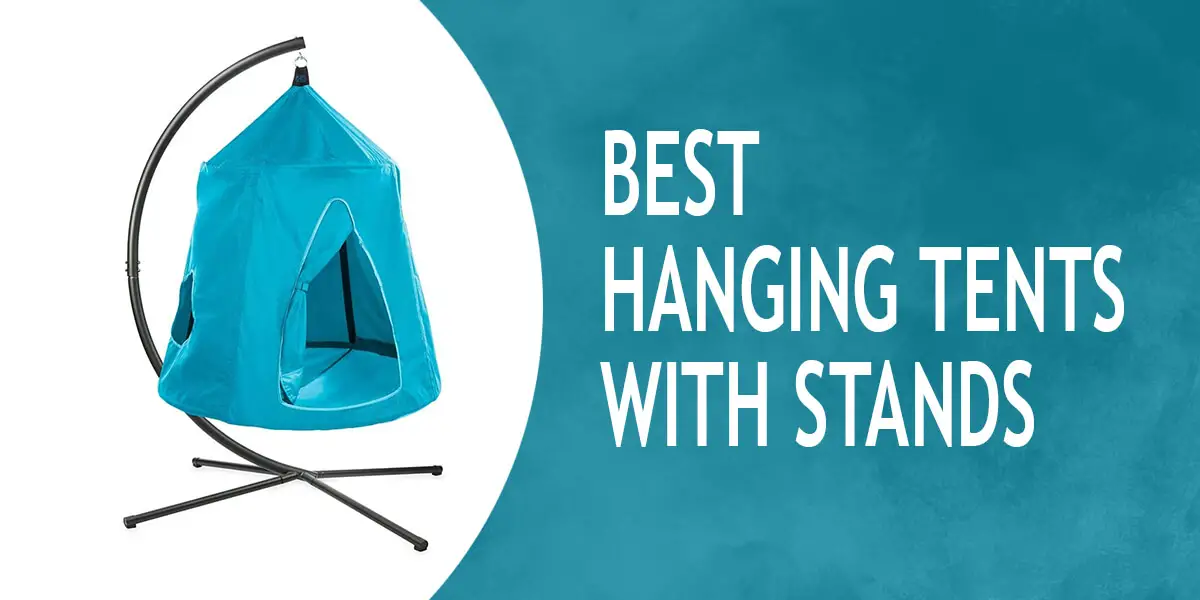 Are you looking for fun hanging tent with a stand for your kids? Well, today we are going to show you some of the best ones out there.
As opposed to traditional tents, hanging tents make use of special stands or hangers to help the tent hang. They can be used both indoors and outdoors with the appropriate setup options. 
These tents make a great space for children to hang out and do reading and other fun activities.
Given below are the best hanging tents with stands in 2023.
Our Top Picks
Best Overall: Sportspower Bluepo
This tent is spacious, comfortable and comes with a very sturdy stand.
Best Affordable: Member's Mark Hangout Tent
Hanging tents can be expensive but this is a good affordable option for people who are on a budget.
Best Appealing For Kids: HearthSong Cozy Posy Tent
The unique design and appealing colors of this tent make it very suitable for small children.
The HearthSong Go is a perfect hangout space for children. It's available in 2 colors – blue and green. The stand has a good weight capacity of 250lbs and the hanging tent can comfortably accommodate 2-3 children.
It can also accommodate a parent along with the child. The stand is strong and sturdy with a single hanging point for the tent.
The LED string lights which come along with this tent help light it up and decorate it. The tent has 2 porthole-style openings which prevent stuffiness inside.
The door can be opened and closed by rolling and unraveling. The duffel bag (which is included with the tent) helps store and transport the tent easily. The setup procedure of the tent is very easy.
Pros
Sturdy stand
Stiff material
Included duffel bag
Additional LED lights
Indoor and outdoor use
Cons
Expensive
Takes a good amount of room
"If you want a hanging tent which can be conveniently used both indoors and outdoors, you should go with this one."
The Sportspower Blupod is a well designed tent made from good quality materials. The cushion seat inside helps children remain comfortable for long periods of time.
The tent is hung with the help of a sturdy 3 legged stand. The single hanging point has a strong metal loop. This loop holds the tent with the help of a metal suspension chain.
The door flap can be rolled up and secured using Velcro straps. You can also set this tent inside if you have sufficient space.
The height of the tent can be adjusted with the help of the suspension chain. If you have very small children you can set it up at a lower height.
Pros
Sturdy stand
Adjustable hanging height
Cushioned bottom
Easy setup procedure
"The sturdy stand which comes with the tent makes it very easy to hang the tent."
The HearthSong Cozy Posy Tent is a beautiful fantasy themed tent which is perfect for children. The tent has a leafy top and a pastel pink body.
There are 3 windows with a fabric door which has a window cutout in it. The LED fairy lights (included with the package) also add character to the tent.
It is quite easy to put together and can be hung from the crescent shaped stand which comes along with it. The tent can be used outside in all weather conditions and can even be hung from a tree.
It has a sufficient weight capacity of 250lbs and can accommodate both children and preteens. The polyester cushion bottom helps to maintain comfort.
Pros
Comfortable
Good quality material
Fantasy design
Included LED lights
Indoor and outdoor use
Cons
Expensive
Does not come with height adjustable chain
"The design of this tent is innovative and catered to children."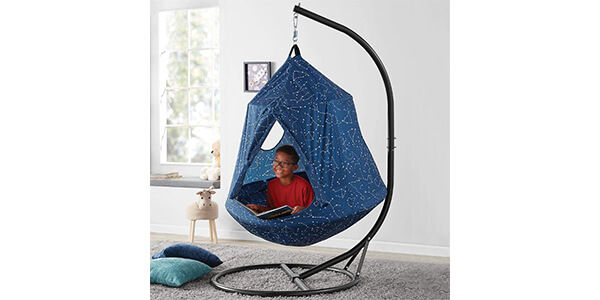 The Member's Mark Tent is durable and well crafted with a printed navy blue design. It has a weight capacity of 350lbs, which is great.
It is also roomy and spacious and can accommodate up to 4 children. The included stand has a rigid circular base and is well constructed and sturdy. The tent is well padded inside and has a cushioned bottom.
The tent has a triangle shaped opening with a rolling fabric door. The circular windows add a nice touch.
You can use this tent in multiple places like the bedroom, backyard and other outdoor spots. It serves as a quiet resting space for reading and other activities. The wired LED lights can be hung inside to brighten the tent.
Pros
Comfortable
Spacious
Rigid and sturdy stand
Versatile uses
Aesthetic design
Cons
Difficult to assemble
Poor assembly instructions
"You can read, take naps, have fun conversations and do much more in this tent."
The HearthSong Panorama Tent has a unique style and a visually appealing look. It has a translucent mesh body with a conical top.
It can easily compliment any space because of its pastel shades which are pastel blue and beige. The oval opening can be closed with the fabric door. It is perfect for both outdoor and indoor use.
All the necessary hardware parts for setting up the stand are included. The stand has 3 legs which impart good steadiness.
It has a single hanging point for the tent. You can decorate the tent with the included lights along with any other accessories of your choice.
It is a good way to encourage reading and other silent activities by providing a cozy space.
Pros
Simple design
Sturdy stand
Airy and breathable
Sufficient weight capacity
Flexible uses
Cons
Not very private
No cushioning
"This is a versatile tent which can be used for multiple purposes."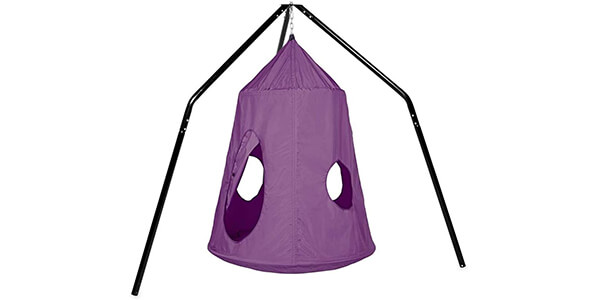 The HearthSong Nylon Tent is another amazing hanging tent by HearthSong. This tent is manufactured from nylon as opposed to the traditional polyester.
It can be easily washed when dirty and washing does not damage the material. The cushion inside can be removed and replaced when needed. You can also add other additional cushions for extra comfort.
This tent has a simple assembly procedure. The stand can be easily set up with the help of the included parts. It is strong and has a good weight capacity.The tent has elastic loops inside which enable the hanging of LED or other decorative lights. It is available in two bold colors: purple and red.
Pros
Easy setup
Elastic loops for lights
Sturdy stand
Tough material
Washable
Cons
Plain look
Stand takes up a lot of space
"This tent is simple, functional and durable."
---
Frequently Asked Questions
Conclusion
You can find many different color and style options for hanging tents with stands online. Your kids can also review the options and choose the design they like.
We have made a list of the best hanging tents that are available with stands so you don't have to purchase them separately.