It is unarguable that moms are indeed the most wonderful beings on earth. They held and comforted us when we cried as kids and cheer us on when we did a good job. When the time comes for us to show them our gratitude for their existence, we should make sure that they understand and know without a doubt how highly we think of them. So, pick a Christmas gift for mom from this list of twenty-five presents that will make your mother's holiday.
1. Cutting Board Cookbook Stand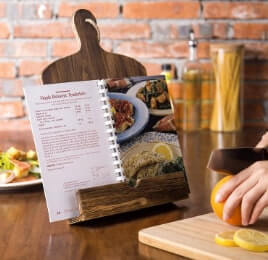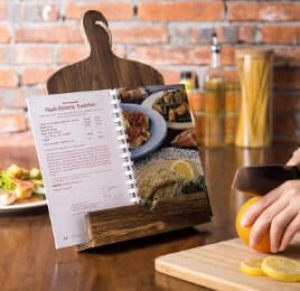 This clever piece of wood that looks like a cutting board but acts as a cookbook stand will put a smile on your mother's face when she sees it. Its wooden construction gives it a nice southern homey feel. Made to resemble an antique piece of woodcraft, it comes with a kickstand at the back that lets you prop up a cookbook, tablet or phone against it. Its stand is 1 inch wide, allowing you to put up a cookbook of a decent size.
Pairing this with a popular cookbook, or one of a cuisine that your mother loves to cook, would make for a nice Christmas gift for your mom. It's a utilitarian piece that will look very chic in your mother's kitchen.
2. A pretty work bag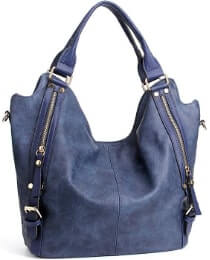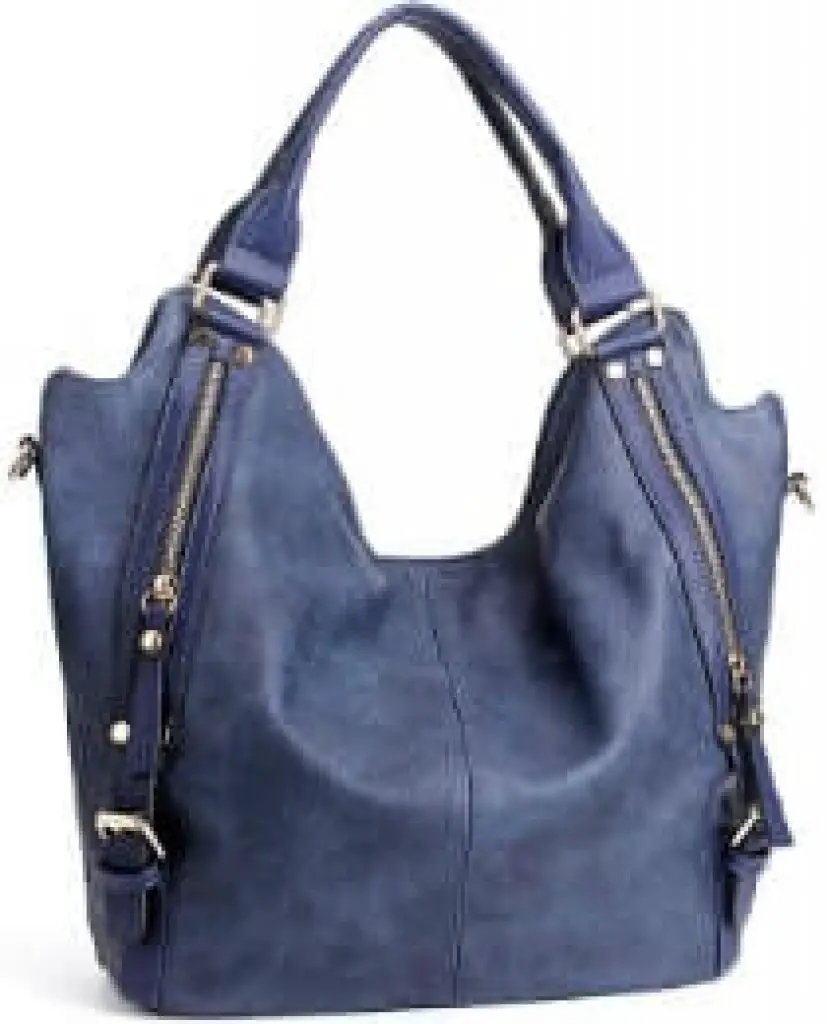 Is your mom the smart, hardworking career woman you have always aspired to be? Show her your respect for her drive by getting her something that she can proudly wear to the office. This handbag is stylish enough to suit your mom's sophisticated tastes, and large enough to throw in every single thing she may need to have with her on the go. Made of genuine leather, it is quite sturdy and can withstand a good amount of wear and tear, and it has several pockets so your mom can organize her stuff according to her preference instead of having to fish through the bag looking for something.
3. Mason Jar herb garden set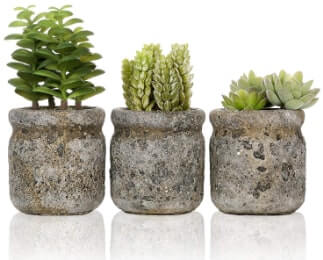 If your home has a flourishing garden full of flowers and vegetables, you don't have to look far to know what to get mom for Christmas. This pretty set of Mason jars comes with three soil pods and one packet each of seeds of basil, rosemary and sage. The joy of watching the seeds germinate and grow in the jars is unparallel, and the jars add a homey feel to your mom's windowsill or tabletop. Besides, once the herbs have grown a little more, they can always be transplanted into a free space in your mom's garden, so she can keep growing them.
4. Gold Initial necklace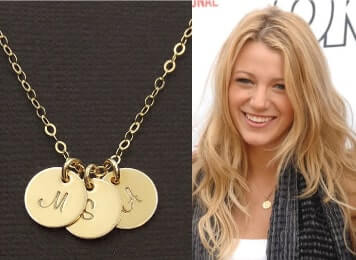 This custom-made gold initial necklace available on Etsy gives you the option of putting up to six discs (in case your mom has an extremely long name, or you just want to write her first name instead of her initials) with different length choices, and lets you choose what initial(s) to put, or just a symbol if that is preferred. Its style lies in its simplicity, and in truth, nearly nothing else could symbolize your love for your mother better than this.
5. A makeup kit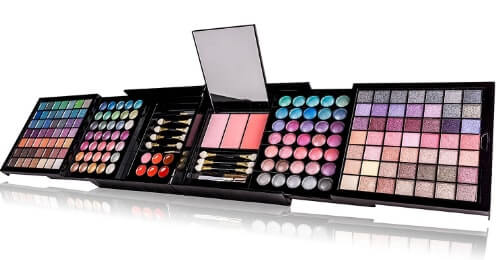 Nearly every woman loves to doll herself up and look nice for special occasions, and certain women prefer doing it for daily presentability. Either way, your mother will love this All in One Harmony makeup kit by Shany. The box it comes in is foldable and pretty, making it easy to carry around.
It contains highly pigmented 98 shimmer eye shadows and 70 pastel shimmer eye shadows allowing for a vast range of color, especially if you should choose to mix and match. The kit also has 6 Lip Glosses, 3 Blushes,7 Sponge brushes, 2 Lip Brushes, 1 Blush Brush & 1 Mirror making it a complete set.
6. Bath Salts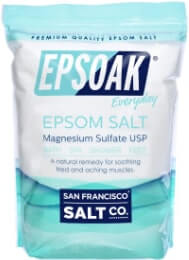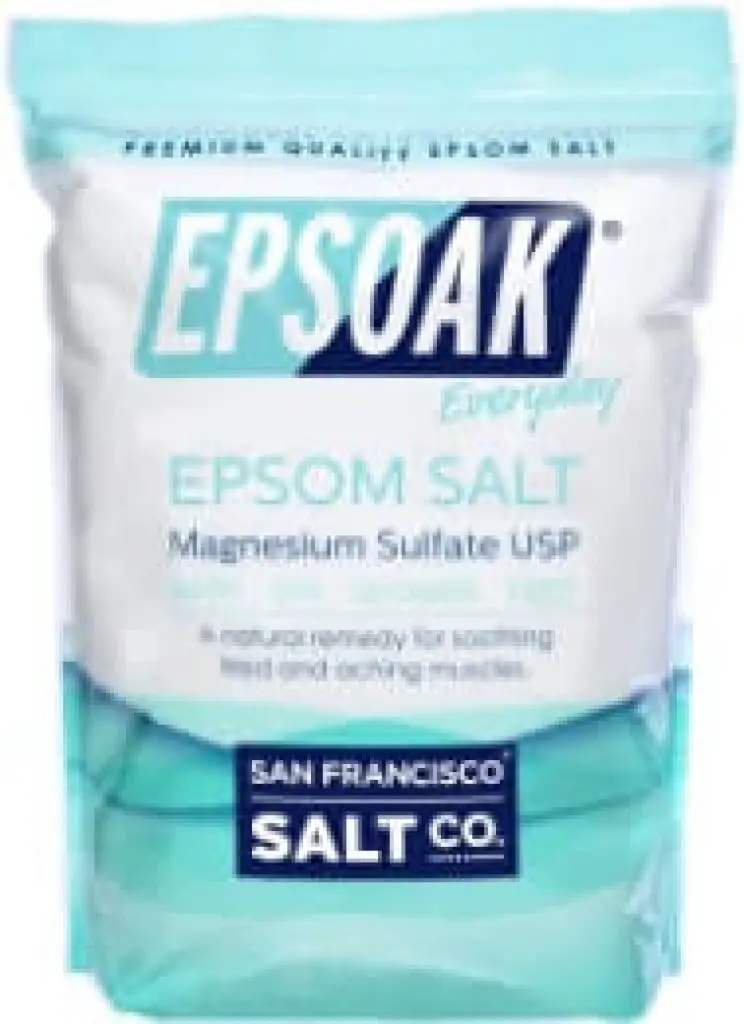 Let's be real. Being a mom is a full-time job. It doesn't matter whether her kids are five, ten, twenty or even fifty, but moms always have their hands full. If you're still wondering about Christmas gift ideas for your mom, look no further than this. This extremely effective bath salt containing Magnesium Sulfate will give your mother the opportunity to have half an hour (or longer if she wants!) of well-deserved rest. Giving her this Christmas gift will not only give her a chance to relax, but let her know that you are aware of how much she is doing for you. And also, will give you a chance to acknowledge her efforts and thank her for them.
7. A box of chocolates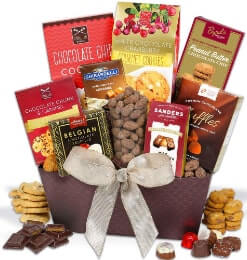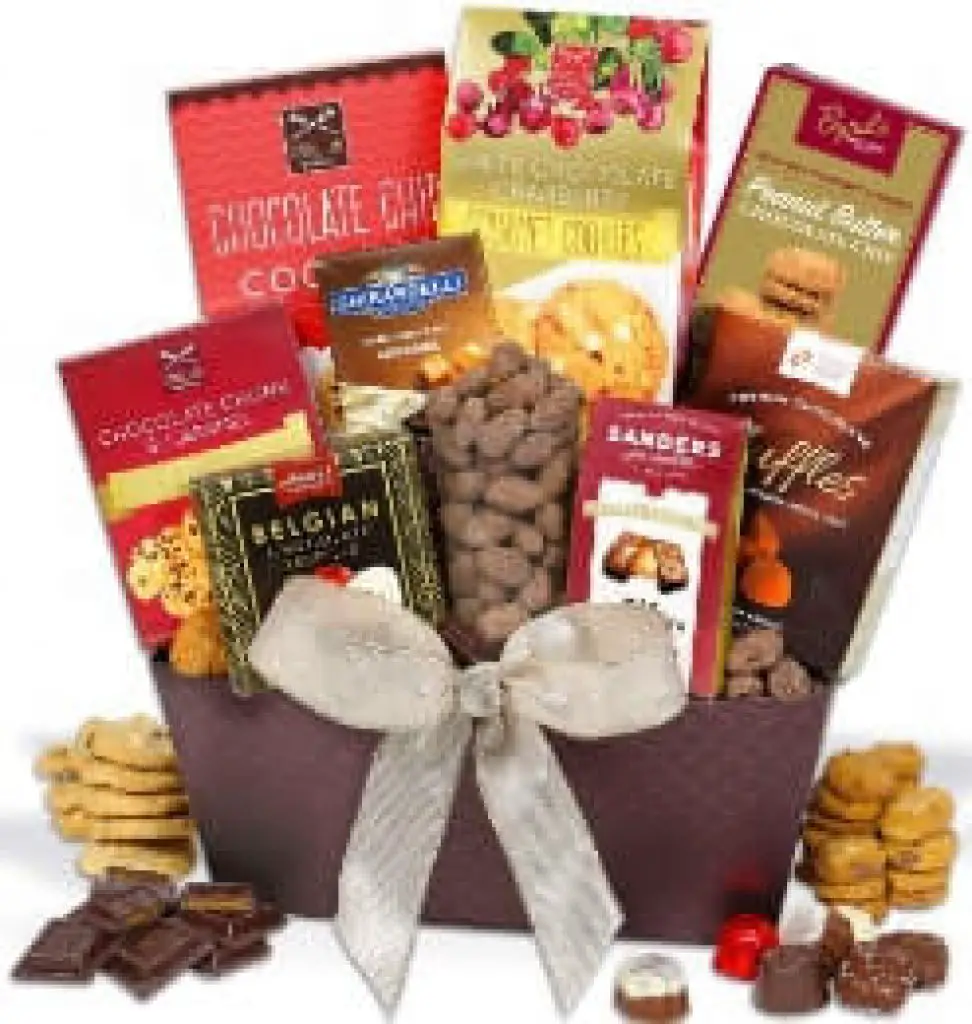 Unless she's allergic, one of the best Christmas gifts for Mom would be a big box or basket of premium chocolates to last her at least a few weeks. Dark chocolate has been known to have a healthy effect on the heart, and is also an effective mood booster. Plus, few can deny it, but it is really tasty.
8. A self-care subscription box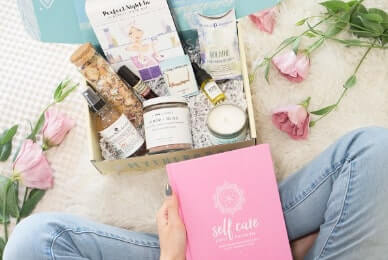 This may well be a cliche, but the fact remains that there are certain mother's out there who spend so much time taking care of other people that they tend to forget to take care of themselves. If this reminded you of your own mother, this subscription box might be the gift for you. Cratejoy is a subscription service that sends out a variety of subscription boxes, and this one TheraBox is filled with some self-care goodies like aromatherapy items, bath salts and skincare products, along with one happiness activity.
9. Bathtub caddy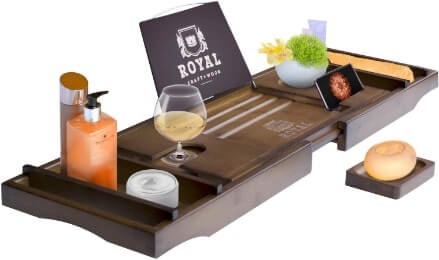 Remember the bath salts mentioned earlier. Do you know what would go spectacularly well with it? A wooden bathtub caddy. Giving your mother something to put a bottle of champagne will be a great idea. She can put herself a drink while she soaks in the relaxing bath that will enhance the relaxing experience tenfold. She can even put a book on it, propping it up against a stack of other books and read if she wishes.
10. Assorted tea collection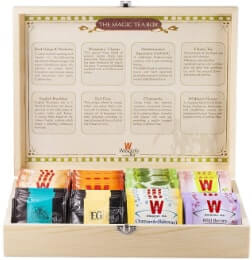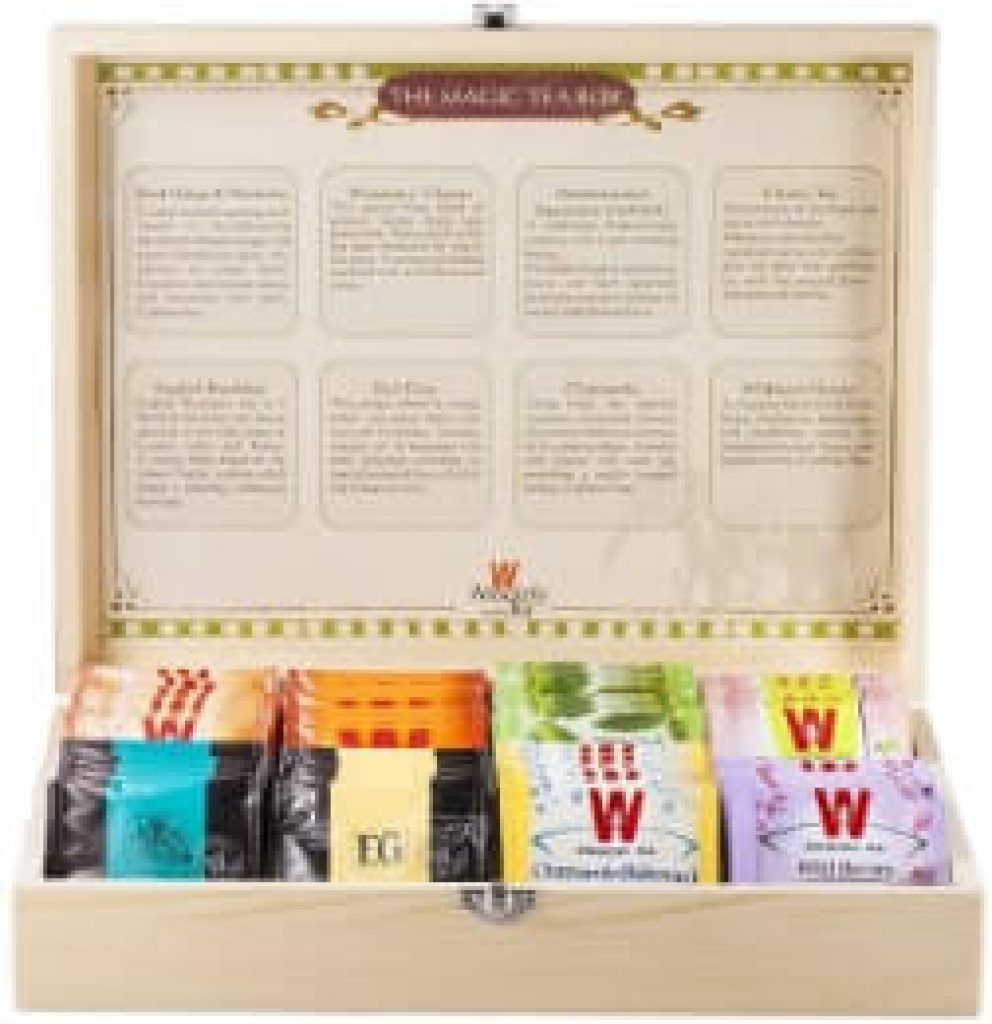 If your mother likes tea and trying different kinds of tea, this set of 80 tea bags, five each of eight different teas, might be worth considering. It has simple tea, Nana tea, Earl Grey, chamomile tea, English tea, cherry tea, wild berry nectar and blood orange and mandarin tea. Each tea is carefully blended based on instructions dated generations ago, and they come in a wooden box for easy and eye-catching storage.
11. Global tea collection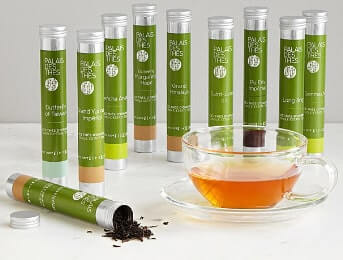 In case the previous set didn't catch your eye, or you don't think it would interest your mother very much, here's another tea set, but this time, consisting of teas from tea estates all over the world. A set of ten tea leaf tubes, three of the teas are Chinese, two Japanese, two from the tea plantations in Darjeeling, India, and one each from Assam in India, Taiwan and Sri Lanka. This set will let your mother taste a huge chunk of South and Southeast Asia in the comforts of her home.
12. Birthstone ring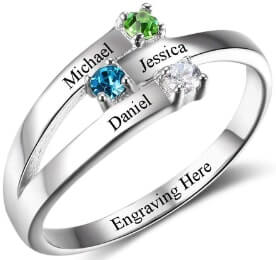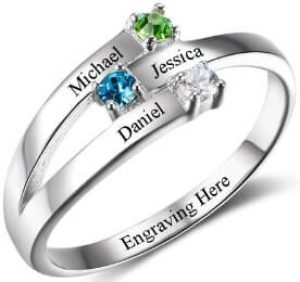 When it comes to shopping for mothers, jewelry is always a safe choice. Here's a good way to make that even more special in your astrology-believing mother: getting her a ring with the birthstones of all the members of your family. For her, this will symbolize keeping your family together, making for a sentimental and heartfelt Christmas present. Plus, those rings always look good on the people wearing them.
13. Stand mixer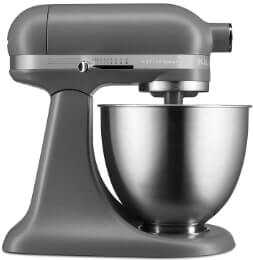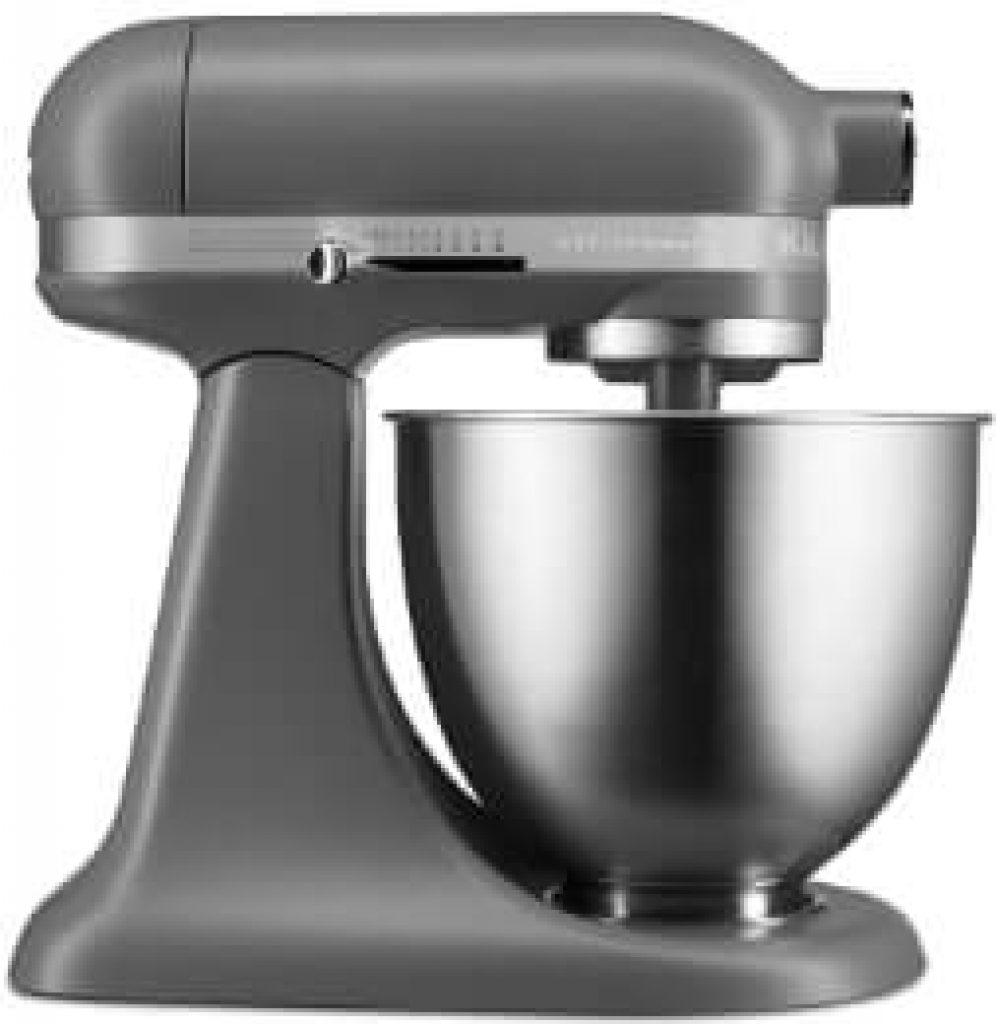 This would be a great present if your mother loves baking and has spent hours watching Nigella Lawson and other similar bakers and patisseries on TV. After many long years of manual whisking or kneading, she can finally have a hands-free baking experience with a stand mixer. It comes in a wide range of colors so you can pick one that either looks good in the kitchen, or is your mom's favorite color.
14. Lipstick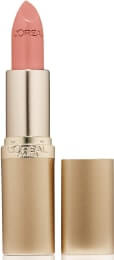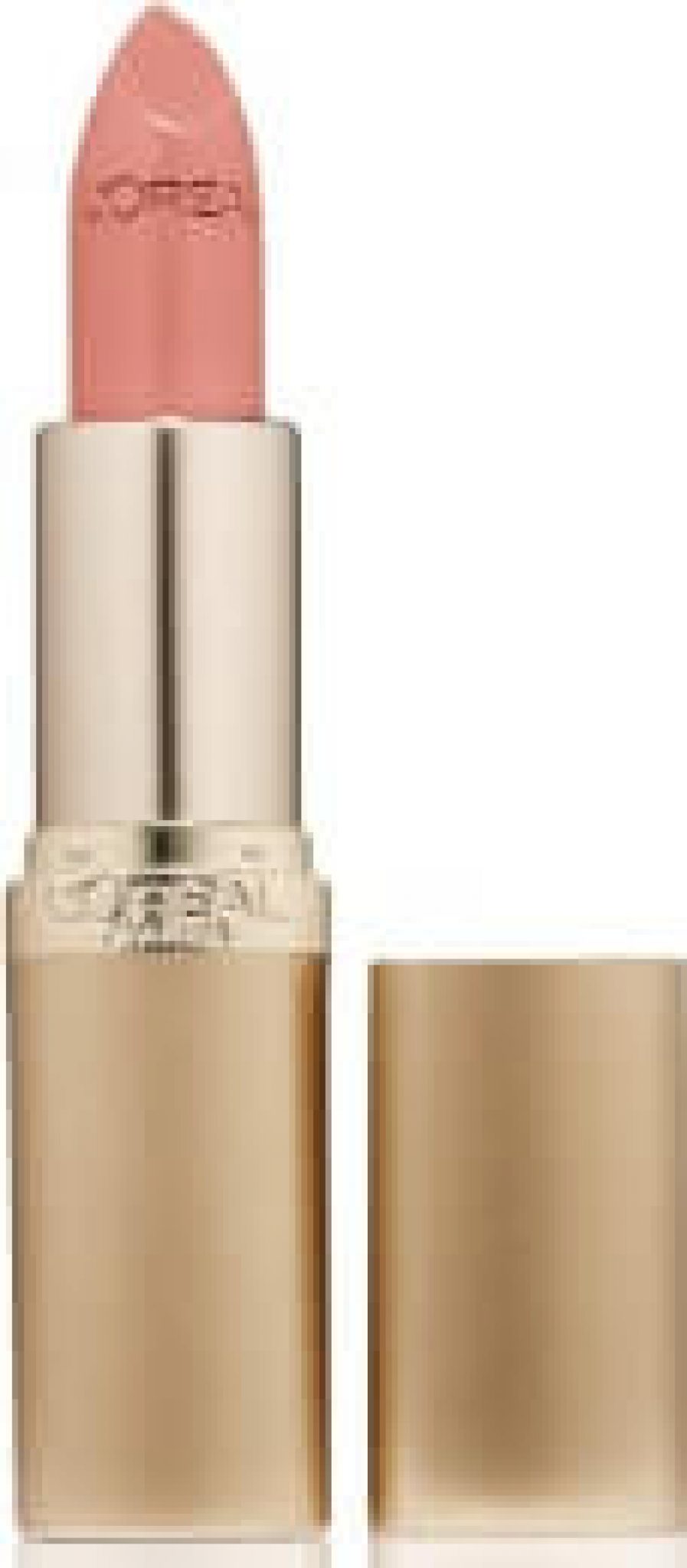 In all probability, your mom has been pulling off an effortless makeup look for as long as you can remember, and you can't remember the last time she stepped out of the house without dabbing on some lipstick. If this is true, this lipstick will suit your purpose perfectly. Colour Riche Lipcolour offers a shade that's perfect for every look and any occasion. This nourishing lipstick will keep your mother's lips soft, smooth, and ultra-hydrated all day. Perfect for your mom who's constantly on the go.
15. Leather outdoor boots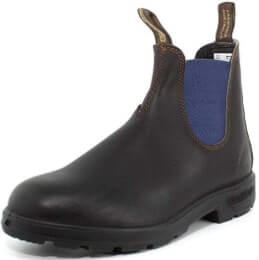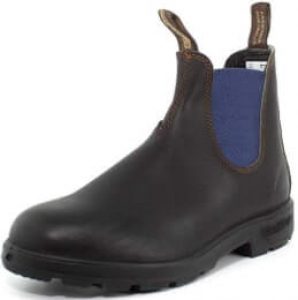 Your energetic, outdoorsy mom probably can't get enough tough girl shoes, so here's an opportunity to buy a pair for her. These leather boots are tough and have rubber soles at the bottom. They're perfect for all outdoor activities, right from a simple long walk to farm work. They are durable enough to last for a few years, if customer testimonials are anything to go by! Plus, they are so neutrally colored that they match with everything you wear, so you don't have to worry about looking stylish.
16. Sea salt collection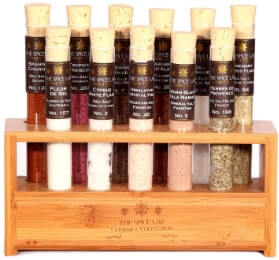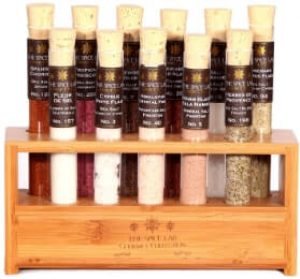 For most of us, salt is probably just that: salt. The very idea of the existence of gourmet salt probably seems astounding. To our mothers' sensitive palates, however, this probably won't come as a surprise. In honor of their highly fine-tuned sense of taste, this gourmet sea salt collection would make for a nice and unique present. Eleven different salts packed in glass test tubes fitted with a cork will provide for a whole new flavor experience that your mother can experiment with in the kitchen, and use them to add some spice to the food she cooks. Plus, it even comes with a handy guide that tells you what salt can be used for which food (including specifying which salt is used for glass rimming).
17. Personalized tote bag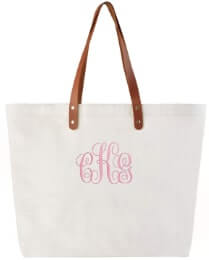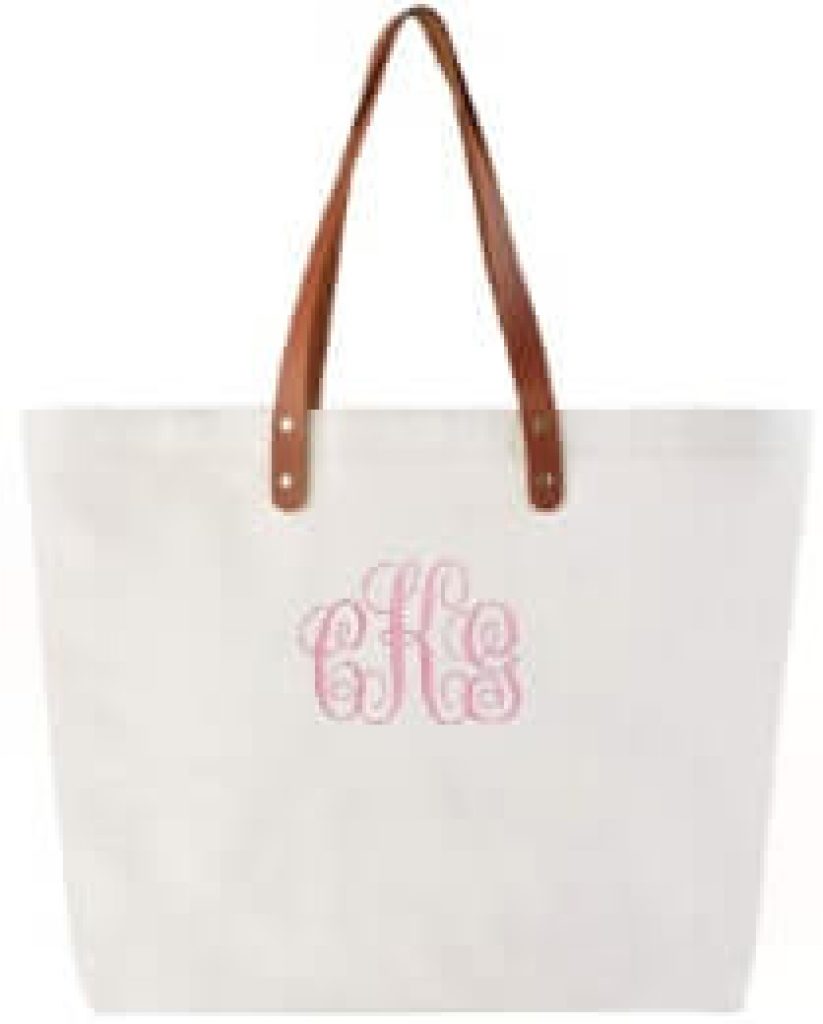 Don't you just love personalized presents? Chances are, your mom does too, because she's thrilled at the prospect of you taking time to think of a nice present. It's probably the biggest reason why they're so popular. So, this personalized tote will give her the opportunity to show off her sweet kids and the love she knows she gets from them every time she goes to the farmer's market or grocery store. A handmade tote bag complete with a zipper and leather handles, will give your mom a reason to cut the use of plastic. It's a win-win situation.
18. Bath Tea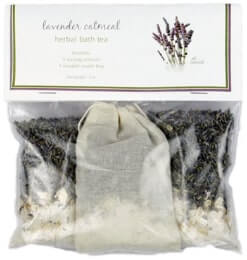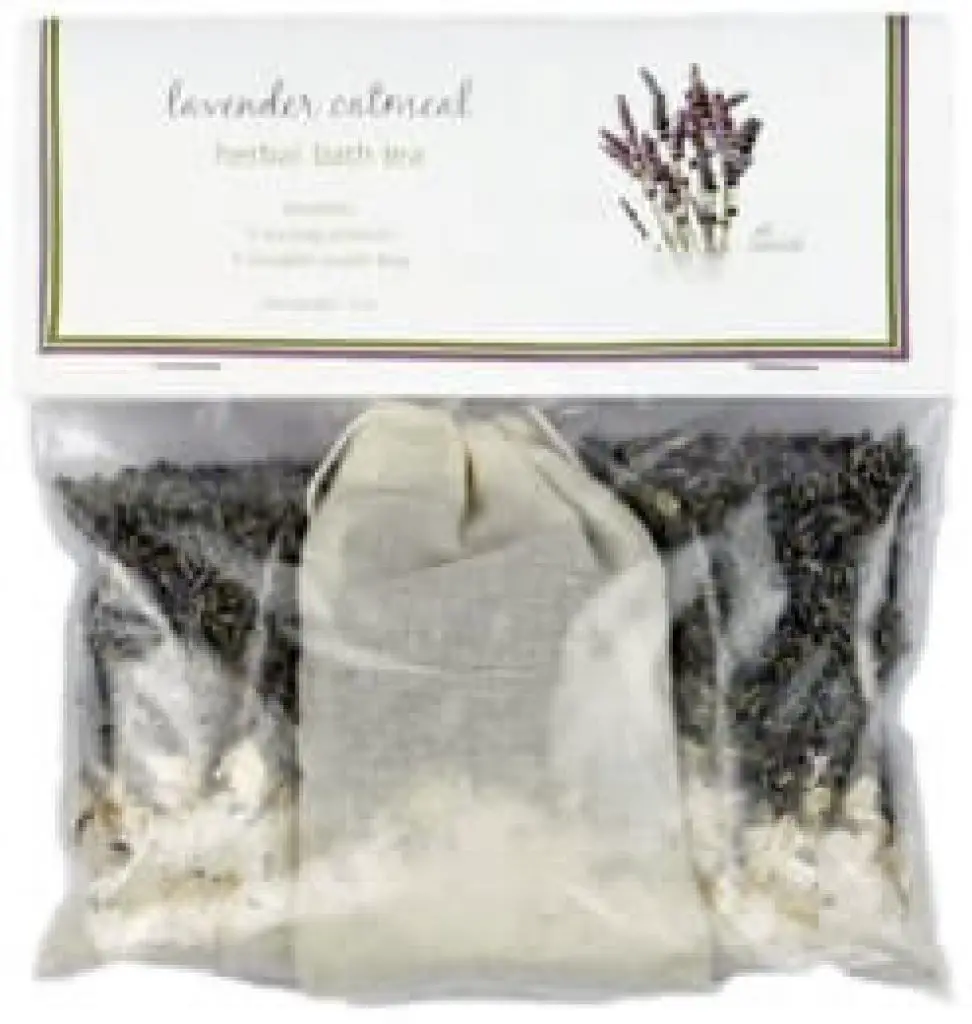 You've heard of bath bombs, bath salts and bath soaks. Now, it's time for some bath tea. This one has the same purpose as bath salts; it is meant to help one relax, recover and rejuvenate, and take good care of your skin at the same time. It is made of 100% organic dried flowers and comes with a muslin cloth which is used to steep the tea in your bath. Your mom will be thrilled to use a relatively new bathwater relaxation technique.
19. Portable radio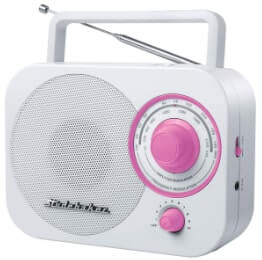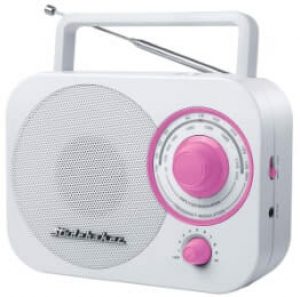 If your mother is the kind who is perpetually baffled by all the new technology that's coming up these days, and prefers the simplicity of technology from the old times, here's a good one for you. This cute little box has all the nostalgia of an old radio, right down to the analog knob that lets you switch between stations. Plus, it's lightweight and easy to carry around, so your mom can put it wherever she wants to in the house or even in the car.
20. Rustic Scrabble
Scrabble is an age old classic that many families play together as part of a family tradition. This game is played on different festivals whether it is Thanksgiving, Christmas or Hanukkah. For your mom, who is probably the one who is really particular about spending some good family time, giving her this board will let her know that you agree with her about family time being important. Plus, its rustic wooden style gives an old timey feel to the game that the modern version doesn't.
21. Jewelry subscription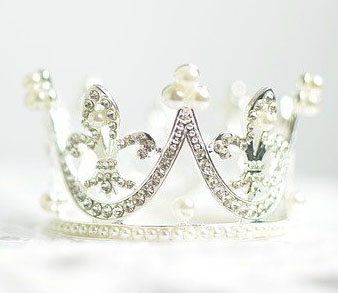 This website, rocksbox.com, offers a subscription for a minimum of three months. It lets you pick and choose from a plethora of jewelry pieces, try them all on and keep any three of the ones you really love. This is a great present for the kind of mom who just can't get enough jewelry. She can even narrow down the list of jewelry she gets to see by using the Style Profile. It's a jewelry lovers' Haven.
22. Bundt charms pan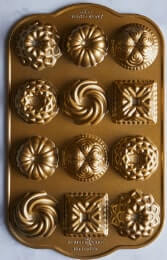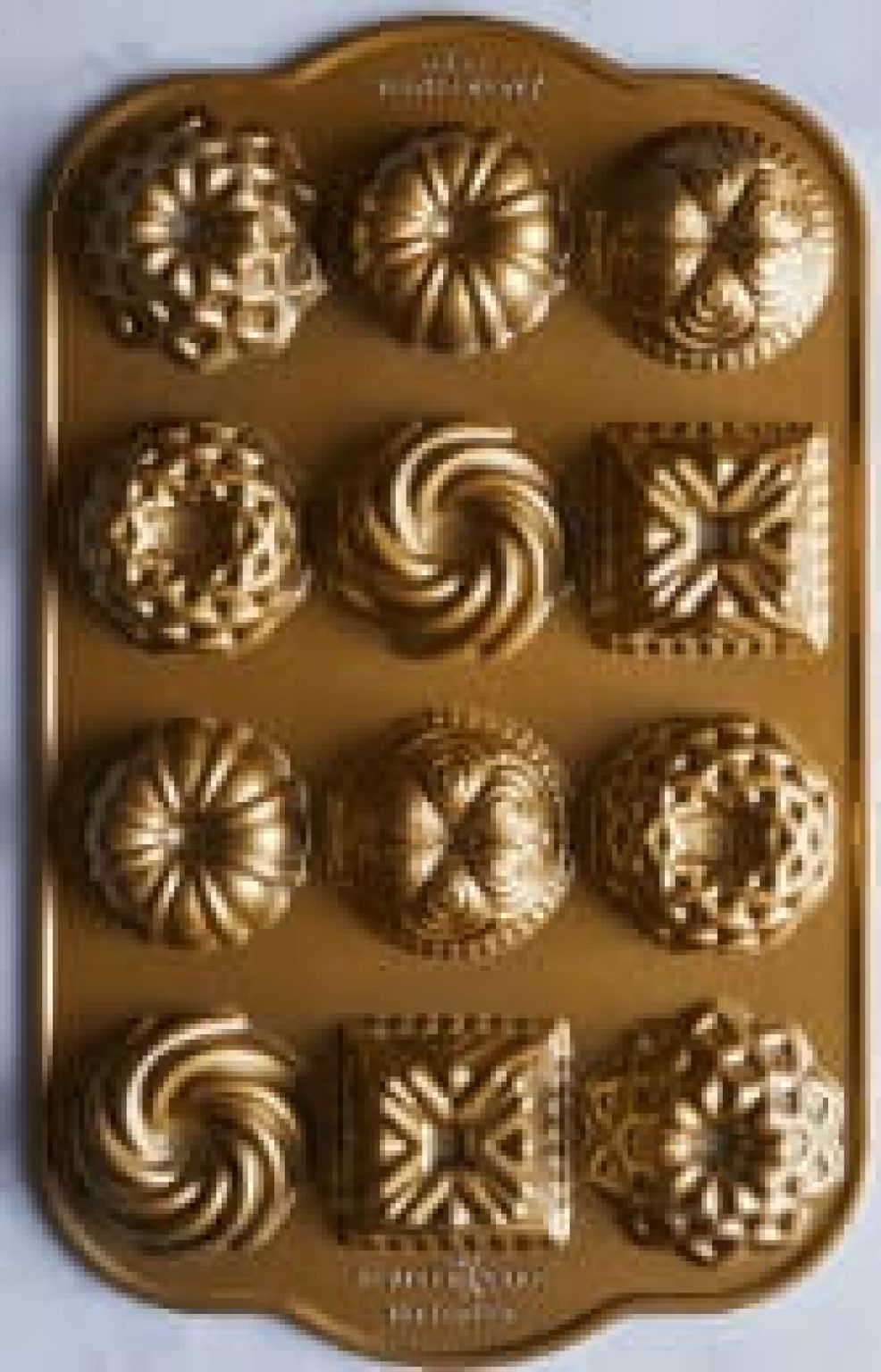 You and your mother will have a lot of fun making these cute little Bundt cakes together using this pan. It has twelve hollows -six different bundt designs, two hollows for each.  Each one makes a bundt the size of a regular sized cupcake. They make for a nice addition to a plate of desserts, and would be perfect for a Christmas present.
23. Mason Jar measuring spoons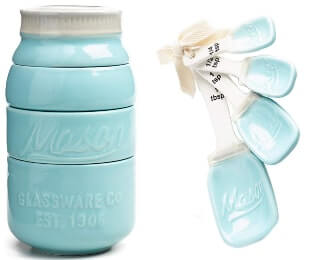 If your mom is the kind of woman who can't get enough of mason jars, then this set of measuring spoons will put a smile on her face like no other. Each spoon is made of ceramic and they're tied together with a cotton ribbon for easy storage. The spoons come in ¼, ½ and 1 teaspoon and 1 tablespoon sizes and they're dishwasher safe.
24. Heart-shaped photo collage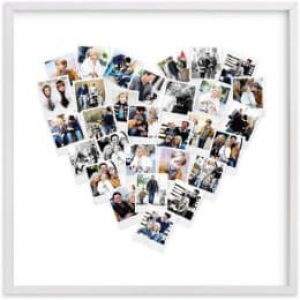 Here's yet another personalized present. Minted.com lets you upload thirty different pictures to its website and turns it into a heart-shaped collage that will leave your mother reaching for the tissues (in a good way!) and add another pretty showpiece for hanging on the walls. The size is customizable and you can pick one based on the size you want the pictures to be. It will be a heartfelt way of telling your mother that you care about the family, just like she does.
25. Personalized silhouette art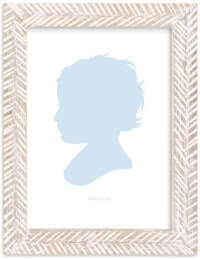 This one, also from minted.com, lets you upload a picture from which it derives and prints out a silhouette of the person in the picture. The picture has to be clear, and the person should be easily distinguishable from the background. A silhouette of your mom, or all the members of the family in one picture, will be an unique present. She will treasure it forever.
Christmas is a season for giving. So, more than anything else on this list, spend some quality time with your mother. She will be the happiest person if she has the people, she loves with her.