The internet has emerged into a money-making place if you know how to use it right.
Survey sites belong to this category. You may not make billions through them, but a few extra bucks don't hurt. However, it all comes down to the site you choose.
With so many survey sites out there, it can be pretty perplexing. So, we have thoroughly researched and narrowed down the list to 15 best US survey sites to earn money in 2023.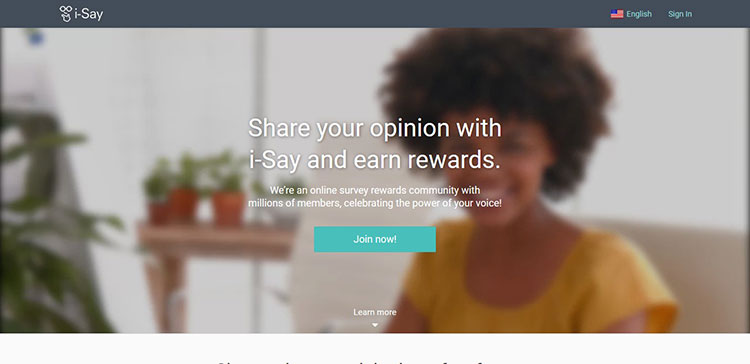 The site i-Say, owned by IPSOS, is a paid survey site. IPSOS is a leading multinational market research company with employees all over the world. Therefore, you don't have to worry about its authenticity. 
On i-Say, you can answer surveys to earn points and you can redeem them as money or discount cards. You must qualify in the pre-survey (this is nothing to worry about) to take actual surveys. Though taking polls doesn't give you any points, taking part in the poll predictor after every poll session will boost your chances of being qualified for further surveys.
Taking more surveys will grant you bonus points. 100 points on i-Say are worth $1. You can withdraw your points as money via PayPal when your points hit 1000 (that is, $10).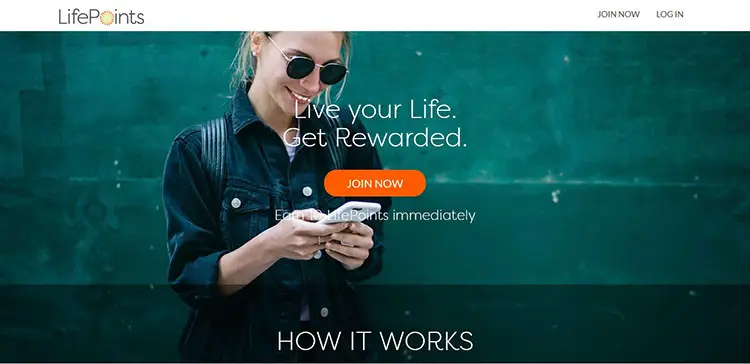 LifePoints is a site to express your opinions by taking surveys and mini-polls. Occasionally, you get to test products too. It takes around 10 or 15 minutes for one survey.
The number of points awarded depends on the length and urgency. If you cannot go with a survey till the end, they don't cut your points and in fact, award a few points for your halfway effort. How kind!
LifePoints gives you 10 points as a welcome bonus. Technically, you don't have to start from zero. 110 points on this site make a dollar. You can start redeeming your points as gift e-cards or money after collecting 550 points. Their gift e-cards are useful and worth it. If you like to, you can also donate a few of your points to UNICEF.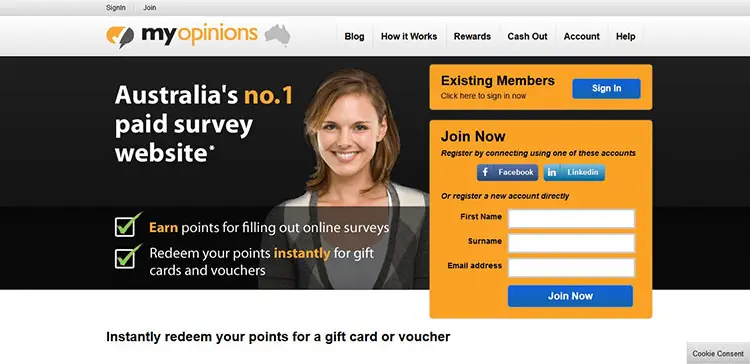 Apart from the conventional sign-up method, you can join MyOpinions within a few minutes by linking your Facebook account.
On this site, you can earn points by taking surveys and referring friends.
MyPoints' loyalty program has 5 levels, namely bronze, silver, gold, platinum, and platinum plus. Taking more surveys will promote your loyalty status, increasing your weekly bonus.
When your account has 1100 points or more, you can redeem them as a Flexi eGift Card. If you want to redeem your points as cash, you should have at least 2000 points. Flexi eGift cards are instant while cash payment can take over 5 business days.
After completing a survey, you will be eligible to enter the lucky draw. This is a quarterly draw with a cash prize of $5000. You could be the next lucky one!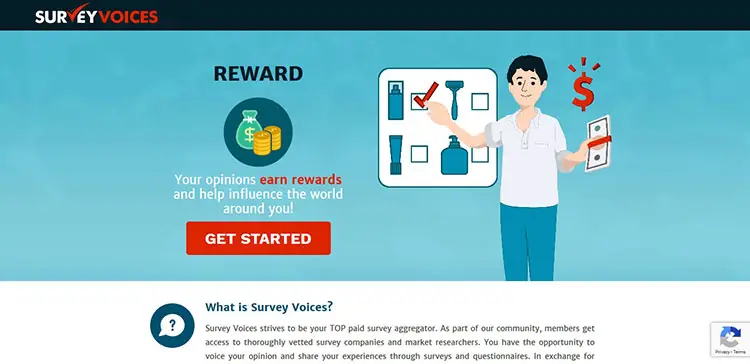 Taking surveys and getting paid is cool, but it takes a lot of time to find a legit survey site. Survey Voices makes it easy for you. This site finds the best-paid surveys & researches, acting as a literal directory (sites like this are called aggregators) to survey sites. Not only that, but on Survey Voices, there are ads for many gifts and there's no harm in trying them.
Many such sites ask for registration fees, but Survey Voices is a free survey aggregator. Just sign up with your email address and answer the first qualifying questionnaire. Post that, Survey Voices matches you with the highest-paid survey sites of the day.
The payment is not defined, as you are not paid directly by Survey Voices but by your choice site. Make sure to check with the site before you begin a survey.
Sign up to Vindale Research by entering your email address, or by connecting your Facebook account. Before signing up, you can check real survey examples. Vindale Research works on any device and you can take a survey on your phone while traveling.
Their surveys include a wide range of topics and most of them are simple to do. Along with paid surveys, Vindale Research features paid studies, referral programs and videos too.
The greatest feature of Vindale Research is the direct cash payment via PayPal for a survey and there is no processing fee for payment. Each payment takes less than 2 business days (quicker compared to other sites).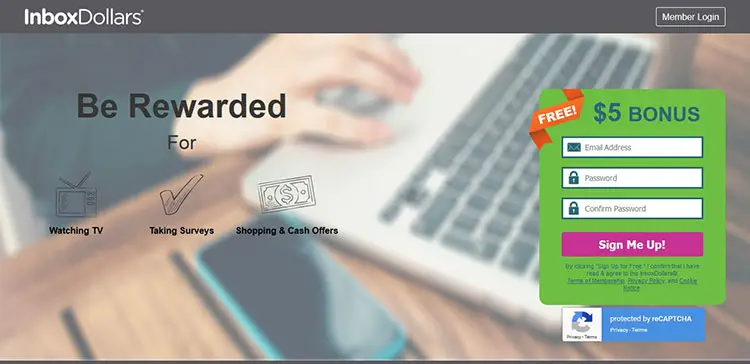 InboxDollars is a popular survey site, thanks to its flexibility and generous rewarding system. Right from the sign-up process to payment withdrawal, everything is simple. InboxDollars features paid online surveys, games and much more.
On signing up, you are presented with a list of basic questions followed by a bonus of $5. These basic questions are just like those of any other survey site. As a member of this site, you can take as many surveys as you like but you may be qualified only for some surveys.
InboxDollars pay their survey-takers in cash through PayPal. You can request for payment when you hit $30 but if you choose to receive the payment with at least $40 in your account, you won't have to lose bucks (around $3) in the name of processing fee.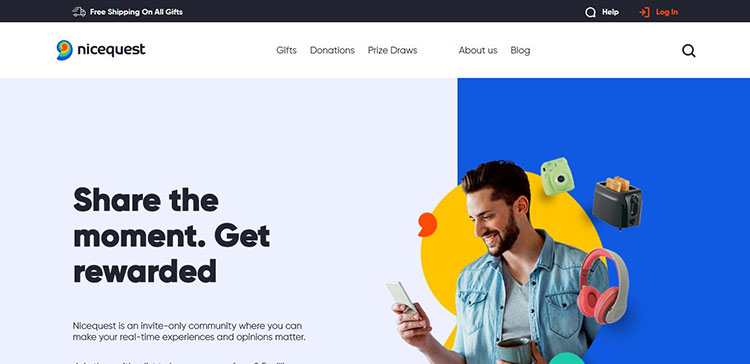 NiceQuest is a scam-free paid survey site that has been in the field for 15 years. Don't be intimidated by the talk that NiceQuest is hard to join. If you're looking for a survey site with ample rewards, you cannot ignore NiceQuest.
The currency (more like points) paid by NiceQuest is called Koru (plural. korus). You can use these korus to buy vouchers and gift cards. If you choose to install the NiceQuest App on your device, it rewards you with a few bonus korus. Plus, the app is proven to grant you extra benefits compared to the site.
Though Koru does not work like real money, you can donate them to NiceQuest supportive non-profit organizations. You can find them on the survey site.
CashCrate is a favorite get-paid-to site to many. You will love it too when you join the club. Its versatility is one of the most admired features. Along with surveys, you can also try new websites listed in CashCrate which reward you for the sign-up. CashCrate also features paid offers. To claim a paid offer, you will have to pay some money first and receive more money in return utilizing that offer.
The surveys on CashCrate are straightforward and take less than 10 minutes to finish. The referral system of CashCrate is worth mentioning. Usually, you get a bonus when one of your referrals signs up and finishes the first survey. But here in CashCrate, you will get 20% of your referral's earnings (that's some good passive income). You will receive monthly payment through checks but it may take a week or two to reach you.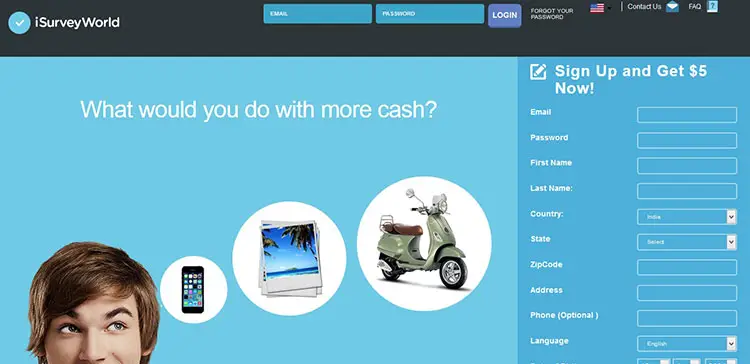 The surveys hosted by iSurvey World include partner surveys. You can take partner surveys too but they don't fetch you any income. Focus on iSurvey World's research surveys as your priority is making money.
It gives you a sign-up bonus of $5 and the process is simple. All you need is a valid email address and with a few steps, you can create an account. But completing your profile and attempting more surveys is crucial to expand your chances of qualifying for a high number of surveys. Absence of disqualification is a huge relief for iSurvey World users.
Each survey will pay you $1-$2 and you can request payment through PayPal when you have a minimum balance of $25. It can take 15 to 20 business days to receive the cash.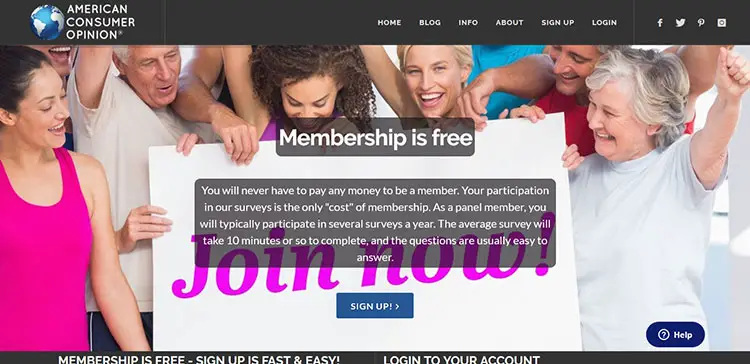 This online survey site is brought to you by Decision Analyst based in Texas. Though the site name says 'American', the paid survey site is available throughout the world.
Start by creating an account using your email id and they'll ask you a few questions to find suitable surveys for you. American Consumer Opinion is great at maintaining the confidentiality of its users. So, don't worry about giving your family details.
On this site, you will find two types of surveys. Screeners are super short surveys taking less than 5 minutes to finish while normal surveys take around 20 minutes. The reward can either be points or a gift card. 100 points make a dollar and you can request payment via PayPal or Hyperwallet. It takes 3 business days and 10 weeks for PayPal and Hyperwallet respectively.
American Consumer Opinion works with many charities and you can donate some of your rewards to any of them.
PointClub is one of those few survey sites with an uber-cool interface to make survey-taking fun. Along with surveys, there are plenty of games and videos to try and earn cash.
You can sign-up to PointsClub with your email address or Facebook and receive 500 points as a welcome bonus. Confirming your email id will give you another 1000 points and answering the demographic questionnaire will fetch you 500. That's a decent welcome bonus for a survey site (2000 points worth $2).
The duration of surveys on PointsClub can be between 5 to 45 minutes and you can see all of them in your dashboard without having to wait for an email invite.
You can collect your money either through PayPal or as retailer gift cards. For direct cash, $50 is the minimum and for gift cards, $25 will do.
This is a lesser-known survey aggregator and chances are you might not have heard it before. But Signature Surveys directs you to some legit survey sites.
While signing up to survey aggregators need only a valid email address, Signature Surveys need your phone number as well. This is to send you promotional offers and deals. If you think it feels like spam, you can stop the ads and promotions and check for them only in your Signature Surveys account's notifications.
After the signup, it asks you a few demographic questions and will start its job of listing the best surveys available based on the data you entered. Though there aren't any payments directly from this site, it does credit you a welcome bonus between $5 to $20.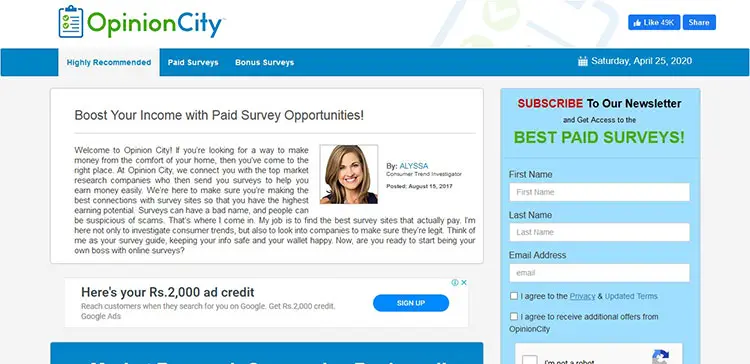 Opinion City is another survey aggregator with free registration. You can sign up for it and it will show the survey sites you can consider joining. Each site is just a click away with the 'Join Now' tab beside it.
You get to see how many spots are remaining in a site and decide it for yourself by seeing which has more rush. There is no rule that rushy websites are great but you can check out why many prefer one and get an understanding of it.
Like any survey aggregator, Opinion City does not pay you but will surely guide you to the best paying surveys. You don't have to waste time to know which survey site is legit as you get the list on Opinion City.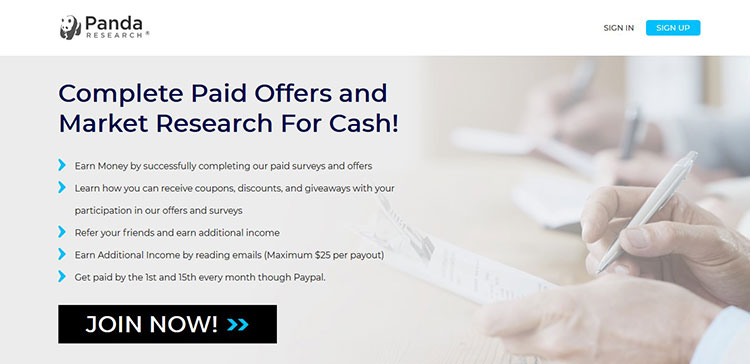 Signing up to Panda Research is easy and free of cost. Though the site asks for your credit card details, if you are uninterested in revealing your card information, it is fine with Panda Research. (Credit card information is mandatory for product trials but not for taking surveys and reading emails.)
You can straight away start participating in surveys after signing up. Longer surveys last for as long as 45 minutes and they pay you more than the small surveys. You can earn a few more dollars through referrals and other tasks.
The bar to be eligible for payment is slightly high at $50. The payment tab gets active only after you reach this amount. Expect the payment via PayPal in 3 to 4 business weeks. Payment is not always money but can be a discount coupon or a gift card too.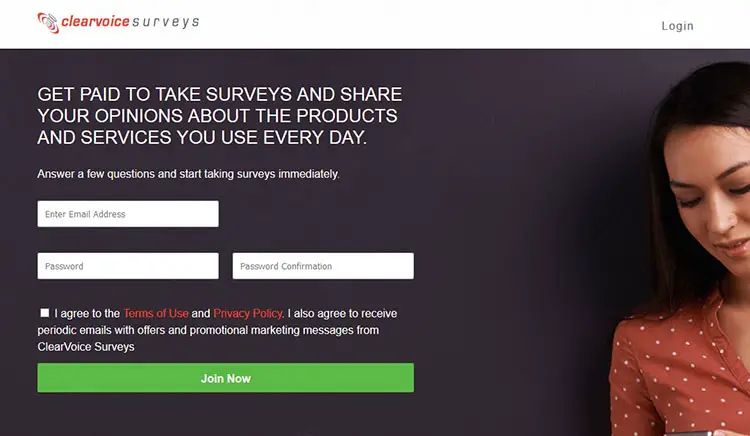 SpeakUp Surveys, now known as ClearVoice Surveys, is a paid survey site headquartered in Colorado. You must be 13 years or older to sign up with your email address. After signing up, they will ask you a few basic questions to decide which surveys you qualify for. Qualifying can get a little difficult but don't lose heart.
Unlike other survey sites that have additional earning tasks, SpeakUp Surveys is dedicated only to research surveys. You can get extra credit by referrals but the number of referrals is limited to 10.
You can earn a maximum of $3 for taking a survey and request payment when your balance reaches $10. SpeakUp Surveys pays through Payoneer Mastercard or Amazon gift certificate. PayPal is not available but that isn't a big concern.
As survey sites constantly change their terms and conditions, it is better to sign-up for a handful of websites and not just one. This will significantly increase your earnings as well. Let us know your favorite survey site in the comments section.