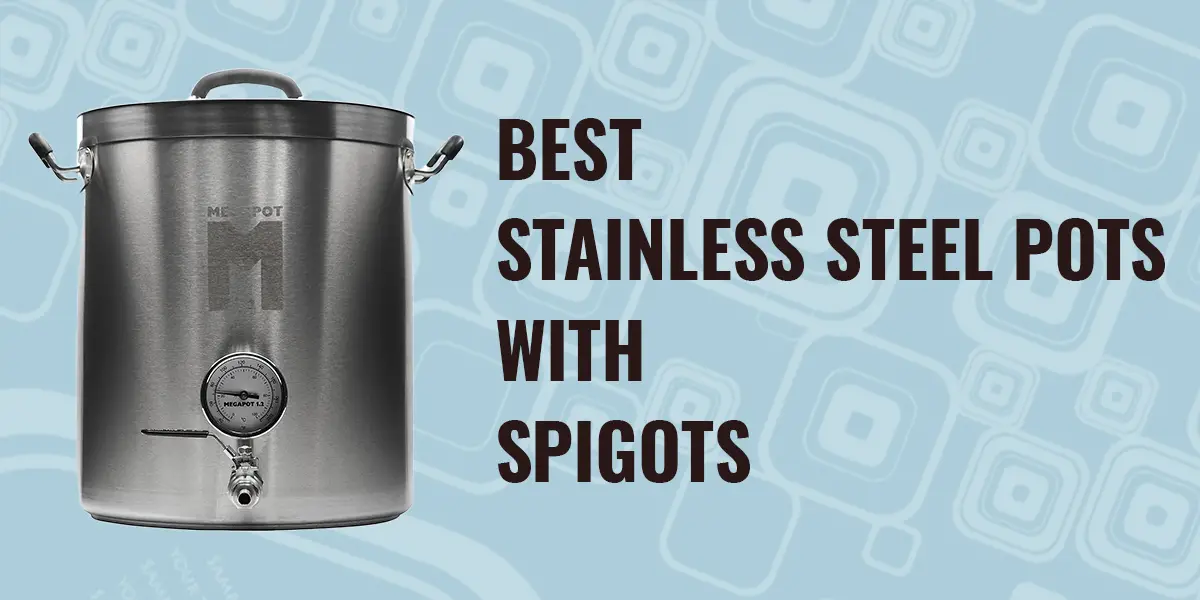 Any keen home brewer knows the importance of stock pots with spigots. The best durable material stock pots are stainless steel pots with spigots. These stock pots are large, spacious and sturdy pots which come with a spigot that allows you to pour any brew safely. The spigot attached in these pots ensures no spillage and high cooktop compatibility.
These stainless steel pots are available in different sizes for usage in both home and commercial purposes. They come with high safety features, minimal assembly requirements and ensure top performance in overall brewing and cooking experience.
Check out the best stainless steel pots with spigots below.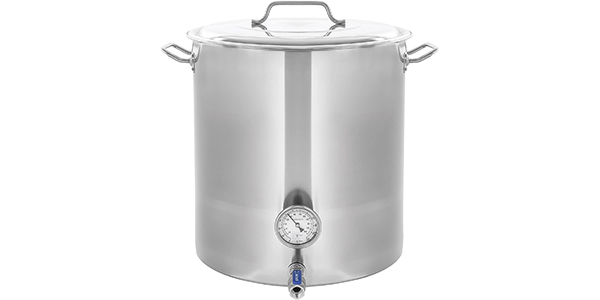 The CORNCORD Stainless Steel Home Brew Kettle Stock Pot is made with commercial quality and fully polished stainless steel. It comes in several sizes between 20 quarts to 180 quarts, for home and commercial use. The pre-drilled weldless fittings ensure easy cleaning and safe assembly. Every accessory in the set (thermometer/spigot/lid) is made of high quality 304 stainless steel and the lid can be hung on the sides of the pot.
Pros
Different Sizes 
Hangable Lid 
High Quality Material 
Weldless Fittings 
Affordable
Cons
Slightly Less Heat-Resilient
"It comes with a polished, shiny and sturdy stainless steel finish. It has an in-built thermometer and an attractive look."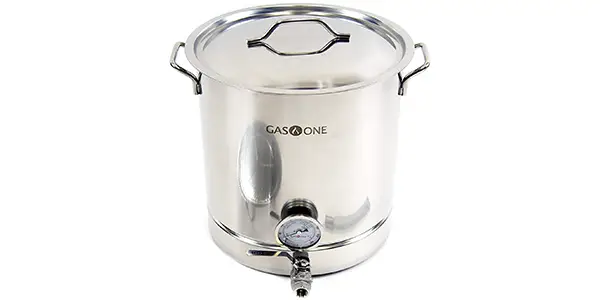 The GasOne 16 Gallon Stainless Steel Home Brew Kettle Pot is a beautiful pot made with polished, durable and high-quality stainless steel. The Tri-ply bottom ensures high heat resistance and tightly welded ergonomic handles makes it sturdy, safe and easy to hold. It comes with a lid, measuring scales on the inside, S/S thermometer, spigot, mini wrench, O-ring and sealing tape which makes the assembly smooth and convenient.
Pros
Easy Assembly
Sturdy Handles
Induction Safe
High-quality Stainless Steel Material
Scale Markings
Affordable
Cons
Lack Of Instruction And Info Manual
"It comes with all necessary equipment and ensures a hassle free assembly. It is made from a smooth, polished and durable stainless steel material."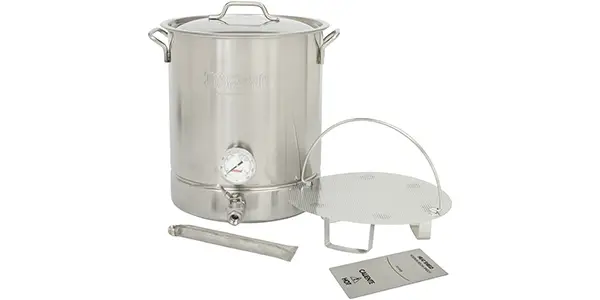 The Bayou Classic 800-416 Stainless Steel Brew Kettle is a long-lasting and durable quality stainless steel pot. It is a complete stainless brew kit with 6 pieces that includes a 16 gallon kettle, brew thermometer, ball valve, false bottom screen, filter screen for spigot and a heat shield that protects the seal on the spigot and thermometer. This pot ensures a serious all-grain home brewing experience with a Tri-ply bottom and domed lid.
Pros
6 Pieces Complete Brew Kit 
Tri-ply Bottom 
Tight And Sturdy Lid 
Durable Material
"The Tri-ply bottom ensures even heating and prevents scorching. It comes with all stainless construction and a complete brew kit."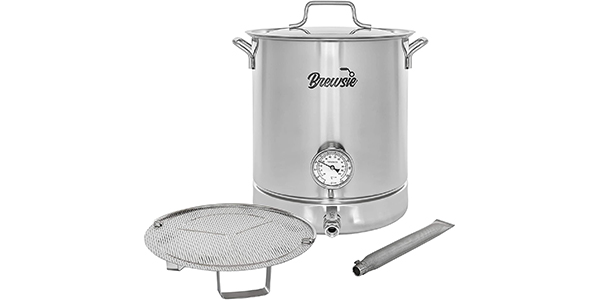 The Brewsie Stainless Steel Home Brew Kettle W/Dual Filtration is available in three size 32 QT, 40 QT and 64 QT pot with false bottom thermometer and ball valve for best brewing. The dual filtration ensures maximum efficiency and improves taste. The entire brew kettle is made from highly durable and polished stainless steel material. It comes with stamped volume markers and hangable lid that ensures cleanliness.
Pros
High Quality Stainless Steel 
Complete Brew Kit 
Tight And Hangable Lid 
Affordable 
Bazooka Screen
"It comes in different sizes for home and commercial use. It provides a dual filtration technology which increases efficiency and taste."
The Northern Brewer – Megapot 1.2 Stainless Steel Brew Kettle is finely crafted with stainless steel for the ease of cleaning. Handles of the pot are tightened in place to ensure safety and sturdiness. It comes with a weld less valve and thermometer which can be easily fitted. The pot also provides heat-proof cool silicon handles on the kettle for higher safety against burns. The thick Tri-clad bottom ensures even cooking and prevents it from scorching.
Pros
Stainless Steel Durable Material 
Maximum Boil Control Design 
Heat Protection 
Safe Hold
"This pot's design provides high protection and ensures sturdiness. It is made from long-lasting material for prevention from scorching."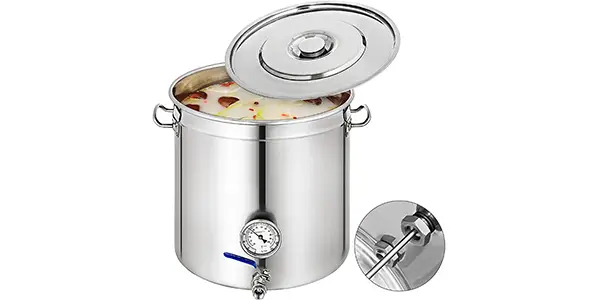 The Mophorn Home Brew And Stockpot Cookware is made with a classy and sleek look from high quality stainless steel material. It comes with a mirror-polishing and elegant finish for heavy restaurant use. It has reinforced handles and a dust-proof lead for protection against dripping of food and scratching of hand. It is a versatile and multipurpose use cookware which is induction safe and ensures faster cooking performance.
Pros
Versatile Use 
Thermometer And Tap 
Tight Handles 
Elegant Finish 
Durable And Sturdy 
Induction Safe
Cons
Not Suitable For Everyday Home Use
"It is a versatile multipurpose cookware that is best suited for any heavy cooking in restaurants and cafes. It is also induction safe and provides even and fast cooking services."
Frequently Asked Questions
Conclusion
Though there are a lot of Stainless Steel pots with spigots available in the market, we've listed the top-rated ones. These pots are crafted with highly durable and top-quality stainless steel material that ensures shiny, smooth and polished finish. 
Again, these pots come with an attached or weldless spigot and thermometer which makes them easy to clean, use and assemble. Some of these are also induction safe and constructed with thick Tri-ply bottoms for even cooking. These stainless steel pots with spigots are best suited for any home or commercial brewing and cooking.