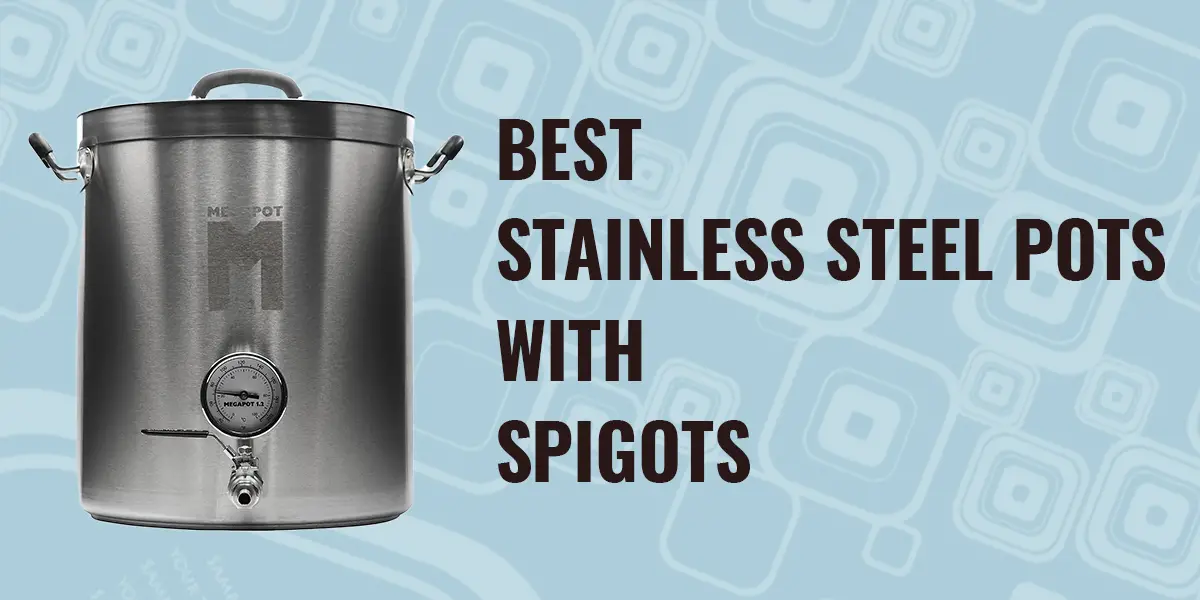 Any keen home brewer knows the importance of stock pots with spigots. The best durable material stock pots are stainless steel pots with spigots. These stock pots are large, spacious and sturdy pots which come with a spigot that allows you to pour any brew safely. The spigot attached in these pots ensures no spillage and high cooktop compatibility.
These stainless steel pots are available in different sizes for usage in both home and commercial purposes. They come with high safety features, minimal assembly requirements and ensure top performance in overall brewing and cooking experience.
Check out the best stainless steel pots with spigots below.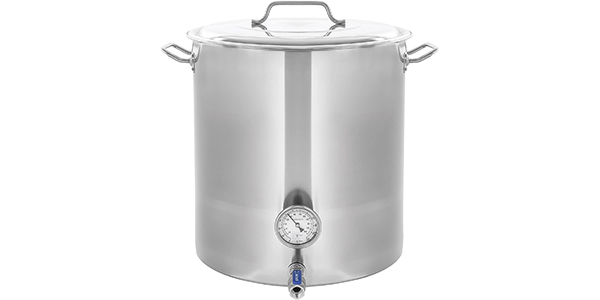 The CORNCORD Stainless Steel Home Brew Kettle Stock Pot is made with commercial quality and fully polished stainless steel. It comes in several sizes between 20 quarts to 180 quarts, for home and commercial use. The pre-drilled weldless fittings ensure easy cleaning and safe assembly. Every accessory in the set (thermometer/spigot/lid) is made of high quality 304 stainless steel and the lid can be hung on the sides of the pot.
Different Sizes 
Hangable Lid 
High Quality Material 
Weldless Fittings 
Affordable
Slightly Less Heat-Resilient
It comes with a polished, shiny and sturdy stainless steel finish. It has an in-built thermometer and an attractive look.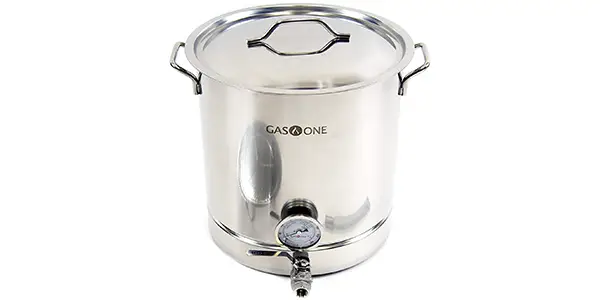 The GasOne 16 Gallon Stainless Steel Home Brew Kettle Pot is a beautiful pot made with polished, durable and high-quality stainless steel. The Tri-ply bottom ensures high heat resistance and tightly welded ergonomic handles makes it sturdy, safe and easy to hold. It comes with a lid, measuring scales on the inside, S/S thermometer, spigot, mini wrench, O-ring and sealing tape which makes the assembly smooth and convenient.
Easy Assembly
Sturdy Handles
Induction Safe
High-quality Stainless Steel Material
Scale Markings
Affordable
Lack Of Instruction And Info Manual
It comes with all necessary equipment and ensures a hassle free assembly. It is made from a smooth, polished and durable stainless steel material.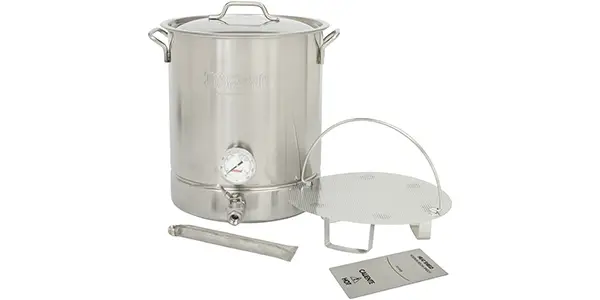 The Bayou Classic 800-416 Stainless Steel Brew Kettle is a long-lasting and durable quality stainless steel pot. It is a complete stainless brew kit with 6 pieces that includes a 16 gallon kettle, brew thermometer, ball valve, false bottom screen, filter screen for spigot and a heat shield that protects the seal on the spigot and thermometer. This pot ensures a serious all-grain home brewing experience with a Tri-ply bottom and domed lid.
6 Pieces Complete Brew Kit 
Tri-ply Bottom 
Tight And Sturdy Lid 
Durable Material
The Tri-ply bottom ensures even heating and prevents scorching. It comes with all stainless construction and a complete brew kit.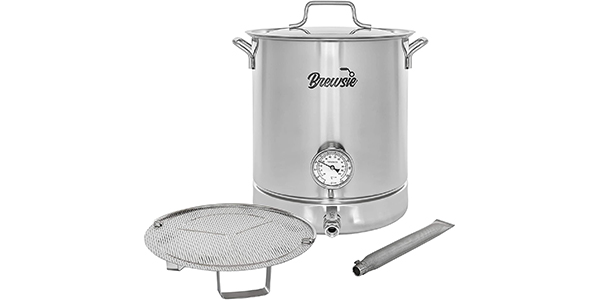 The Brewsie Stainless Steel Home Brew Kettle W/Dual Filtration is available in three size 32 QT, 40 QT and 64 QT pot with false bottom thermometer and ball valve for best brewing. The dual filtration ensures maximum efficiency and improves taste. The entire brew kettle is made from highly durable and polished stainless steel material. It comes with stamped volume markers and hangable lid that ensures cleanliness.
High Quality Stainless Steel 
Complete Brew Kit 
Tight And Hangable Lid 
Affordable 
Bazooka Screen
It comes in different sizes for home and commercial use. It provides a dual filtration technology which increases efficiency and taste.
The Northern Brewer – Megapot 1.2 Stainless Steel Brew Kettle is finely crafted with stainless steel for the ease of cleaning. Handles of the pot are tightened in place to ensure safety and sturdiness. It comes with a weld less valve and thermometer which can be easily fitted. The pot also provides heat-proof cool silicon handles on the kettle for higher safety against burns. The thick Tri-clad bottom ensures even cooking and prevents it from scorching.
Stainless Steel Durable Material 
Maximum Boil Control Design 
Heat Protection 
Safe Hold
This pot's design provides high protection and ensures sturdiness. It is made from long-lasting material for prevention from scorching.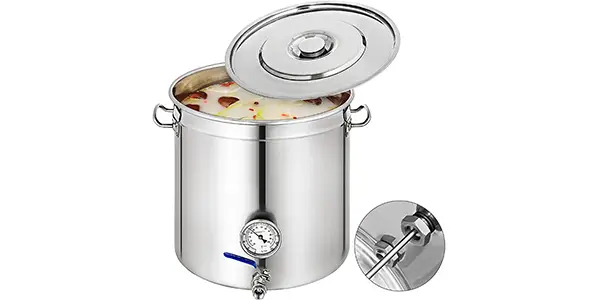 The Mophorn Home Brew And Stockpot Cookware is made with a classy and sleek look from high quality stainless steel material. It comes with a mirror-polishing and elegant finish for heavy restaurant use. It has reinforced handles and a dust-proof lead for protection against dripping of food and scratching of hand. It is a versatile and multipurpose use cookware which is induction safe and ensures faster cooking performance.
Versatile Use 
Thermometer And Tap 
Tight Handles 
Elegant Finish 
Durable And Sturdy 
Induction Safe
Not Suitable For Everyday Home Use
It is a versatile multipurpose cookware that is best suited for any heavy cooking in restaurants and cafes. It is also induction safe and provides even and fast cooking services.
Frequently Asked Questions 
1. How do you put a spigot on a stainless steel pot?
You can install a spigot/valve on a stainless steel pot through this DIY technique. 
What you need: 
Drill bit Number 4 (3/16" – 7/8") 
Another set of Smaller Drill bits 
Lubricant (Mystery Oil) 
Spray Bottle (for squirting oil) 
Drill Machine 
Steps: 
Start by filling the spray bottle with oil. Then mark a hole where you want to put your spigot (make sure it's a little above the curvature of your pot). 
Squirt some oil on the spot where you want to drill (Make sure you're wearing safety glasses before you start drilling). 
Keep your pot secure and steady, you should use a very slow speed and a lot of pressure while drilling. 
You should start with the smallest drill bit and eventually put oil and step up to bigger drill bits. Repeat this process of spraying and drilling until you're able to use your step-by-step drill bit (continuously keep spraying the pot with oil to prevent it from getting hot). 
Now use a constant speed and minimal pressure to avoid drill bits from sticking to the pot. Drill with constantly spraying oil till you have achieved the desired hole.  
Now sand down any hard edges and clean up. 
Add your spigot/valve into the hole and screw it up. Test your spigot by putting hot water in the stainless steel pot. 
2. Can you drill a hole in stainless steel?
Yes, you can easily drill a hole in stainless steel with the right technique. You just need to make sure that the metal doesn't get 'work hardened' which happens when it is drilled at high speed that creates a lot of heat. You should start drilling with a sharpest drill bit and a very slow speed by exerting a lot of pressure. To make sure your stainless steel and drill doesn't heat up, you should constantly put some oil into the hole. You could stop at regular intervals for it to cool and then continue drilling your hole to the desired size. 
3. Why can't I drill through stainless steel?
Stainless steel is a relatively harder material than other metals which makes it little difficult to cut, but it requires the same method. For drilling through stainless steel you need perfectly sharp and high-speed drill bits. It's possible that you're not using the right technique if you can't drill through stainless steel. The right technique is to make a correct angle, mark your drilling spot, start with a slow speed and high pressure and use lubricant constantly to cool down your stainless steel. 
4. What is a stock pot for cooking?
A Stock pot is a large and deep pot that is traditionally used for cooking stock or broth. Now it is widely used for other cooking recipes like soup, stew, seafood or to boil noodles and veggies. It was used as a basis for cooking more complex recipes easily. It is made with a flat bottom, straight sides, wide opening, two handles on sides and a lid with a handle on the top. They're commonly made of stainless steel and come in different sizes of 8 quart to 36 quart. 
5. What is the best size stock pot to buy?
This depends on your need for cooking. Usually, stockpots come in different sizes between 8 quart to 36 quart, and some commercial kitchens also use a massive 74 quart version. If you want to buy it for home use, it can range from 8 quart to 20 quart. However, an ideal size for home kitchens tasks to make big batches of stock or sauce would be a 12 quart stockpot.  
6. What are stock pots good for?
Stockpots have tall and narrow sides which ensure that the liquid content evaporates slowly and cook the dish properly. It is best suited for brothy and long-simmering dishes like stocks, soups, sauces. It can also be used for boiling pasta and veggies and for steaming or blanching vegetables. They are made of light materials like aluminium or stainless steel which also makes them easier to carry. 
7.Can stock pots go in the oven?
There is no easy way to determine whether your stock pot is oven safe or not. Some stock pots that are made with 100% ceramic and metal can go safely into the oven. However, the added non-stick coatings on these stock pots might not be oven safe. The most useful tip you can use to find out if your stock pot is safe to go in the oven is to check the info booklet that comes with it. 
Conclusion
Though there are a lot of Stainless Steel pots with spigots available in the market, we've listed the top-rated ones. These pots are crafted with highly durable and top-quality stainless steel material that ensures shiny, smooth and polished finish. 
Again, these pots come with an attached or weldless spigot and thermometer which makes them easy to clean, use and assemble. Some of these are also induction safe and constructed with thick Tri-ply bottoms for even cooking. These stainless steel pots with spigots are best suited for any home or commercial brewing and cooking.