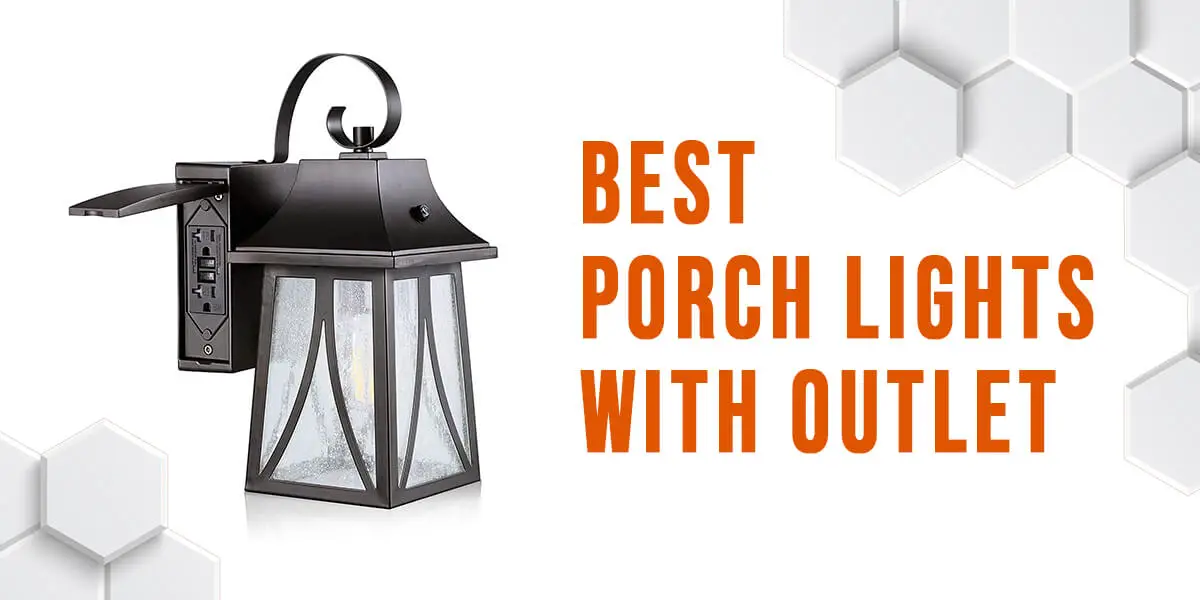 Porch lights are a great way to enhance the exterior of your house or light up spaces like your porch, backyard, garage or entryway. When porch lights have built in outlets, they make convenient power sources for other decorative light sources.
Porch lights with outlets can make outdoor lighting convenient and hassle free. Given below are some of the best porch lights with outlets.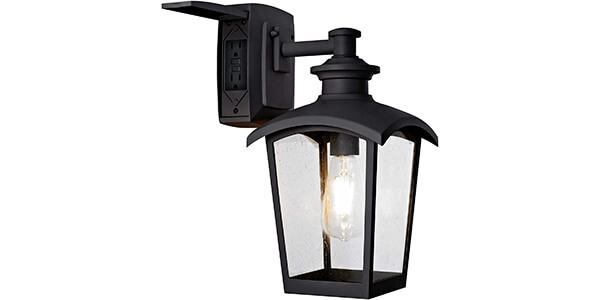 The Home Luminaire 31703 Spence 1 Light Outdoor Wall Lantern is a well built lantern with modern touches. It is available in 3 colours – black, white and graphite. It comes with two electrical outlets which are very handy and useful. It can be used as a convenient power source for other patio lights and holiday lights. It is very easy to mount and install.
The pebbled glass of the lantern is appealing and gives it an old school look. It illuminates spaces pretty well and can be utilized as a night light and even as a decorative light. In order to power this lantern, you need a minimum power source of 60 W. You can use LED bulbs with this lantern.
Visually appealing
Easy to install
Two electrical outlets
Versatile uses
Well built
Mounting bracket needs to be tighter
This is a very convenient porch light which can also be used as a power source.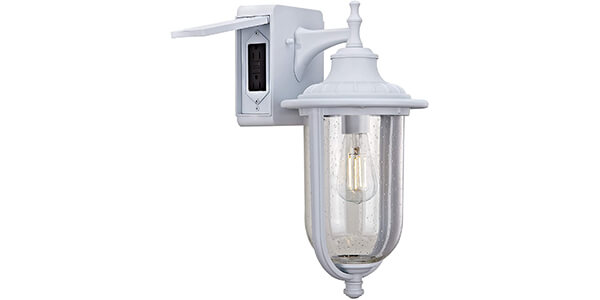 The Addington Park 31850 Grace Collection Light Nautical Outdoor Wall Scounce is a solid and durable outdoor wall light which has flexible uses. It comes in black and white finishes which you can choose according to the style of your house. The 2 built in GFCI outlets make this wall sconce a must have. These outlets can be used for powering other lights and eliminates the need of too many extension cords.
The seeded glass adds a unique touch to the wall sconce. It is heavy, sturdy and feels high quality. You can easily enhance the exterior of your home with this outdoor light. It is a good size which is neither too big nor small. The bottom of the light is open which makes it easy to change the bulb.
Sturdy
Well built
2 GFCI outlets
Aesthetic look
Good size
A little difficult to install
This sturdy and durable wall sconce is a good purchase for your home.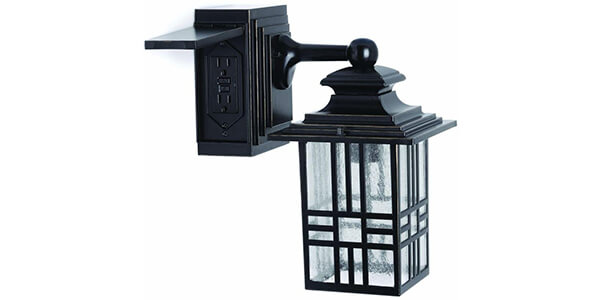 The Hampton Bay 30264 Outdoor Wall Scounce Lighting has an appealing design which makes it suitable for both illumination and decorative purposes. It is very lightweight and has a very easy installation procedure. The built in GFCI outlet is located on the left side and you have to press the GFCI reset button to activate the wall scounce. The outlet has a maximum rating of 15 amps.
This wall scounce has weatherproof features built in to make it suitable for outdoor use. You can also use this indoors if you want. The rectangular glass with the black metal framing gives it a very industrial look. This wall scounce can be effectively used as an external power source for your porch. This makes it possible to power other devices like security cameras and other lights.
Lightweight design
External power source
Built in weatherproof features
Flexible uses
Appealing look
This wall scounce is a great investment you can make for your porch.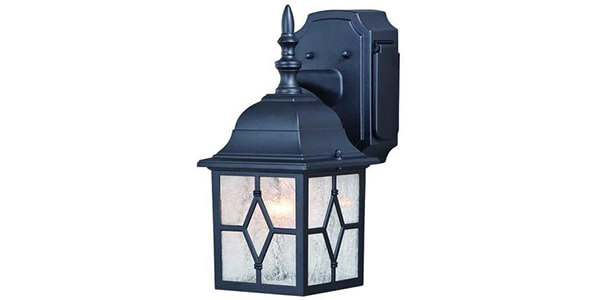 The Plighting Galeana Textured Black 12.5'' Outdoor Wall Light With GFCI Outlet is a versatile and functional wall light. It has a traditional and old fashioned design which might appeal to a lot of people. The textured glass adds a very nice touch. The outlet has a cover which helps it to resist bad weather conditions.
The light has an easy setup procedure and the bottom is open for easy installation of the bulb. You can use incandescent, LED or other compatible bulbs. The distinctive style of this light fixture will compliment all kinds of exteriors. You can use it in multiple places like the garage, porch garden and even indoors. The GFCI outlet is on the right side of the light.
Versatile uses
Easy setup procedure
Weather resistant cover
Good size
This outdoor light is simple, effective and can be used in multiple ways.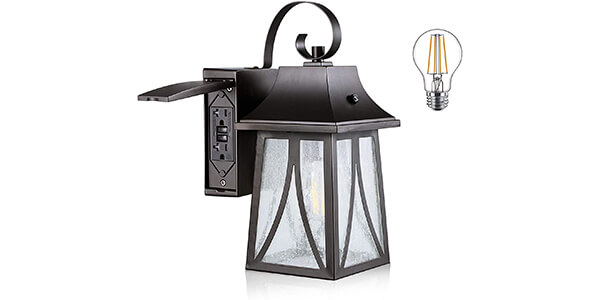 The Cloudy Bay GFCI 120 V Dusk To Dawn Outdoor Wall Lantern is the perfect outdoor light for every home. It has a compact and classic design with a modern touch. The weatherproof coating of the lantern makes it durable and helps it to last in unfavourable conditions. You can use different kinds of bulbs with this, even halogen and CFL.
This lantern has a functional light indication system. It doubles as a lighting fixture and an external power source. It is very useful for homes which do not have any exterior outlets. This lantern has a dusk to dawn feature which makes it automatically turn on at night and turn off during the day. This is very useful for conserving energy.
Aesthetic design
Dusk to dawn feature
Weather resistant coating
External outlet
Solid construction
A little confusing to install
This lantern has many useful features which makes it a must have.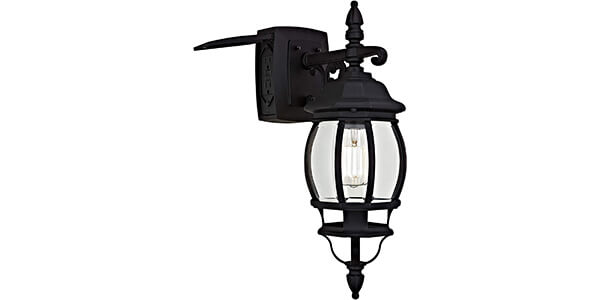 The Sunbeam 16890 1 Light Outdoor Wall Scounce is a high quality wall scounce which can be used for your porch. It has 2 built in GFCI outlets which can function as a power source. You get an LED Edison bulb along with this wall scounce so you don't have to purchase it separately.
It has a curved design which has a unique and vintage look. It is well made, sturdy and can be used to replace outdated lights. It is easily mountable and holds up really well. You don't need any prior experience for installing it. The size and colour of the wall scounce makes it perfect for both interior and exterior uses.
Suitable for interior and exterior uses
Functional
Easily mountable
Visually appealing
Included LED Edison bulb
This wall scounce will make a beautiful addition to your home.
Frequently Asked Questions
1. How can I light my porch without electricity?
Solar lights are the best option for lighting your porch without electricity. Some of them even have the dusk to dawn feature. After you install them, they are directly powered by the sun through the built in photocell solar panels. They can work continuously for 6-8 hours after they are fully charged. You don't need any kind of wires or cables and this makes it an ideal choice for porch lighting. There are also decorative solar lights which are held by a string and these can be used for decorative purposes.
2. How do I add an outlet to a light fixture?
You can add an outlet to a light fixture using the following steps,
Turn the power supply off to the light switch. Remove the switch plate and unscrew the switch from the outlet box. Pull the switch from the box.
Use a voltage sensor to ensure that the power of the box is off. Disconnect the two wires attached to the switch.
Remove the existing outlet box and replace it with a double outlet box. Remove the wire nut connecting the two neutral wires in the back of the box and add a third wire to the mix.
Reattach the two short black wires and the white wire.
Once all the wires are attached, press the switch and outlet into the new box.
3. How high should porch light outlets be?
Porch lights should be about 66 inches to 72 inches high. Most of the time the ideal exterior light height is at eye level for most people. In front door and entry areas, your outdoor scounces and wall lights should be positioned so that the centre point is around 66 to 72 inches above the floor. For taller spaces you can go higher, but going above 72 inches is not recommended.
Conclusion
While selecting the best porch lights, we have kept many factors in mind. This includes durability, visual appeal, ease of installation and functionality. We have compiled a list of the 6 best porch lights with outlets to ensure you find the right one for your home.