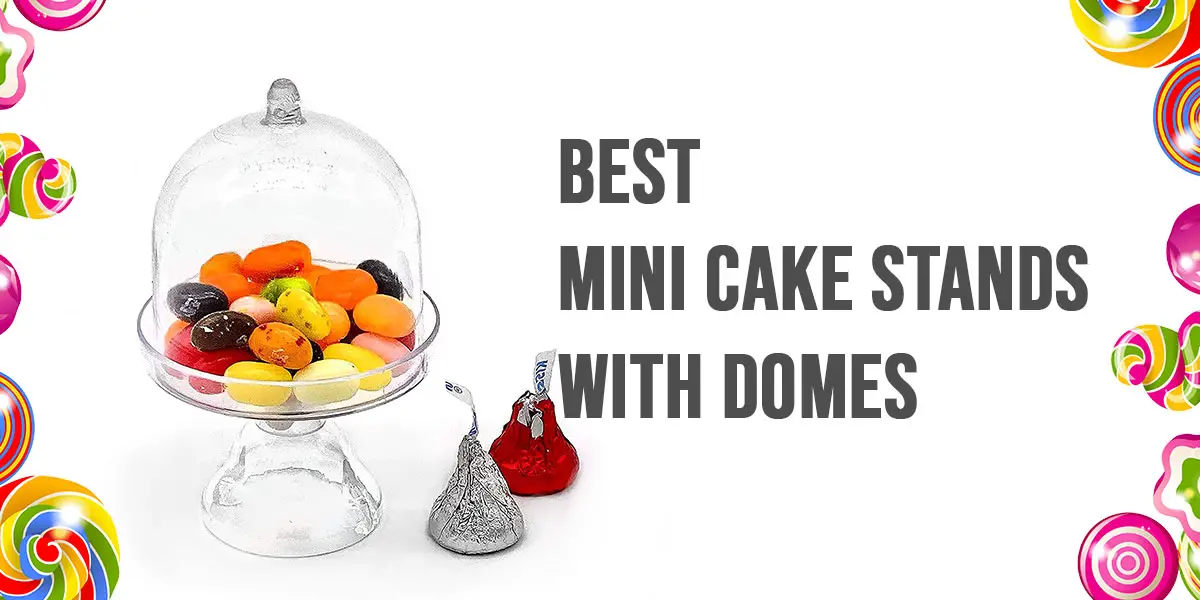 If you want to flaunt your bakeries and keep them refreshing, it's important to get the best cake stand with a dome. These are perfect for displaying your cakes, pastries, muffins, and much more. They are made with durable quality glass or plastic for safety needs. Moreover, they're reusable and very easy to clean since they are dishwasher safe. They are handy to use for self-serving purposes in big parties and weddings. You can choose the best mini cake stand with domes which suits your needs. Check out the best
mini cake stands with domes
below.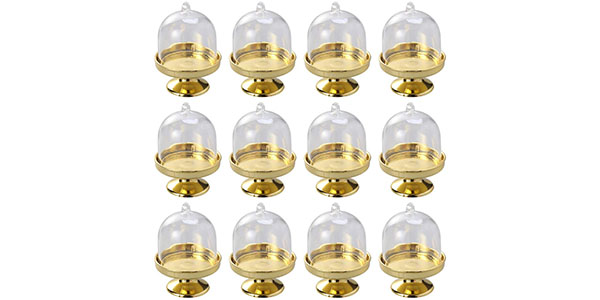 The BESTonZON acrylic plastic mini cake stands are best to display cupcakes, muffins and tiny treats. It has a golden base which looks beautiful. These can make your handmade treats look more presentable and fancy.
Another feature is the uncomplicated 2 part structure dome design which is easy to open and close. They are also reusable and easily washable. They come with a dimension of 3.15 x 2.36 x 2.36 inches, which makes them perfect for mini meringues and small candies. The self-serving design and holder is a plus point.
Clear Display
Durable Plastic Material
Easily Assembled
Golden Base
Reusable And Washable
Little Pricey
Not suitable For Big Cup-cakes
They are self-serving and attractive with a golden base. They are made with good-quality plastic which makes them durable and long-lasting.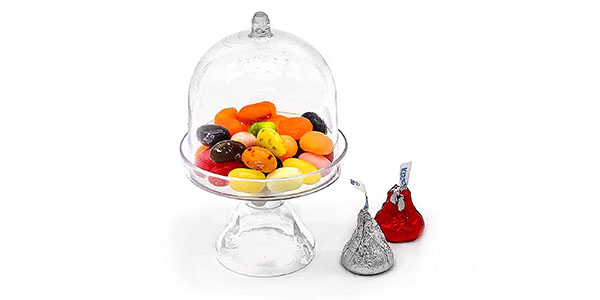 The JC HUMMINGBIRD Plastic mini cake stand with dome covers comes with a dimension of 2.75" L x 2.75″ W x 3.75" H inches. It is well-suited for cupcakes and small treats and makes them cuter.
They are great for any wedding, party or special event since they are self-serving. These stands are also available in three different colours: Golden, Clear and Silver.
These mini stands claim to be bigger than others in the market and can be used for multiple purposes. The material used makes them sturdy and pretty for any occasion.
Different Colours
Affordable
Wider Dimensions
Cute Design
Self-Serving/Kids Friendly
Doesn't Fit Big Size Treats
They are user-friendly and affordable options available. These are best-suited for multi-purposes in parties.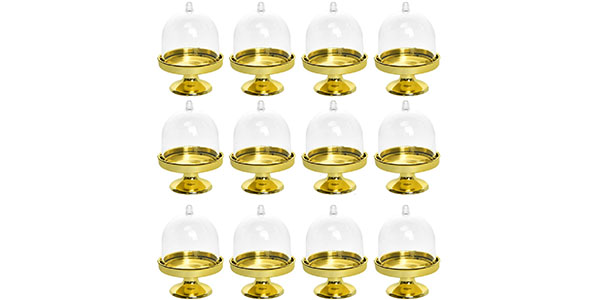 The Vumdua mini cake stand is made from a long-lasting, non-toxic and safe acrylic plastic material. These can be easily reused and washed, are freeze-able, disposable and recyclable.
They are perfect for mini treats like cakes, cherries, muffins, macaroons, pudding, etc. It can be used for multi-purposes like birthday parties, baby showers, bridal showers, anniversaries and other special occasions.
It comes with 9.45 x 8.27 x 2.36 inches dimension and is also light-weight. They also have a golden-base display which looks elegant and posh.
Classy Display
Environment Friendly Material
Durable And Reusable
Dishwasher Safe
Sturdy
Affordable
Plastic Might Be Extruded Or Deformed
Not Suitable For Big Treats
They are made with highly durable and environment friendly plastic. These can work best for hosting small tea parties.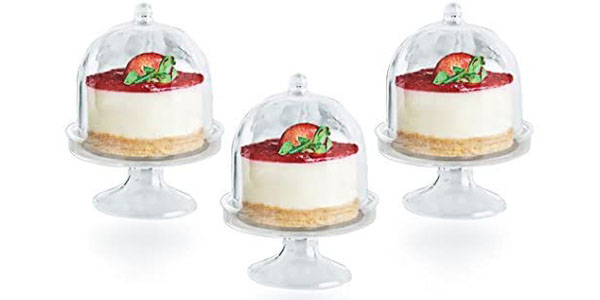 The Posh Setting mini collection cake stands are the perfect disposable stands if you are looking to host a big party. These are also reusable, washable and freezer friendly.
They are made with a top quality heavy-weight plastic material which makes them sturdy. The elegant design also makes them fancy and conventional to use.
They come with 3" x 2.5" x 2.5" dimensions. If you want to make your appetizers and miniature desserts look professional, these can come handy.
Long-lasting Material
Convenient And Multipurpose
Elegant Design
Easily Disposable
User Friendly
May Not Work For Heavy Treats
Little Pricey
These are made from durable plastic which keeps your treats steady. You can also leave the hassle of washing and easily dispose of them.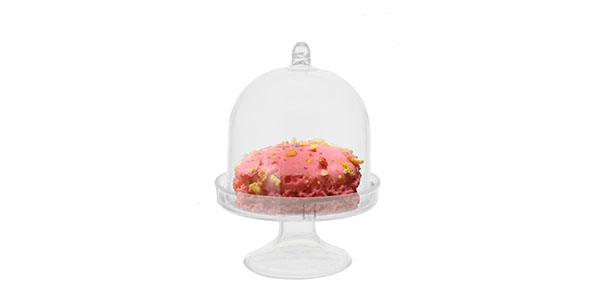 The Spec101 mini cake stand helps you in creating a stunning presentation for your small baked goods. It is made from a durable clear plastic material which makes your treats easy to display.
These small dessert stands are best for any occasion for individual plate setting. They also come in a 2 piece easy to open and clean design. They look super cute with plain design and 2.5" x 3" x 1.7" inches dimensions.
They provide an option for disposable and reusable stands, these are dishwasher friendly.
Good Quality Material
Affordable
Cute Plain Look
Easy Clean Or Throw
Stunning Display
They have an elegant and classy plain design. They're easily disposable and user-friendly.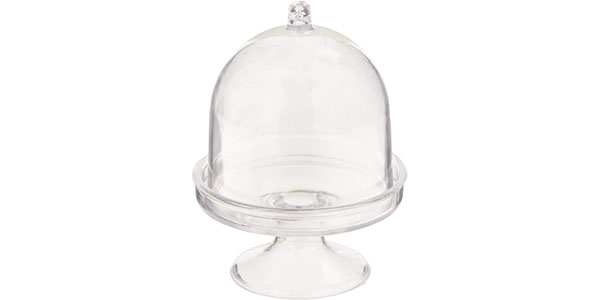 The FASHIONCRAFT 6773 perfectly plain collection of mini cake stands is made with best-quality acrylic plastic. These can be used to put treats and best wishes on display in parties.
This adorable method would grab everyone's attention and make them the centre of attraction. They come with an easy 2-piece effortless working structure.
They are 3" inches tall and 2" inches wide and have the perfect display dimension. The long-lasting durable plastic is also sturdy and helps your treats to stay in place.
Perfect Plain Design
Durable Material
Good Small Dimension
Sturdy
Affordable And Available In Bulk
Not Suitable For Big Cakes
These are perfectly plain and are available in bulk. They are long lasting and easy to use.
Frequently Asked Questions
1. Do cake domes keep cakes fresh?
Yes, cake domes are not only for decorative purposes, as you may think. All restaurants and shops use these plastic or glass domes because they keep any bread, muffins and cakes fresh for several days. Since anything can be seen from outside, they're also very practical and beautiful things to have in your kitchen.
2. What is a cake stand called?
A cake stand is called a pedestal stand or decorative plate which is attached with a stem or foot to keep the cakes steady. These cake stands were initially called Salvers. They were named after the wide silver platters used for serving drinks and foods, which prevented them from falling and spilling on the floor.
3. What can I put in a glass cake stand?
Since glass cake stands come in different shapes and sizes, they can be used for several purposes. Other than using them for putting cakes, pastries, muffins, breads, cupcakes, etc. You can also:
Make it a plant stand.
Use them for vintage tea cups and candy displays.
Use them as candle holders.
Create a tea station with them.
Put décor on it.
4. What is a tiered cake stand called?
Tiered stands work in levels to put different layers of cakes. They are also called tiered trays, pillared stands, tiered dessert stands, or tiered serving stands.
They are very essential for displaying big cakes like wedding cakes. These stands consist of layers that gradually decrease in size and form a pyramid shape.
They're similar to cake or pedestal stands, they just have an added base for more layers to sit on.
5. How do you make a 3 tier dessert stand?
If you don't want to buy a tiered cake stand, you can also make it yourself. To DIY a 3 tier dessert stand, you need:
3 different size plates, 1 big, 1 medium and 1 small
2 candle stands
Adhesive or Glue
You can start by assembling it before sticking everything together. Put it in the order: large plate–candle stick–medium plate–candle stick–small plate. You can check how it looks and use glue to put it together.
6. How tall is a cake stand?
Cake stands come in different shapes and sizes, but most common cake stands are 10", 12", 14", 16" and 18" inches tall. You can choose the best suitable for your needs.
7. How do you make a glass cake stand?
There is an easy way to make a glass stand yourself. You need: A glass plate, a glass bowl, stand, candleholder and glass glue.
Steps: 
Place the plate upside down and mark the centre point and also make a small circle according to the rim size of your bowl or candle holder.
Spread glue on the rim of your candle holder/bowl and paste it on the mark.
Put a heavy object on top for some time or overnight for it to stick nicely. And you're done!
8. How do you make a cake holder?
You can make different cake holders through this DIY technique.
For a Glass Cake holder: Use a glass plate and candlestick holder and paste it at the centre of the plate and glue them together.
For a Porcelain Cake holder: Use a mini Porcelain bowl and a Porcelain pie dish, and glue them together.
For a Pot-looking Cake holder: Use a miniature pot and pot plant saucer and glue them together.
For a Wooden Cake holder: Use a round wooden cutting board and a mini wooden stand and glue them together.
9. Do you need a cake stand?
Bakers always provide a base layer for the cake, so you don't necessarily need a cake stand if you are low on budget. Although, a cake stand will still make your cake look good and keep it secure.
10. How do you cover a cake without dome?
If you don't have a dome, you can cover your cake with the following substitutes:
Use a large kettle or soup pot or plastic bowl turned upside down.
Put toothpicks or skewers in the cake and drape a plastic wrap over it.
11. How much weight can a cake stand hold?
This is based on the size of the cake stand.
10" Cake stand – 40lbs.
12" Cake stand – 75lbs.
14" Cake stand – 110lbs.
16" Cake stand – 145lbs.
18" Cake stand – 180lbs.
12. What can I use instead of cake stand?
You can use more inexpensive and easily available substitutes like:
Lazy Susans (Wooden, Plastic, Stone)
Microwave Plate
Cardboard and Paper
Pie or Tart Pan
Terra Cotta Pots
13. How do you make a tall cake stand?
You can use the following items to make your cake stand taller:
Tall Candlestick Holder
Tall Glass
Tall Wooden Plaques
Tall Plastic Pots
Conclusion
There are a lot of mini cake stands with domes available, but we have provided you the top-rated items. These all are perfect for your mini treat display and come handy in any big occasions like birthday parties, weddings, anniversaries, etc.
These are designed with best quality acrylic plastic material which is highly durable. Again, these are also self-serving and classy for presentation.