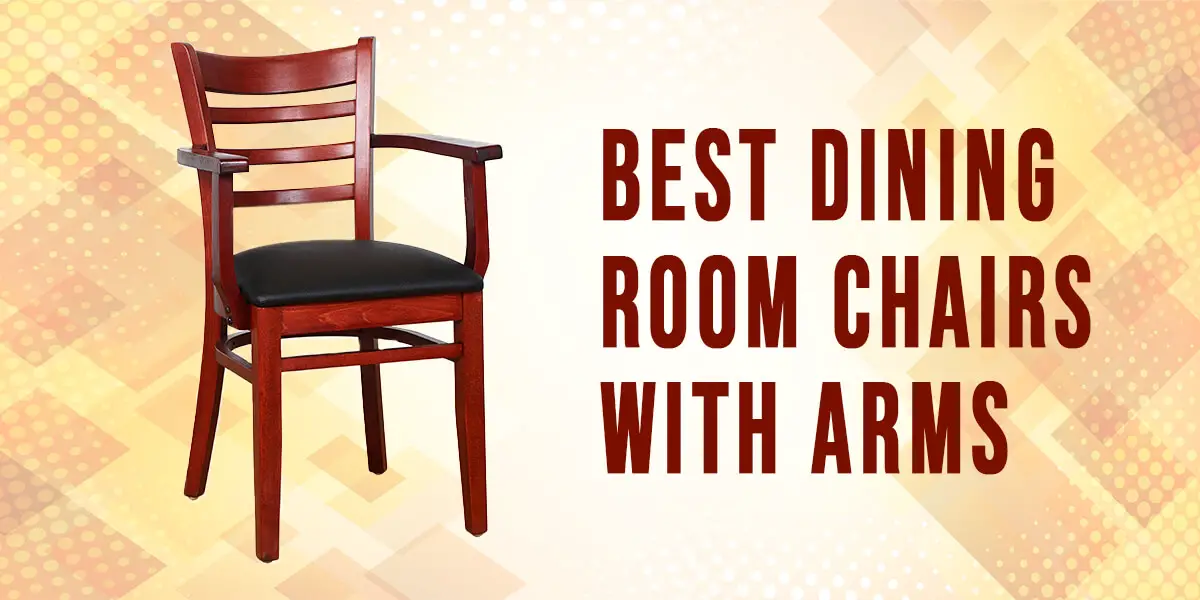 Arm rests can be a great way to make dining room chairs more comfortable and ergonomic. They also tend to look more formal and can add a sense of sophistication and elegance to your dining room.
These chairs can also be used for other purposes which makes them multi-functional. Given below are the 6 best dining room chairs with arms.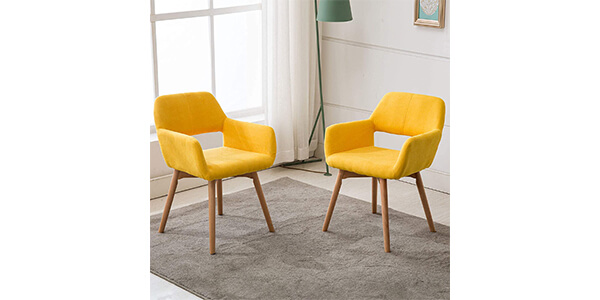 The Lansen Furniture Modern Dining Room Arm Chairs are multipurpose chairs which can be used in all kinds of spaces. They have a mid-century look with a simplistic design which is very appealing. The whole chair is padded including the back and arm rests. The material resembles a textured synthetic suede. They are available in many colours and can be purchased as a single chair or a double set.
The assembly procedure is simple and all the necessary tools are included. The wooden legs have a cross beam construction which imparts good sturdiness. They are relatively lightweight and easy to move around. These chairs can be used to provide extra seating space in your dining room or can even be used for formal rooms like the guest room.
Pros
Visually appealing
Compact design
Lightweight
Multi-purpose
Sturdy legs
Cons
Not comfortable for long periods of time
"These well built chairs have many versatile uses."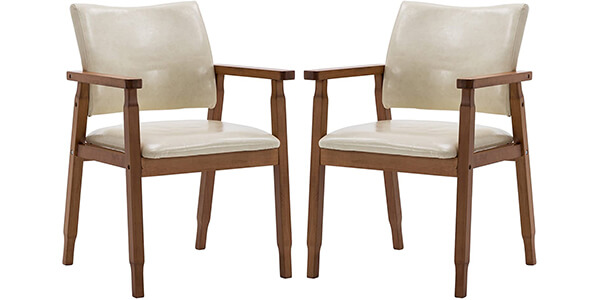 The NOBPEINT Mid-Century Dining Side Chair is a good looking and well built chair designed to be used for multiple purposes. The chair has a solid wooden frame with a cream coloured padded seat and backrest. The back is slightly inclined which enables comfortable leaning of the back. The chair has a wide seat and is suitable for both big and small people.
The assembly instructions are very clear and the assembly is not time consuming. These chairs are available for purchase in a set of 2. Although they are meant for the dining room you can use them for your office, living room, or even as accent chairs. They have a good weight capacity and can hold up to 250 lbs.
Pros
Wide seating space
Solid construction
Minimalistic design
Easy assembly procedure
Multi-purpose
"These chairs compliment almost every room perfectly."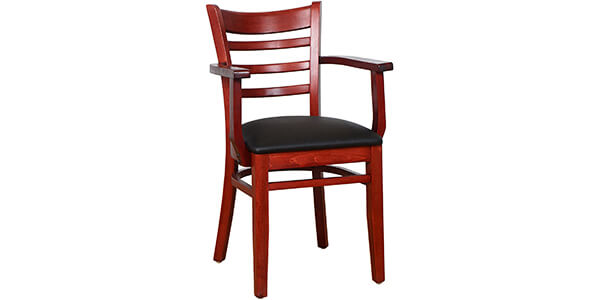 The Beechwood Mountain BSD – 5A – M Solid Arm Chair is a very sturdy, solid and high quality chair with a compact design. It is available in different colours which includes both the seat and the wooden frame. The wooden frame has a smooth finish and a very traditional and classic look. The chair does not require any assembly since it comes fully assembled.
The arm rests are quite high which makes it suitable for elderly or sick people who are in need of extra support. The chair looks heavy but is easy to move around. The upholstered faux leather cushion is firm but comfortable. This chair is on the smaller side which makes it suitable for small dining rooms.
Pros
Sturdy
Durable build
High arm rests
Lightweight design
Good for elderly
Cons
Narrow seating space
Expensive
"The sturdy and durable construction of this chair makes it a good purchase option."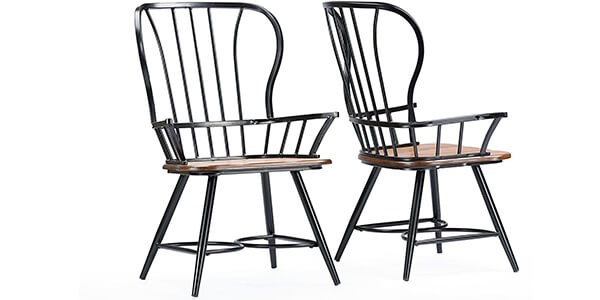 The Baxton Studio Longford Metal Vintage Industrial Dining Arm Chair is a budget friendly dining chair set with a unique look. The industrial design and solid metal frame gives it a very appealing look. The colours also make it easy to match with other décor in the room.
They are very roomy chairs with plenty of seating space. They are durable, sturdy and easy to clean because of the lack of upholstery. The back rests are long and can comfortably accommodate people of all sizes. There are rubber pads at the bottom of the feet to prevent scratching and damaging the floor.
Pros
Budget friendly
Industrial design
Sturdy construction
Wide seating space
Long back rest
"This budget friendly dining chair set will surely make your dining room more attractive."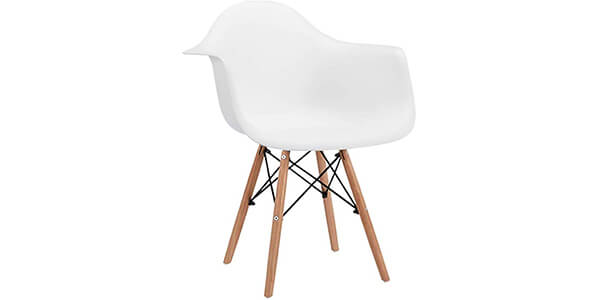 The CangLong Mid Century Modern Lounge Plastic Arm Chair is a very attractive looking chair which can be purchased alone or in sets of 2 and 4. It comes in 2 styles. You can opt for a solid white back rest or a back rest with a hollow grid design. The legs have a sturdy cross beam configuration.
These chairs come with clear visual instructions to enable a hassle free assembly procedure. The modern design appeals to most people and compliments most spaces. Although it is constructed from plastic it looks more expensive than its price. These affordable chairs can be used for practical or décor purposes.
Pros
Budget friendly
Modern look
Easy assembly
Multi-purpose
Cons
Not comfortable for long periods of time
"If you want a stylish yet affordable set of dining chairs, go for this one."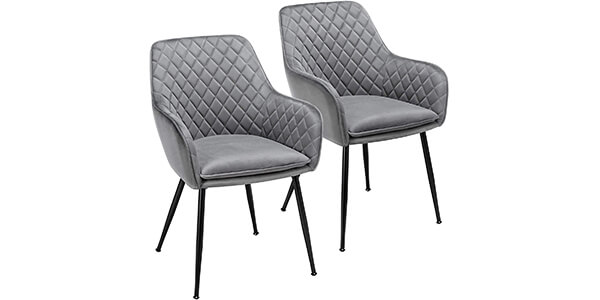 The YAHEETECH Dining Chairs are some of the most comfortable chairs available online. They are not only aesthetically pleasing but are also functional and ergonomic. The chair is completely padded with a textured velvet fabric which gives it a luxurious look. They look expensive but are affordable compared to other good quality chairs.
These chairs have foot pads at the bottom which are height adjustable and help in keeping the chair steady and levelled. The high inclined back and armrests help in maintaining comfort for long periods of time. They also have a pretty minimal assembly procedure. They are quite durable and are bound to last you a good amount of time.
Pros
Very comfortable
Ergonomic
High back
Aesthetic design
Easy assembly
Durable construction
Cons
May not fit every dining table
"These comfortable and aesthetic chairs are well worth their price."
Frequently Asked Questions
Conclusion
If your current dining room chairs are not comfortable, you can always opt for new ones with arms. We have compiled a list of the best dining room chairs with arms to narrow down your search.