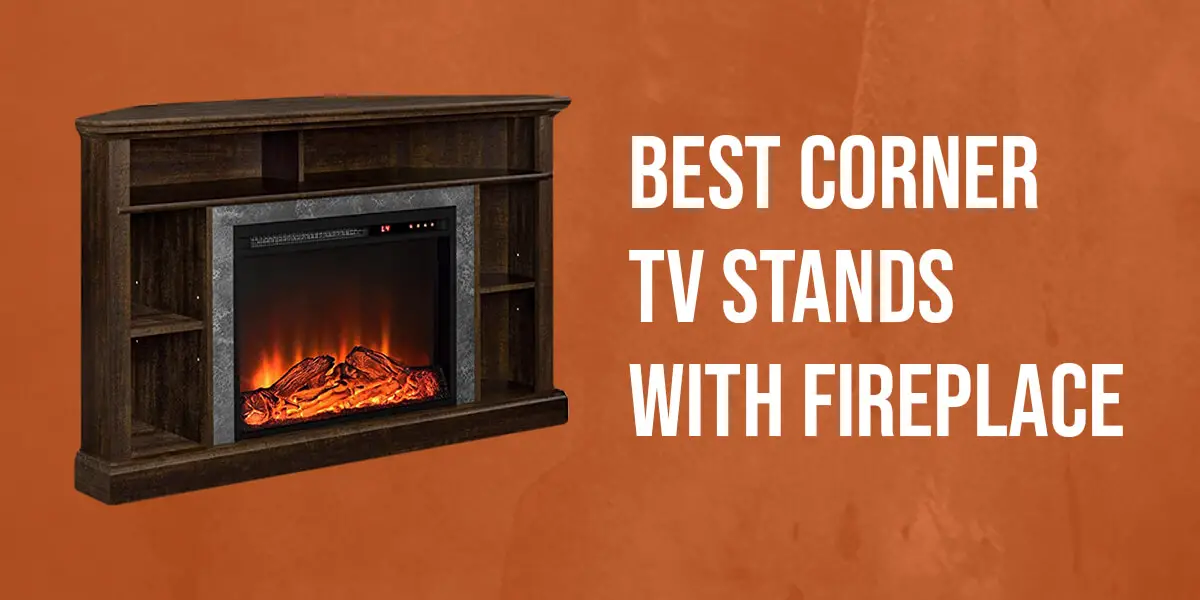 Corner TV stands are often opted by people who don't have a ton of space to spare for an extremely big and bulky stand. They are also more affordable than traditional stands which is a good plus.
A fireplace insert can help contribute to a better ambience by bringing in warmth. Given below are the 6 best corner TV stands with fireplaces.
The Walker Edison Alcott Classic Glass Door Fireplace Corner TV Stand has a very classic and clean cut look which many people will find appealing. It is available in many different textural finishes which you can choose from. It has a very solid and sturdy build which does not feel cheap. It can comfortably accommodate TV's which are up to 50'' long.
The fireplace unit can be removed and inserted when needed. You can use it with or without the heating element. There are controls on the front which are very easy to operate. The flames do not look tacky even though they are fake. Usually TV stands with fireplaces tend to be expensive but this one is more on the affordable side.
Pros
Affordable
Classic look
Removable fireplace
Fits in small spaces
Strong and sturdy
Cons
No remote
Confusing assembly
"If you want a small and functional TV stand, this is the perfect one for you."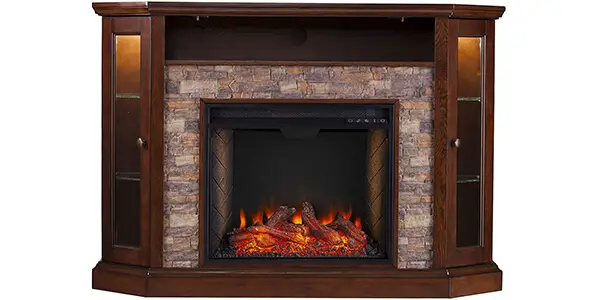 The SEI Furniture Redden Faux Stone Convertible Electric Media Corner Fireplace is a very compact and well built fireplace. It has a very elegant design and the faux stone adds a very rustic and old school touch. It has a wide centre cabinet with two closed side cabinets. 
This fireplace is Alexa compatible which is a very cool feature. You get a separate remote to control the fireplace and regulate the heat settings. It can heat small spaces comfortably and you can use it during chilly or cold climates.
Pros
Very rustic look
Fits in small spaces
Well built
Sturdy and durable
Remote control
Cons
Flames look a little cheap
Difficult assembly
"This is a beautiful piece of furniture designed to compliment every room."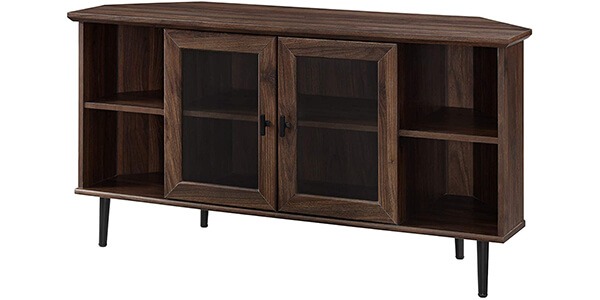 The Walker Edison Simple Corner Fireplace Stand is another great TV stand by Walker Edison. This stand helps in saving a lot of space and can be purchased by those who want a simple stand for their TV. There are different wood colour options ranging from dark walnut to white oak. The surface is very smooth and the wooden print does not show much grain.
You get 4 open even sized shelves which you can use for knick knacks, plants, pictures or other décor pieces. The fireplace is functional with good quality flame effects. The assembly is not very difficult and can be accomplished by amateurs.
Pros
Sturdy
Compact size
Functional fireplace
Easy to operate
Budget friendly
Cons
Assembly instructions are not very clear
"This is a very simple and minimalistic TV stand with a durable build."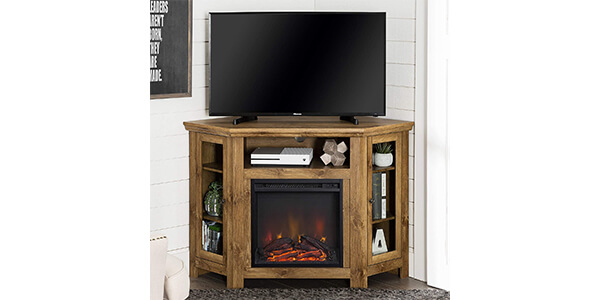 The Home Accent Furnishings 4 Foot Wide Fireplace TV Stand is a very functional fireplace TV stand which serves its purpose really well. It is 4 foot wide and is ideal for small TV's which are between 40'' to 50'' long. It has a traditional wooden build and has a universally appealing design. You get 3 cabinets including 1 open centre cabinet and 2 closed side cabinets with shelves.
The stand comes with all the necessary tools and hardware parts minus the screwdriver. The heater can heat small spaces up to 400 square feet. The blower is pretty quiet and does not generate much noise. The flame gives a nice glow and brings warmth and coziness to any space.
Pros
Sturdy build
Compact design
Quiet heater
User friendly fireplace
Cons
Time consuming assembly
No heat or flame adjustment options
"This stand comes with a fireplace which is super easy to operate."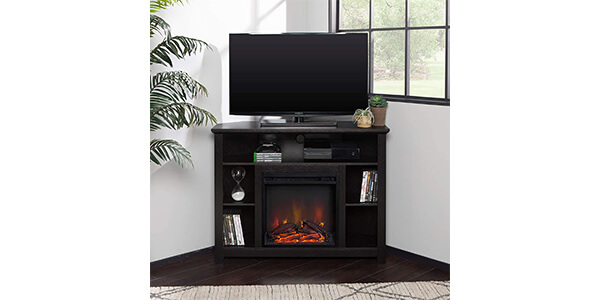 The Home Accent Furnishings 44'' Wood Corner Fireplace TV Stand is a very budget friendly fireplace TV stand. It has a strong, durable build and compares in quality to other expensive fireplace TV stands. It has a matte black finish which gives it a very modern and sleek look. It has a wide centre shelf which can be utilised for media receivers, setup boxes and even speakers.
The fireplace insert can be attached and detached when needed. It is surprisingly good for the price and has a nice flame display. The assembly procedure is not too complicated and comes with clear instructions.
Pros
Solid construction
Wide centre cabinet
Functional fireplace
Modern look
Cons
Not suitable for big TV's
"This modern looking TV stand is capable of attracting everyone to buy it."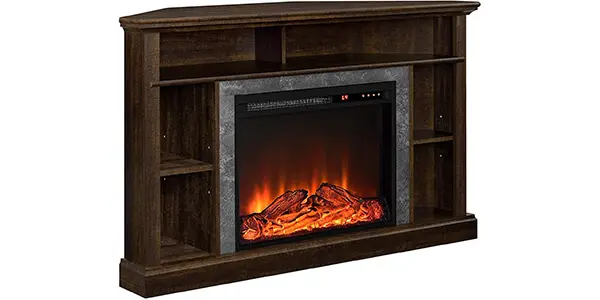 The Ameriwood Home Overland Electric Corner 50'' Black Fireplace is simple and sturdy with a nice finish. It is available in black and espresso versions. You get 2 centre cabinets and 4 small shelves. The fireplace is high and has simple controls on the front. You get different flame and heat settings which are adjustable including brightness.
You can control the different settings using the remote control. The fireplace has a blown motor and the heating temperature is adjustable. There are no issues with overheating. The stand is not too heavy and is easy to move around.
Pros
Sturdy construction
Durable
Adjustable settings
Flame effects
Simple design
"This is a well built stand with adjustable flame effects and temperature."
Frequently Asked Questions
Conclusion
You can save a lot of money if you buy corner TV stands with fireplaces online. They are just as good as the in store ones. We have compiled a list of the best corner TV stands with fireplaces.