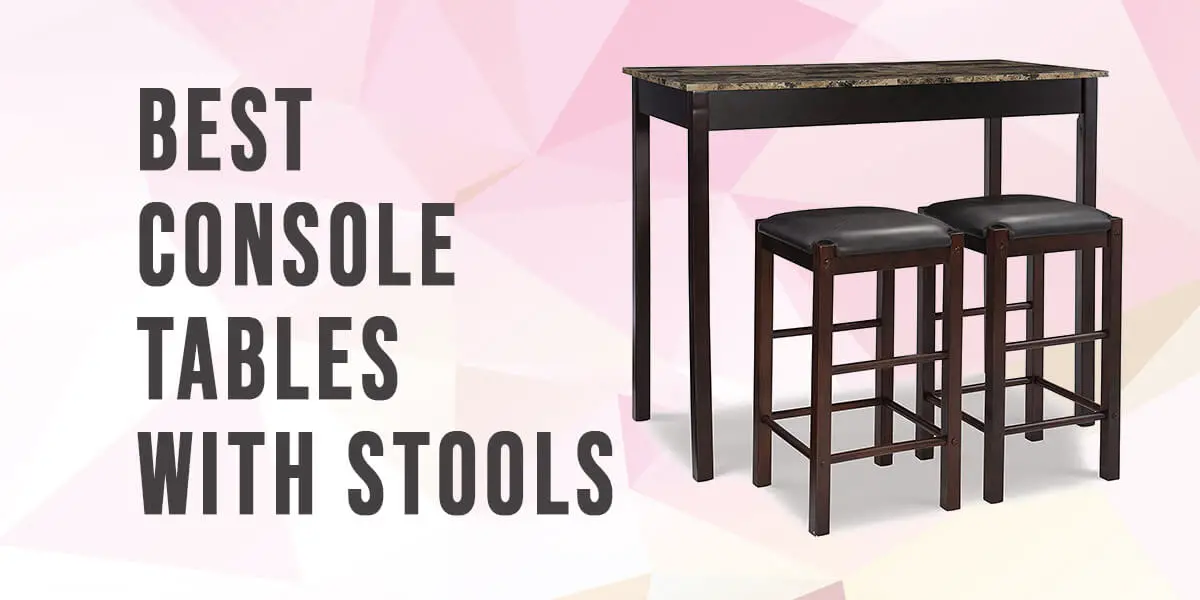 Console tables are becoming very trendy in modern homes. They are not only budget friendly but also versatile since they can be used in many different ways. They are pretty useful for people who own small homes.
Adding stools to a console table makes it complete and provides the necessary seating space. Given below are the best console tables with stools.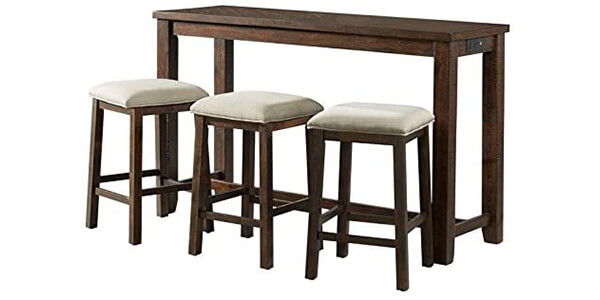 The BOWEY HILL Sussex Home Bar Living Room Set is a very functional and good quality table set which comes with 3 upholstered stools. It is available in different shades of brown and grey. You can use it for many different purposes. It can be used to provide an extra seating arrangement or even as a dining room table if you don't want a super big one.
The chairs are quite comfortable and have well padded soft cushioning. You get a USB outlet and power strip on the side of the table which is a very cool addition. You can easily charge your phone using this.
Sturdy and strong
Multi-purpose
USB outlet
Comfortable stools
Functional
Finish is easily scratched
This set will make a great addition to any room of your home.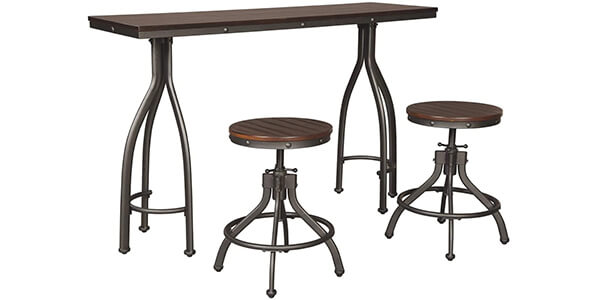 The Signature Design By Ashley Odium Dining Table With 2 Stools is a very good looking set suitable for small spaces. It has a solid metal and wood construction and is quite sturdy. The wood is solid and dark with a smooth finish. It comes with all the necessary hardware parts and tools.
The stools are well made. The best part is they are height adjustable and can easily be locked in place. The footrest and swivel are nice additions as well. They add extra seating space without taking up too much room. Their trendy design will easily appeal to most people.
Budget friendly
Trendy design
Sturdy
Height adjustable
This is a beautiful and budget friendly console table set.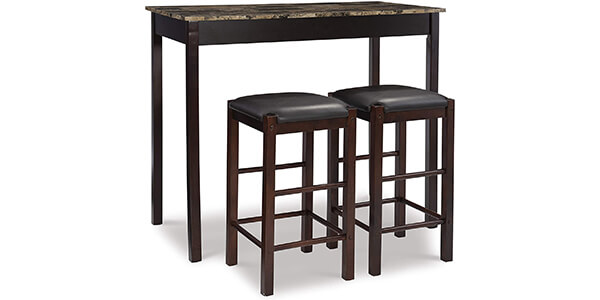 The Linon Brown 3 – Piece Table Faux Marble Tavern Set is one of the most affordable console table sets you will find online. It has surprisingly good quality for its price and works great as a starter set for small kitchen areas. The table has a faux marble top and the earthly colours give it a very nice look. The surface is also easy to wipe and clean in case of spills.
The stools hold up very well and are the perfect height for the table. The footrest comes in very handy. The assembly procedure is simple and takes under an hour.
Very affordable
Sturdy
Simple assembly
Good design
Table tends to come with chipped corners
This affordable set is a dream for small home owners.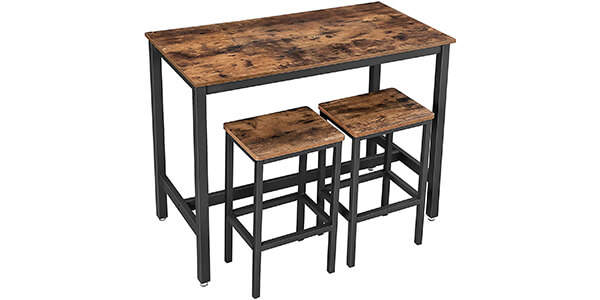 The VASAGLE Bar Table Set With 2 Bar Stools is a well constructed set with an inexpensive price tag. It has a mid century modern look which is very attractive and trendy. The table and the stools are supported by a solid steel frame which imparts good sturdiness.
The table top has a laminated and appealing wood grain finish. The stools have adjustable feet for proper levelling. You can also purchase additional stools if you want extra seating. The assembly procedure is straightforward and not time consuming. The set is pretty lightweight which makes it easy to move around.
Affordable
Visually appealing
Easy to clean
Sturdy
Easy assembly
Stools don't have padding
The trendy and compact design of this set makes it a good steal.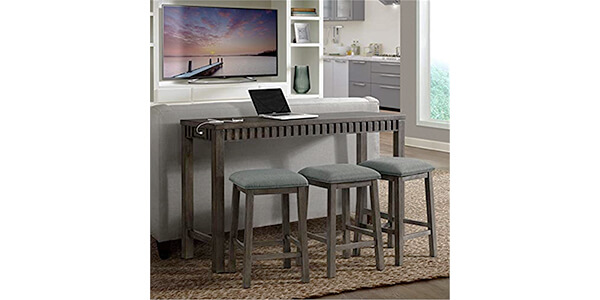 The Picket Furnishings Montego Multipurpose Bar Table Set has everything you need in a functional console table set. It is sturdy, heavy and well designed. The dark walnut finish of the wood is smooth and elegant. The stools have comfortable, padded cushioning and fit perfectly under the table.
This table comes with a USB port which enables charging of all your devices. You can use the table for whatever purpose you deem fit as it has very versatile uses. This set can enhance the look of any room without taking up too much space.
Comfortable
Multi-purpose
Sturdy and solid
USB port
Appealing look
This set is versatile and can be utilized for multiple purposes.
The P PURLOVE 4 – Piece Bar Table Set is a lovely console table set featuring ash wooden tones. Its neutral colour makes it easy to coordinate with other pieces in a room. You can use the table as a coffee table, breakfast bar, working counter or anything else you deem fit.
The USB outlet on the side of the table comes in very handy. The stools are provided with comfortable and well padded cushions which matches the colours of the set. This set can be utilized by both kids and adults.
Sturdy construction
Aesthetic design
USB outlet
Multi-purpose
Durable
You will not regret investing in this multi-purpose set.
Frequently Asked Questions
1. What is the purpose of a console table?
Console tables can be used for multiple purposes. You can use it as a dining table if you don't want something big and bulky. It can be used as a décor or accent piece for entryways and hallways. Console tables with shelves and drawers can be used for storing cutlery or other items.
2. How do I choose a console table?
You should choose a console table keeping various factors in mind. First you should choose according to the purpose of the table. If you want to use it as a dining table, you should go for a wider and bigger console table. If you want to use it as a décor piece, you should make sure its colour coordinates with the surroundings.
3. What is the difference between a credenza and a console?
A console resembles a narrow table which can be used as an accent piece or for dining purposes. Some of them come with shelves for storing small items like cutlery.
A credenza resembles a storage cabinet or a sideboard. It tends to come with cabinet style doors and is similar to buffets.
4. How deep is a console table?
A typical console table measures between 24 to 28 inches long, 26 to 36 inches tall and 12 to 15 inches deep. There are also console tables which are more shallow with a depth of only 7 inches or more high like 20 inches. Ultimately it depends on the purpose it serves.
5. How do I choose a console table size?
You can decide the size of the console table according to the following factors,
Purpose – The console table should be on the bigger side if it is used as a dining table and should be on the smaller side if it is used as an accent piece.
Available space – If you are using the console table in narrow spaces like the hallway, the console table should be narrow as well.
Number of people to be accommodated – If the table is meant to seat a good number of people, it should be longer and wider. If only one or two people are going to be using the table, you can opt for a smaller one.
6. Can I put a TV on a console table?
Traditional and standard console tables are too narrow and flimsy to be used as TV stands. However console tables with bigger dimensions make very good TV stands. Make sure the console table is sturdy and has sufficient space to accommodate your TV. Console tables which are heavy and have cabinets make good TV stands.
7. What is an accent table?
The main purpose of an accent table is to compliment a space or the interior of a room. They are not meant to be the focal point of interest. You can use it for extra storage or for displaying pictures and knick knacks. You can use it to spice up your hallway or entryway.
8. Should I hang a mirror horizontally or vertically?
The way you hang your mirror should depend on the space it fills. Tall rooms look more proportioned with vertical mirrors and long rooms look better with horizontal mirrors. If you want to lengthen the look of a room, hang a mirror horizontally instead of vertically. If you want to create the illusion of more space, hang it horizontally.
9. Can I use a nightstand as a side table?
Yes, night stands can be used as side tables. They are very similar in size and shape and thus make effective side tables. Side tables may or may not have drawers but night stands tend to have them. Using a nightstand as a side table can contribute to extra storage space.
Conclusion
If you are thinking of getting some new furniture, you should definitely get a console table set. They are available at affordable prices online. To narrow down your search, we have made a list of the best console tables with stools.