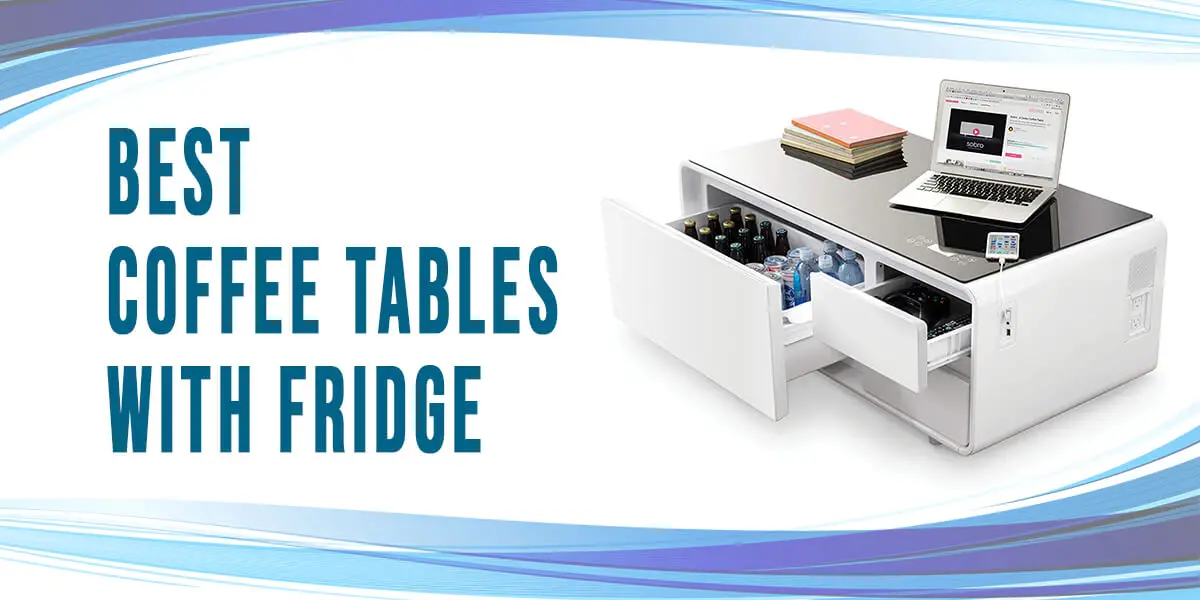 Smart coffee tables are on the rise and continue to gain increasing popularity among people. These tables are not only meant to serve as centerpieces but have various functional components integrated into them.
Coffee tables with attached refrigerators are a very convenient way of keeping all your drinks chilled. They even help you to save refrigerator space. Given below are the 6 best coffee tables with fridges.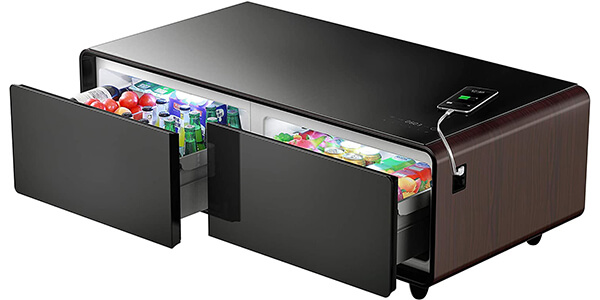 The Primst Smart Refrigerator Coffee Table is a multi-functional coffee table which also doubles as an entertainment hub. The sleek tempered glass top and oak finish gives it a very modern and elegant look. The inbuilt refrigerator has 2 drawers with a sufficient amount of storage space. It does not consume too much electricity and even has an energy efficient mode.
You can keep it plugged in if you want to use the refrigerator or unplug it if you want to use it as a coffee table. The touch controls on the glass are very responsive and user friendly. The table even comes with inbuilt speakers which are Bluetooth compatible. They have a pretty great sound output. You can adjust the height of the coffee table by rotating its legs.
Pros
Modern design
Responsive touch controls
Bluetooth speakers
Sufficient cooling space
2 USB outlets
"This versatile coffee table has features you never thought were possible in a table."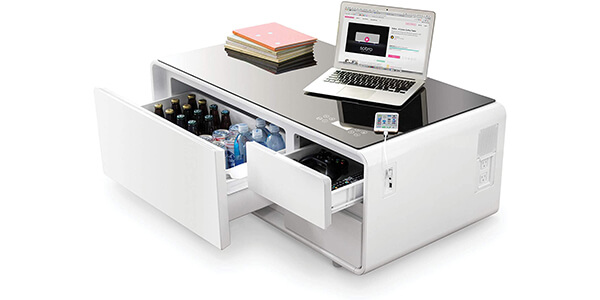 The Sobro Coffee Table is a revolutionary and premium coffee table which features integrated modern technology. The minimalistic and classic design is universally appealing and compliments every space easily. You get 2 mini storage drawers with a bigger cooling drawer for your snacks and beverages. The temperature is adjustable and you can easily set the desired temperature using the touch screen controls.
This coffee table can charge all your devices with the help of the two inbuilt USB ports. The underside of the table has an LED light function with colour customization options. You can also adjust the brightness setting. The inbuilt Bluetooth speakers have sufficient loudness and function perfectly. This coffee table brings a sense of luxury to every space.
Pros
Visually appealing design
Loud speakers
2 storage drawers
Adjustable cooling temperature
LED light function
"This modern coffee table can be utilized for many purposes."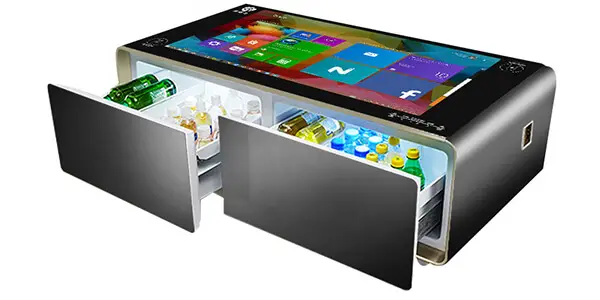 The Smart Refrigerator Coffee Table looks like an ordinary coffee table but has many inbuilt features. It has a high quality construction designed to cater to modern living spaces. It is also available in different colours. The 2 refrigerator drawers can accommodate up to 120 litres of beverages. The internal compartments of the drawers can be adjusted according to the way you want to divide the space.
The LED screen is bright, vibrant and legible. You can listen to your favourite tunes through the inbuilt speaker. This speaker can be paired to your phone through Bluetooth. This table can be used as the central hub for your living room.
Pros
Multiple features
Bright LED screen
Sufficient cooling space
Adjustable compartments
Elegant design
"Nothing screams more modern than this coffee table."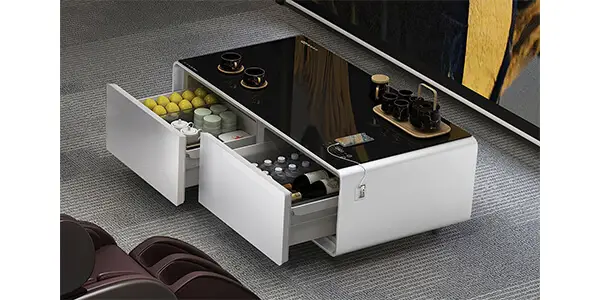 The Seinfield Tech Smart Coffee Table is another amazing coffee table which is very futuristic. It is available in 3 different colours – white, champagne and chocolate. There are 2 drawers for the refrigerator and the temperature for each drawer can be adjusted independently. This can easily be done through the functional LED control panel.
This coffee table will help you save room in your actual refrigerator by providing 2 cooling drawers. All the different settings are easily adjustable including the volume of the Bluetooth speakers. If you purchase this table, it will probably end up being the most used appliance in your house.
Pros
Modern design
User friendly controls
Adjustable settings
Energy efficient
Multi-purpose
"This coffee table will make a very good investment for your home."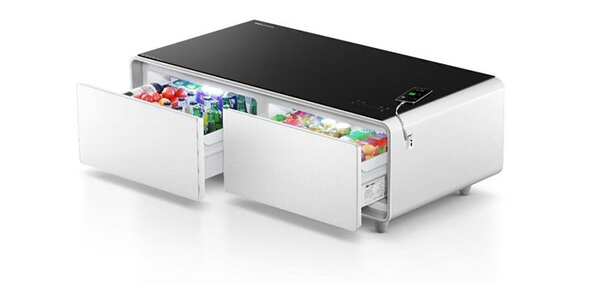 The YAMADA Smart Coffee Table is a table with a lot of different applications. This table can be transformed into a fridge by plugging it in. You can use it as a simple coffee table for your books or other knick knacks. You can use it as a charging station for your iphone, ipad or ipod.
Charging is done through the inbuilt USB ports on the side of the table. You can listen to music through Bluetooth or aux. The speakers have decent bass with distortion free audio. The rounded corners and tempered glass add a modern touch to the table.
Pros
Many features
Appealing design
Solid and sturdy
Good sound output
Easy charging
"This table is combines a lot of useful appliances in one."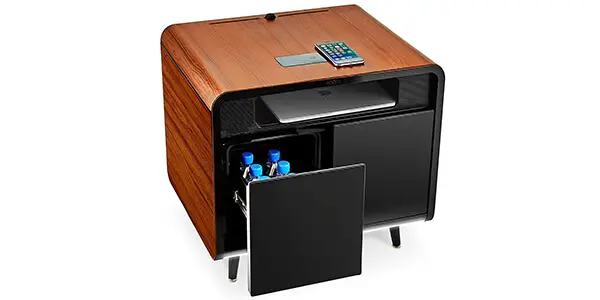 The SOBRO Smart Side/Nightstand/Coffee Table is a multipurpose table as implied by its name. You can use it by your bed as a night table or even in the living room as a side/coffee table. This table has a wireless charging pad which makes it very easy and convenient to charge devices.
There is a cooler on the left side for your snacks and drinks. It is quiet and does not generate much noise at all. You get an open centre cabinet where you can keep your laptop or books. The LED back and front lights are customizable and have a motion detection feature. The wooden print of the table is very classy and the legs are sturdy.
Pros
Wireless charging
Compact size
Multi-purpose
Functional speakers
Solid construction
Cons
Not much cooling space
Bluetooth tends to disconnect
"This is a good quality coffee table which can be placed anywhere for any purpose."
Frequently Asked Questions
Conclusion
If you are a big fan of modern upgraded versions of everyday items, you will love these coffee tables. We have compiled a list of the best coffee tables with fridges to make your search easier.