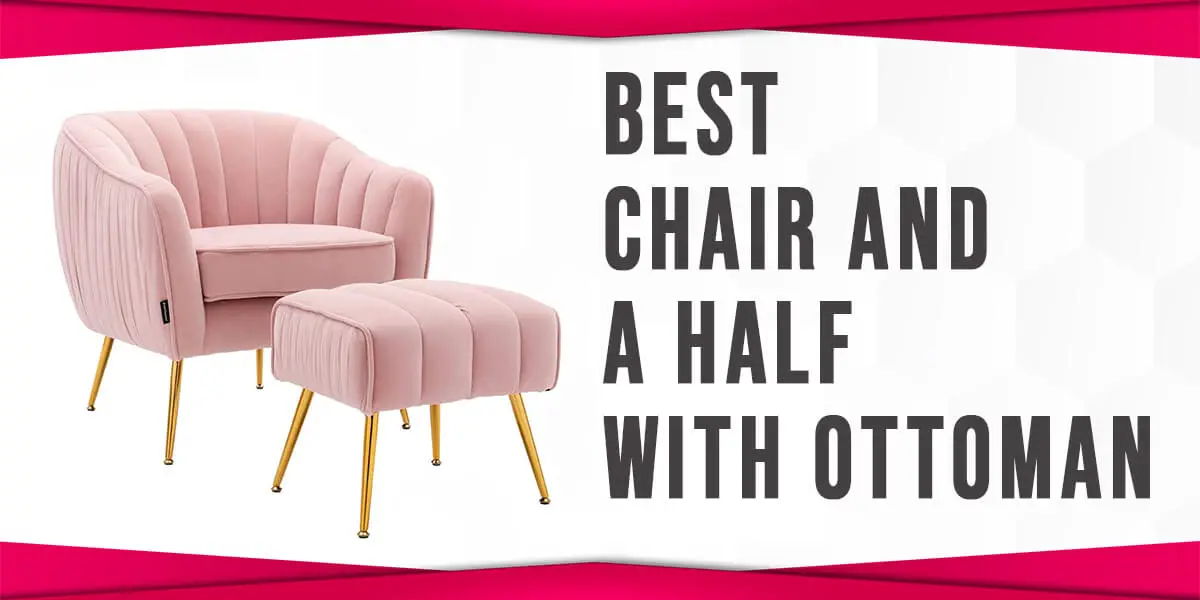 People love lounging comfortably and desire more space than the standard armchair.
The ottoman adds a very nice touch and can be used for many different purposes. This includes serving as a coffee table, storage space or even a décor piece. Given below are the 6 best char and a half with ottoman sets.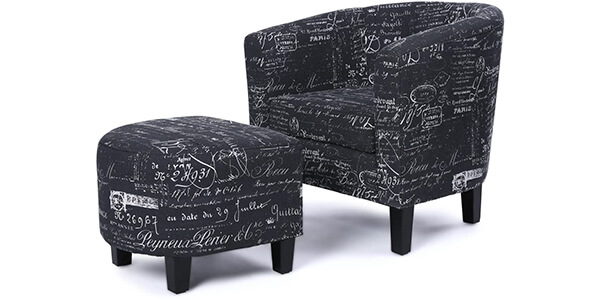 The BELLEZE Accent Club Chair With Ottoman is a chair and ottoman duo which easily compliments almost every living room. It comes in 6 different matching print designs which you can choose according to your preference. The chair has a very easy assembly procedure which only involves screwing the legs. 
The wrap around style back is comfortable and your back stays upright in a good position with sufficient arm support. There are rubber pads at the bottom of the wooden legs to prevent slipping or damage to the floor. Both the chair and the ottoman are very lightweight and can be moved around easily.
Lightweight
Available in different prints
Suitable for short people
Comfortable
Easy assembly
Thin seat cushion
Not very sturdy
This chair along with the ottoman makes every space cozy.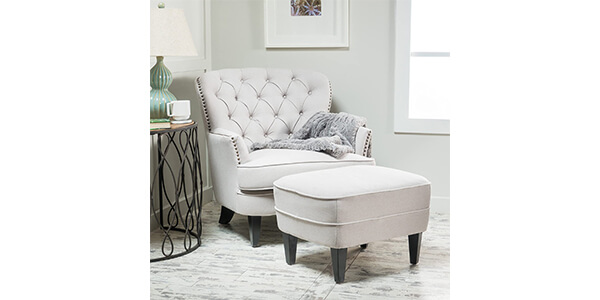 The Christopher Knight Home Alfred Fabric Club Chair With Ottoman has a very classic and elegant design. They are stylish and make good accent and décor pieces for your room. It is available in both dark and light shades. The chair is upholstered with bonded leather and is well padded with decorative buttons on the back. 
This combo comes with additional leg stabilizers which can be very handy. The seat cushion is firm and removable. It is very roomy and can accommodate people of bigger sizes. The assembly is super simple and takes only a few minutes. It is also suitable for small spaces which don't have a lot of room.
Classic design
Available in many colours
Spacious
Comfortable back
Lightweight
Stiff cushion
Not very tall
You can add elegance and class to any room with this set.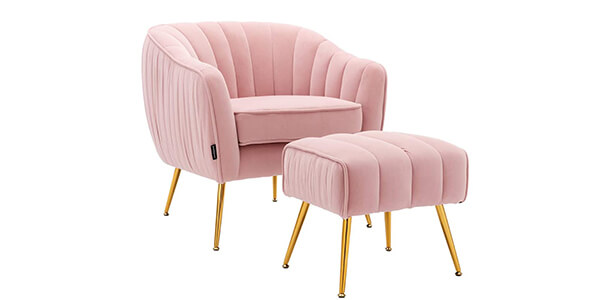 The Artechworks Velvet Modern Arm Chair With Ottoman Footrest has a very visually appealing design. The soft suede material has a beautiful dusty rose colour. This gives it a luxurious and modern vintage look. The chair has a solid frame with sturdy metal legs. It is quite comfortable and suitable for light activities like reading, sewing or others. 
The ottoman is the perfect size for resting your foot comfortably. The gold accented legs add a very nice touch to the chair and a half. It can hold a decent amount of weight up to 300 pounds. The chair will fit perfectly in any corner.
Soft fabric
Aesthetic look
Simple assembly
Solid frame
Fits in small spaces
Small height
Not comfortable for long periods of time
The soft plush design and aesthetic look of this set is irresistible.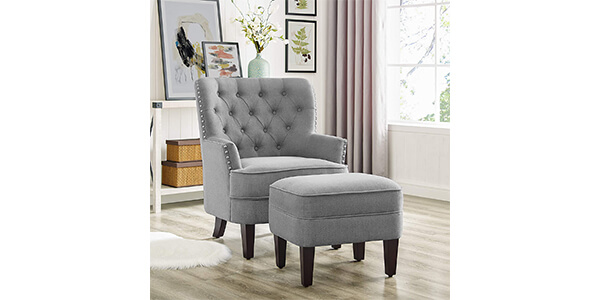 The Rosevera Collection Fabric Nailhead Gustavo With Ottoman is a good set which is both ergonomic and stylish. The chair is comfortable and spacious and can be used for long periods of time without strain. It has a good back support which encourages god posture. Anyone is capable of assembling this chair without any hassle.
The ottoman can be used as a footrest, an accent piece or even as a coffee table. The chair has a strong and durable frame with strong, sturdy legs. It is a neutral grey colour which will suit every space.
Comfortable
Spacious
Easy assembly procedure
Sturdy
Solid construction
If you want a chair and a half plus ottoman set which will easily compliment every room, this is the one for you.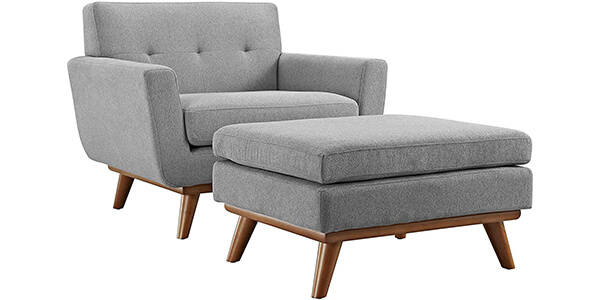 The Modway Engage Mid Century Modern Upholstered Fabric Armchair And Ottoman is a very impressive set which is very suitable for formal living spaces. It has a fusion of classic and modern styles which gives it a very minimalistic look. The chair has a very spacious seating arrangement. 
The seating has a good depth and width. You can dress the chair up with throw blankets and throw pillows. The rubber wooden legs are firm and sturdy. The chair has a high quality finish with a very solid construction. The soft polyester material is wrinkle free and soft.
Minimalistic design
Sturdy frame
Soft fabric
Very spacious
Both the chair and the ottoman are spacious and well designed.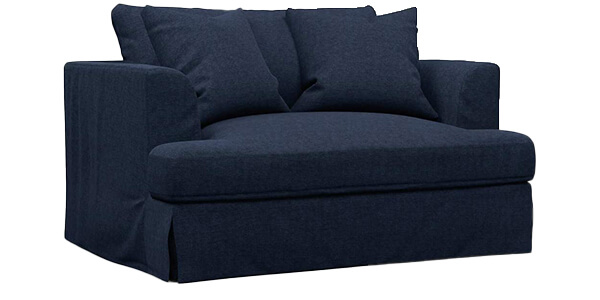 The Sunset Trading Newport Slip Covered Chair And A Half With Ottoman is a very practical and functional set for every home. It is available in 5 natural colours including dark and neutral ones. The fabric of the chair is soft, heavy and well made with a high quality feel to it. 
The outer covers of the chair and ottoman are removable and easily washable. This set is perfect for families who have very messy children or pets which shed a lot. The ottoman is wide and has plenty of space to move your legs around. The frame of the chair is strong and durable.
Spacious
Comfortable
Easily washable covers
Functional
Durable
Covers are hard to put back on
Very expensive
This set combines functionality and practicality in one.
Frequently Asked Questions
1. Should Chair And Ottoman Match?
It is not absolutely necessary for a chair and ottoman to match. As long as the colours are not in complete contrast to one another and the proportions are not off, it is totally fine. Make sure they coordinate in some kind of way for a visually appealing look.
2. What is a chair and a half called?
A chair and a half is a wider and spacious chair than a standard single chair. At the same time, it is not as wide as two chairs put together. It is meant for people who want more space to move around or can even be used by two people. It is usually used as a lounge chair in family sitting spaces.
3. What is a two person chair called?
A two person chair is designed to accommodate two people and is generally called a love seat. It is designed for closeness and typically consists of two upholstered seats. It can also be referred to any type of two seat furniture with seats for two people. A few other names for this are gossip chair, courting bench and conversation bench.
4. What is a chair with arms called?
A chair with arms is usually called a club chair. It is a well cushioned and upholstered chair which can be of various upholstery materials like polyester, leather, linen, suede or any others. It has a low back and well supporting arm rests. The term comes from 19th century England where gentlemen's clubs had this kind of chair for relaxing.
5. What is a Bergére chair?
A Bergére is a chair designed in the Louis XV style. It is an upholstered French armchair with solid armrests, upholstered back and upholstered frames. It is used for formal and royal occasions and is very comfortable and spacious. It originates from the early designs of the 18th century.
6. Should an ottoman be the same height as the chair?
Usually the ottoman is slightly shorter than the chair by an inch or two. It also depends on what you want to use the ottoman for. Usually it is used as a footstool and if you are using it for that purpose it should be shorter than the chair. You can get a higher one if you want to use the ottoman as a coffee table or décor piece.
7. What is the best height for an ottoman?
The standard height of an ottoman is between 15.5'' and 22''. The height of the ottoman should be according to the purpose it serves. Following are the best heights for an ottoman according to its purposes,
Footstool – 11'' – 15''
Seating – 15'' – 18''
Coffee table – 16'' – 20''
Storage – 15'' – 20''
8. What do you call a chair with no legs?
A chair with no legs is called a floor level chair. It is a normal chair minus the legs. The seat of the chair is in direct contact with the floor or ground. If you want to sit on the floor without straining your back, you should get this kind of chair.
Conclusion
There are plenty of good quality chair and a half plus ottoman sets which can be found online. You can also get plenty of budget friendly options. To help you select the best, we have compiled a list of the best chair and a half ottoman sets.